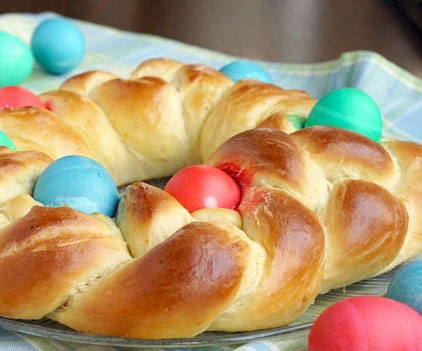 Easter is a traditional religious holiday in Italy. Therefore, the typical ingredients of the Italian Easter menu include eggs, lamb, the Colomba and all foods that symbolize the resurrection of Jesus. Eggs (whether real eggs or chocolate) are a reminder of the birth of a new life. The dove is a symbol of peace and salvation and the lamb symbolizes the sacrifice of Jesus. 
We share some ideas for your Italian Easter Lunch, how to decorate the Easter Table and for some Easter presents. Thanks to SalePepe and Il Cucchiao d'Argento for the recipe ideas!
Antipasti - Eggs as an easy to make appetiser
You can open lunch with a delicious appetiser, very Easter: salted Cavagnetti which is a Ligurian dough with salami, with the inevitable hard-boiled egg, as per tradition.
Or stuffed eggs which are excellent as an appetiser - very easy to make. Anchovies, tuna and butter give a tasty and creamy note to the stuffed egg, and turn it into a generous amuse-bouche.
Primi Piatti - Linguine or Lasagna?
Linguine al pesto di pistacchi e salmone
Linguine with pistachio and salmon pesto are an easy recipe for a first course that is perfectly suited to many occasions, from dinner with friends to a special lunch. Made with fresh salmon and a creamy pesto, they combine delicate and more intense flavors in a delicious combination.
Lasagne con zucchine e gamberetti
The lasagne with courgettes and shrimps will be very popular thanks to the delicate combination of flavors. The filling of the classic Bolognese Lasagne is here replaced by courgettes fried in a pan and shrimp sauteed in Marsala. A classic bechamel binds the layers and a shower of pistachio grains gives the dish a crispy note. Not is this dish easy to prepare but the combination of flavors will be a sensation.
Secondo Piatti - Lamb or Fish?
Costolette grantinate
Lamb is a staple item on an Italian Lunch Menu. Here, a quick version with gratinated Lamb chops. Gratinated with cooked ham, cream and Parmesan: it will take you less than half an hour to prepare them;  and the outcome will delight you and your family.
Pescatrice al limone con carciofi
In this recipe, Monkfish is baked in the oven, with lemon, and served with a delicate artichoke salad. Monkfish is a fish with lean and firm meat for a refined and tasty second course, instead of meat.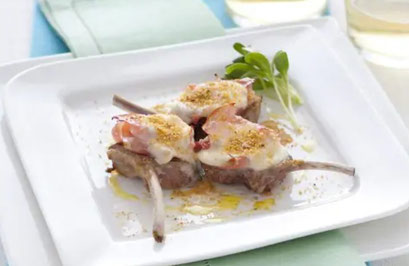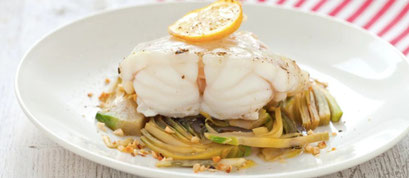 Dolce - Chocolate Cake or something fruity?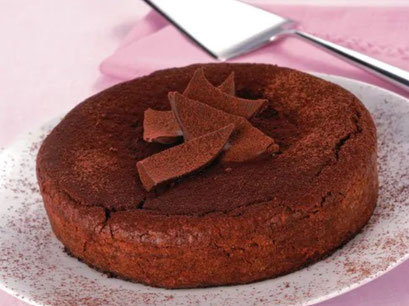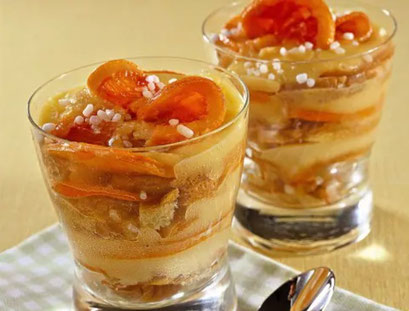 Torta fondente alle mandorle
Chocolate, almonds, eggs and ... very little flour: learn how to prepare the dark almond cake.
A creamy dessert, as simple as it is, it is absolutely delicious and will make adults and children very happy!
Zuppa di colomba
Even the Colomba can be re-created and served as a stunning Easter dessert. Here the Colomba is vombined with caramelized oranges, cream and limoncello. Fabulous!
Traditional Easter dishes
La Pastiera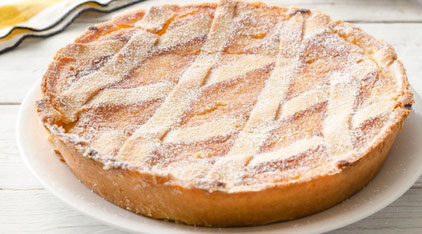 The modern Pastiera Cake was probably invented in a Neapolitan convent. An unknown nun wanted that cake, symbol of the Resurrection, to have the perfume of the flowers of the orange trees which grew in the convent's gardens. She mixed a handful of wheat to the white ricotta cheese, then she added some eggs, symbol of the new life, some water which had the fragrance of the flowers of the spring time, candied citron and aromatic Asian spices. There are two different ways of preparing Pastiera: in the older recipe, the ricotta is mixed with eggs and with the grain; in the newer, thick pastry cream is added, making the Pastiera softer. Recipe here.
La Colomba
Colomba Pasquale ("Easter Dove" in English) is an Italian traditional Easter cake, the counterpart of the two well-known Italian Christmas cake, Panettone or Pandoro. 
The dough is similar to the dough of the Panettone, with flour, eggs, sugar, natural yeast and butter, but unlike the Panettone, it only contains candied peel and no raisins. The dough is formed into a dove shape (colomba in Italian) and topped with pearl sugar and almonds  before being baked.
There are many famous Italian bakeries which produce the Colomba, such as Motta, Bauli, Loison, Maina, Paluani.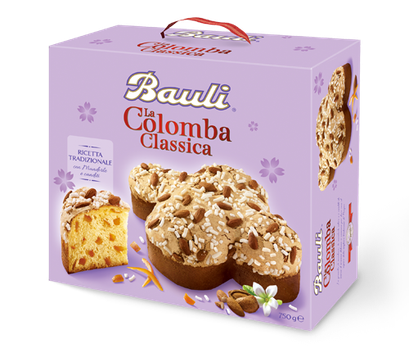 Easter decorations for a beautiful Easter lunch table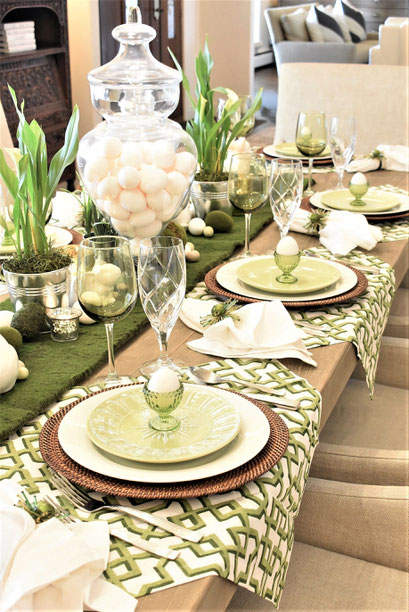 Even in these times, it is a nice idea to decorate your home for Easter. The Easter lunch table in particular can become an example of showing "easterly" and festive elements and decorations.
The symbols of Easter par excellence,  are coloured eggs, which should not be be missing. Either a decorated bowl or basked with tone in tone eggs or a range of bright colours. Alternatively, one can also decorate the eggs with transferable stickers or even patterns painted on.
Usually, colour combinations include green and yellow. But I have even used shades of blue, which looked great with white.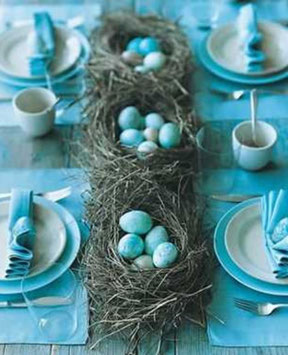 Easter Presents to send or give to loved ones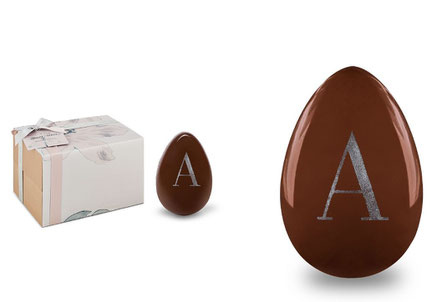 This may be a great opportunity to show that you are thinking of a loved one, by sharing a beautiful Easter present. This could be flowers, special Easter eggs, or even something a bit more lavish.
I remember, when spending one year Easter in Sorrento, and watching Italians leaving bakeries with these huge chocolate eggs. Depending on the price and size of these Chocolate eggs, different presents were in the egg. Even jewellery or clothing. Absolutely fabulous idea! Like a big Kinder Surprise Egg!
Here a few ideas for Easter presents to send or give to loved ones. 
On the Giorgio Armani website, under the Dolci section, you can order a number of Easter presents. From the traditional Colomba cake, beautifully wrapped in Armani gift paper or large Chocolate Easter eggs with the Armani branding.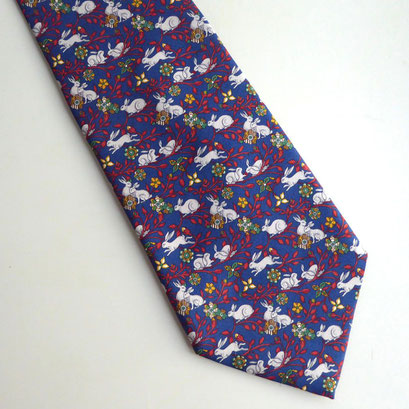 Or how about these Prada Rabbit key ring as a special Easter present? Or Prada Rabbit necklace?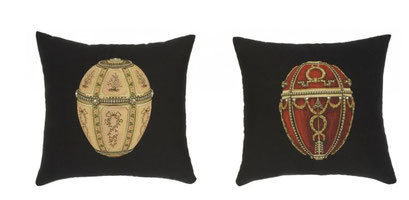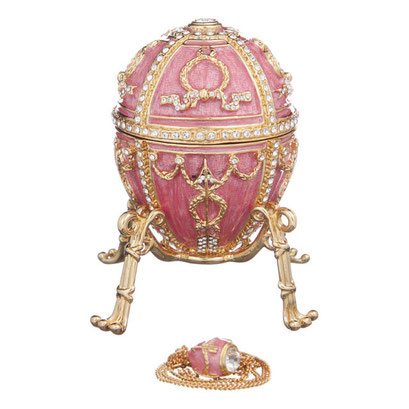 Or look-a-like Faberge egg. The Rosebud egg is a jewelled enamelled Easter egg made by Michael Perchin under the supervision of the Russian jeweller Peter Carl Fabergé in 1895, for Nicholas II of Russia, who presented the egg to his wife, Empress Alexandra Feodorovna. It was the first egg that Nicholas presented to Alexandra.
Inside the egg you can find a small flower and a pendant. The egg can be used as a trinket jewel box.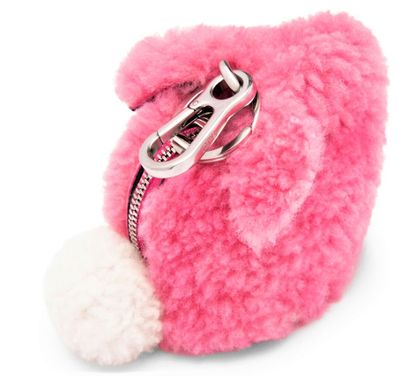 Or this little Loewe Bunny charm? Expertly handcrafted from fluffy Shearling folded into the shape of a bunny, this playful charm is the perfect gift. Featuring a charming pom-pom tail and dot-perforated "eyes". With sized down proportions, the charm doubles as a coin purse. Attach its lobster fastening to keys or clipped to any bag.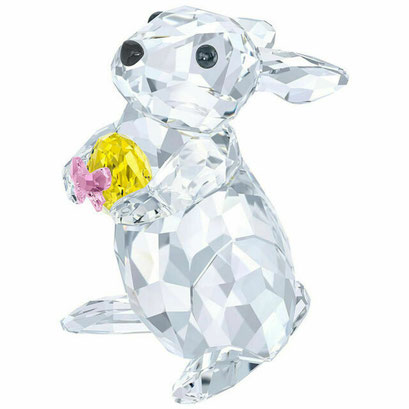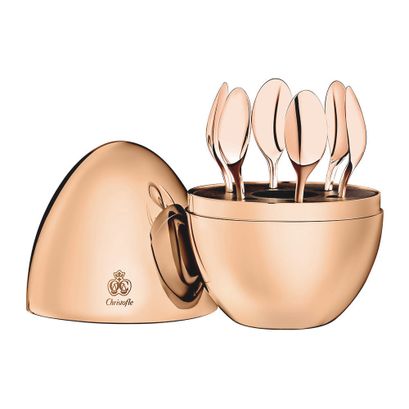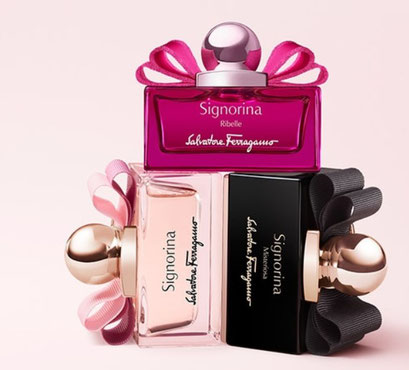 A perfume collection with an affirmed and sophisticated allure, perfect to underline the elegance of the Ferragamo woman.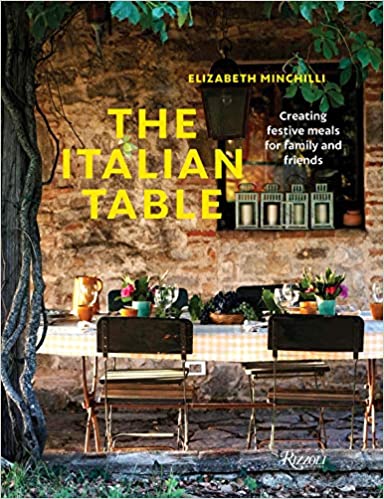 Italian Dinner Table delivers both parts of the fantasy and reality of Italian meals as they would be eaten on location. Combining menus and recipes with visual experience and inspiration – as well as insight into the traditions of the food and celebrations – it serves as a practical resource that gives home cooks and hosts step-by-step guidance on how to re-create these fabulous meals at their own tables.