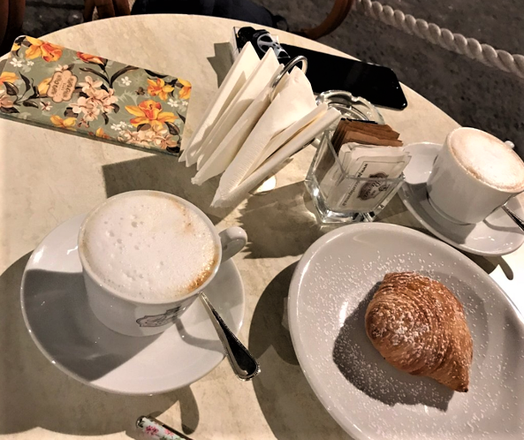 Italian desserts such as Tiramisu, Panna cotta or Canoli are world famous, but a lot of regional specialties such as Sfogliatella or Baba might be less known.
I still cherish the day when I took my first bite of my scogliatella at the famous Pasticerria Pansa in Amalfitown - the famous Sfogliatella Santa Rosa.
Let's discover the range of gorgeous Italian desserts, including some recipes of how to prepare these at home.
The core Italian Desserts you have to try
Panettone
Panettone is the king of Italian yeast cakes, and traditionally eaten around Xmas time. Although there are no rules against eating Panettone in other seasons! The Colomba is the Easter version with no nuts and candied orange. Iginio Massari, the famous Master Baker and founder of the Academy of Italian Pastry Chefs is known for his panettone, which can also be bought online. Massarri's panettone is beautifully honeycombed, soft and with pleasant hints of orange, with many soft candied fruit and tasty raisins.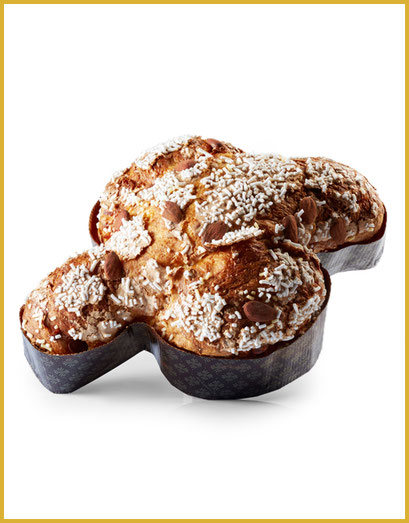 Tiramisu
The origin of this famous dessert has triggered some heated discussion in the past, but the Veneto Region, more specifically Treviso has been confirmed as the town where in 1800 Tiramisu was invented. 
The word Tiramisù literally means "pick me up". It comes from the Treviso dialect, "Tireme su", Italianised into Tiramisù in the latter half of the 20th century.
"Le Beccherie", an ancient restaurant in Piazza Ancilotto, Treviso is noted as the actual birthplace of the Tiramisu.
Since then, the restaurant has been rejuvenated, refreshed, in step with the times. The Beccherie restaurant is known for its strong regional cuisine and obviously also for its Tiramisu, one of the highlights of the menu.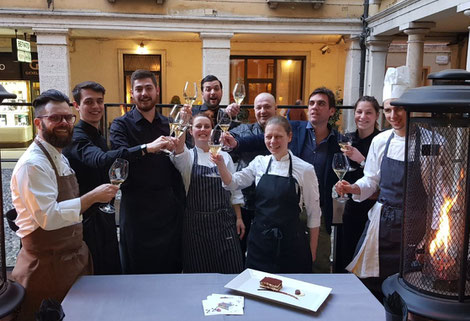 In Sicily, for festive occasion or the simple Sunday lunch, you always end with a tray of cannoli, placed in the middle of the table. The classic cannoli filling is ricotta and candied fruits, but there are many variations available these days -  cannoli filled with chocolate, orange, pistachios, cream and a range of other ingredients.
Is it better to have them filled with fresh sheep-milk ricotta, and more sugary and with candied fruit or chocolate chips?
Hours of discussions about which are the best, and then, at the weekend, the Palermitans drive by car to Dattilo or Piana degli Albanesi to get the best Sicilian Cannoli.
Babà
An absolute Sicilian classic, made with soft yeast dough baked in the oven and soaked in rum. It is of Franco-Polish origin, and has become the typical Neapolitan pastry. Its diameter can vary from 5–7 cm up to 35–40 cm. Cut in half, it can be filled  with chocolate or cream. In addition, there is also a version with bergamot essence.  How could you resist not to eat it one of the Baba's in one of the Leone pastry shops, with the cream filling. But you can also bake them at home.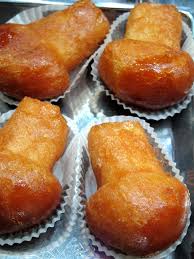 La Pastiera Napolitana - Easter Cake
La Pastiera, the traditional Easter cake is now eaten all year round. Made with a base of shortcrust pastry, ricotta, candied fruit, eggs, sugar and above all wheat boiled in milk. Pasquale Marigliano is a distinguished pastry chef from the La Pasticceria Marigliano, producing one of the finest Pastiera in Italy. Recipe below thanks to 'Scatti di Gusto'.
In Naples, there is also the Pastiera Napolitana shop located in Via Benedetto Croce, in the heart of the historic center of Naples.For three generations, this family has dedicated  itself to the artisan production of this delicious cake, keeping the respect for tradition and quality - also available on-line.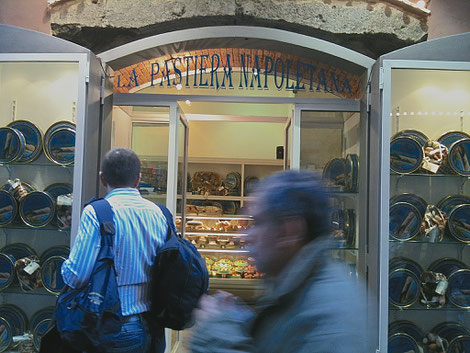 Recipe - La Pastiera di Pasquale Marigliano
Ingredients for the shortcrust pastry:
600 g of flour
3 l of water
300 g of granulated sugar
300 g of butter
2 whole eggs
4 yolks
Ingredients for the Filling:
500 g of sugar
500 g of sheep ricotta
6 eggs
2 yolks
50 g of orange paste
Orange flower water
Grated orange peel
200 g of candied orange cubes
Vanilla
For the grain - to be added to the Ricotta mix:
350 g of Italian durum wheat, white
350 ml of milk
50 g of butter
lard
Vanilla bean
A pinch of salt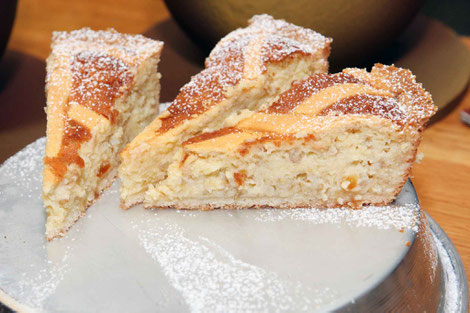 Soak the wheat in the water for two hours. Then bring it to a boil. Switch off and leave to rest for 12 hours. The next day, cover it with the mil and add a bit of lard, with the addition of lemon zest, orange zest and vanilla, until it becomes a cream. Let it cool and add the sheep milk ricotta, gradually adding sugar, lemon zest and grated orange, vanilla pods, eggs, a pinch of salt, 40 ml of water, bitter orange or neroli oil. Once the filling is prepared, line the shortcrust pastry pie, with the mixture evenly. Obtain strips of shortcrust pastry two centimeters wide, laying them on top of the cake cross-wise. Initially, bake the cake the first  20 minutes at 200 degrees, then bring it down to 170 degrees for another 70/75 minutes. Once finished with baking, put it out to cool, but double-check by checking that is no longer soft. If it is, let ithe cake rest in the oven. Sprinkle it with icing sugar and eat it the next day.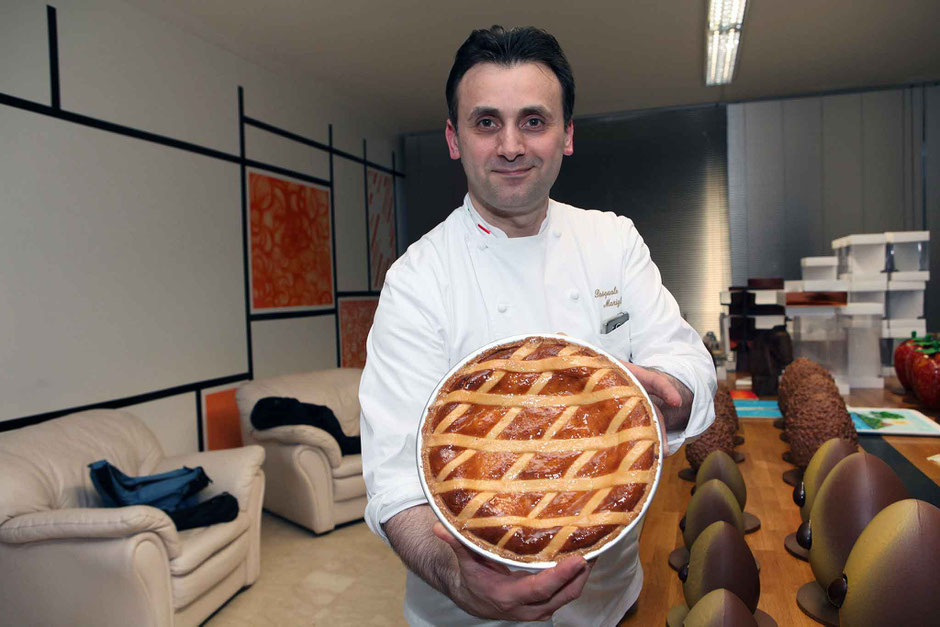 Torta Caprese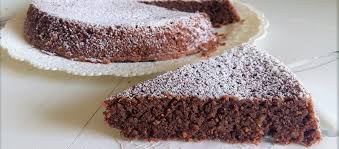 A classic dessert of the Amalfi coast. It is prepared with fresh butter, eggs, toasted almonds and dark chocolate. One of Italy's most renown pastry chefs, Sal de Riso offers an appetizing and summery version of this cake, with lemons from the Amalfi Coast, which recipe appears in his book " I Dolci del Sole", or online from his Pasticceria Shop.
Sfolgliatella Riccia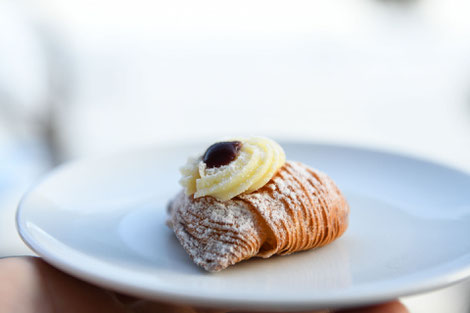 The oldest dessert in Naples, filled puff pastry with its pastry rise looking like the hood of a monk, was invented not by coincidence in a cloistered convent on the Amalfi coast. Considered by many to offer the best Sfogliatella pastries in Naples, is the Pasticceria Attanasio. Always full with people, but provides for a true Neapolitan experience.
Delizie al Limone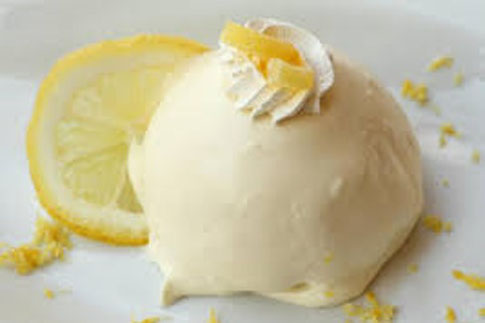 No dessert is more lemony and delicious than the so-called "Delizia al Limone" or Lemon Delight.
The yellow of the lemon meets the yellow of the sun in the Sorrentine peninsula, to create a dessert that represents Neapolitan cuisine across the world.
Delizia al Limone was invented by Carmine Marzuillo in 1978. Its mounded shape, covered with lemon cream and a wild strawberry, reminds one of a woman's breast.
Pistocchi Cake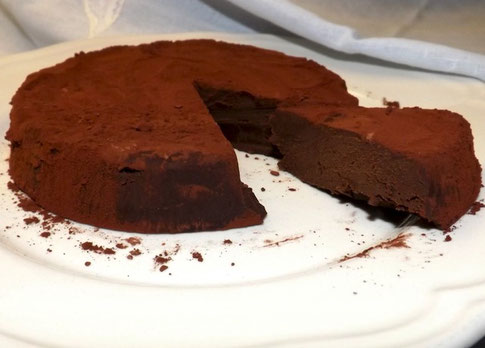 La Torta Pistocchi - the most loved chocolate cake in Italy, with a pleasant consistency that is difficult to describe, as it is so delicious.  It was in 1990, that the first Fondant Chocolate Cake was born, in the Florentine restaurant where Claudio Pistocchi worked as Executive Chef.
A great soft and creamy chocolate, handcrafted, without the addition of sugar and without using eggs, butter or flour ... only extra dark chocolate, bitter cocoa powder and a little milk cream, no preservatives, no additives.
Millefoglie
Millefoglie - Puff pastry filled with a delightful custard creme. The De Bellis brothers in their Roman Pasticceria de Bellis (not far from the Campo dei Fiori), are creating some of the most stunning Millefoglie.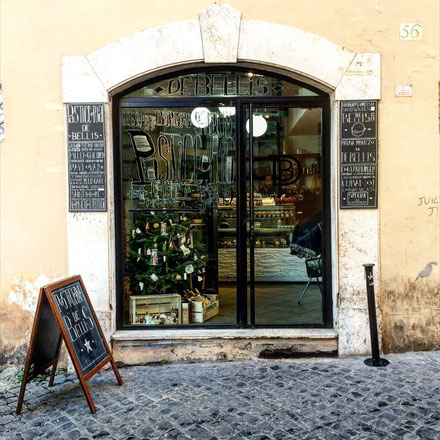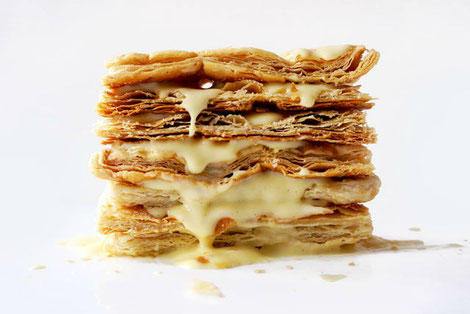 Zuppa Inglese
The Neapolitan version of Zuppa Inglese is a sponge cake filled with cream and black cherries in syrup and then covered with meringue and baked in the oven. It is scrumptious and depending on the ingredients, can be a very refreshing summer dessert. The summer version can be varied with oranges. Nowadays, it is not often found on menus nor in pastry shops. So best to be prepared at home.
Bomboloni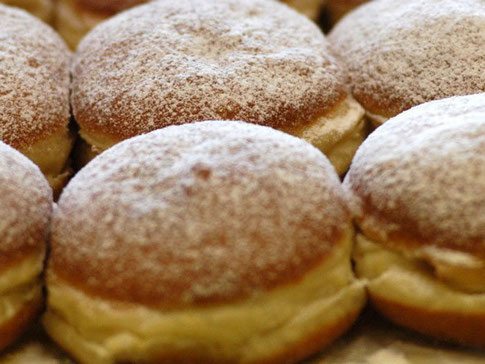 You can buy Bomboloni all over in Italy, but they originate from the Romagna Riviera. Although, the Romagna Riviera is not necessarily known for its  confectionery tradition, but with the Austrian influence/origin, the Krapfen or Bomboloni have become a sweet symbol of the Riviera beaches over the last forty years.
Do you know any of these regional Dolci specialties?
Torta Setteveli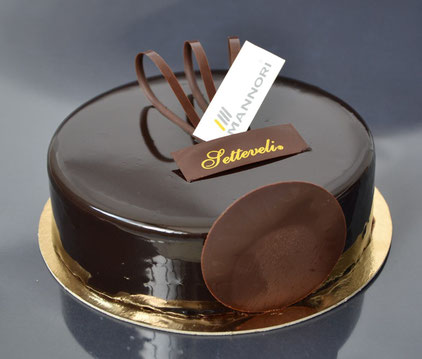 The Setteveli cake has a name and three creators, namely three pastry chefs: Luigi Biasetto from Padua, Cristian Beduschi from Pieve and Gianluca Mannori from Prato. Together, they created for the Italian team of the Lyon Pastry World Cup in 1997, the delicious cake, and won! Chocolate mousse, praline hazelnut ,Bavarian creme, seven layers of crunchy chocolate (veils), chocolate sponge cake and gianduia, the famous hazelnut spread from Turin. The cake has a registered trademark for "Setteveli", although it is copied throughout Italy.
Pesche di Prato
Pesche di Prato have become a famous dessert, thanks to Paolo Sacchetti (the best pastry chef in Italy in 2012) of Florentine origin. He made them  so well that everyone in town, that everyone now started baking this dessert again.
But his version is legendary, very fine, with the right amount of cream and Alchermes liquor to wet the two half balls of brioche dough. No wonder, this dessert has become a tourist attraction!