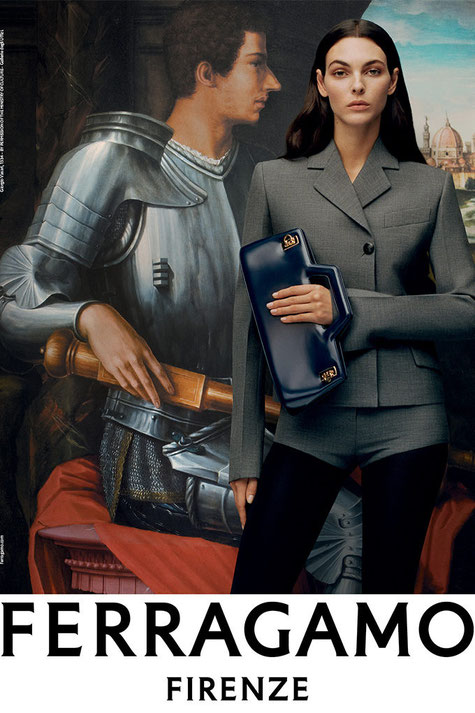 Ferragamo recently unveiled its New Renaissance campaign, in collaboration with the esteemed Le Gallerie degli Uffizi. The Ferragamo campaign embraces the spirit of Florence's Renaissance, redefined luxury and artistry in the modern fashion world inspired by famous Renaissance artworks such as the famous Giorgio Vasari Portrait of Alessandro de' Medici. Thanks to the groundbreaking patronage of the Medici, the city transformed into vibrant fervor, emerged as epicenters of creative alchemy.  Ferragamo's vision whose ethos intertwines with a modern symphony of creatives – from creatives directors and photographers to artists, sound designers, and scholars aligns very well with the Florentine spirit. Inspired by Vasari's painted armour; this new twist on feminine tailoring, the slim fit, short blazer is created with deep darts to emphasize the waist. Made of pure wool natté, it has a double breasted construction with short lapel and asymmetric buttons on the left. The high slit cuffs have a single button.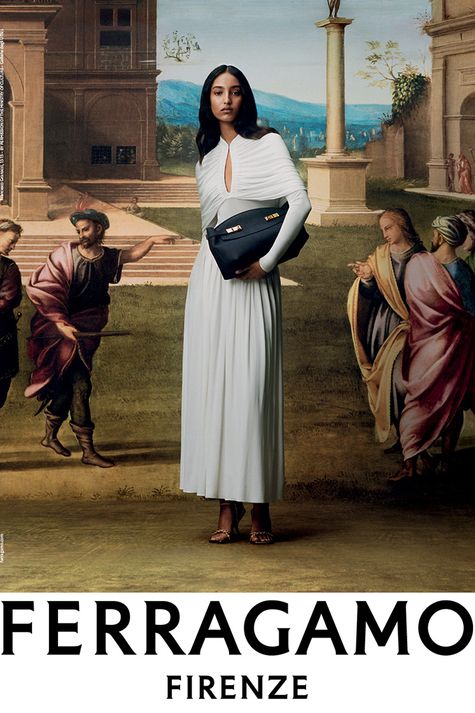 In the background Francesco Granacci's painting "Giuseppe condotto in prigione", 1515. Featuring an elegant classic white look with feminine charm  combined with a contemporary silhouette with this white jersey viscose dress with double bodice and long sleeves. The teardrop opening at the front holds a draped panel that wraps the shoulders and drapes into a cape, while the gathered waist leads to a full, floaty, ankle length skirt. Made using 95% responsibly-sourced viscose.
Alesso Baldovinetti's "Annunciazione" is an early beacon of the Renaissance. The painting melds the secular and the sacred, boasts meticulous detail, and exemplifies an exploration of spatial harmony. This as a backdrop for the red and black Renaissance Ferragamo look: Bold accents, pure colors. The Ferragamo mules define new femininity with their elongated lines and square toe. The contrasting patent leather insert that runs across the suede adds a cool and shiny detail. A fabulous Ferragamo knit made of a soft blend of wool and cashmere in an iconic hue. The design features a fitted bodice with a corset stitching at the back to define the silhouette. Le drop shoulder and puff sleeve confirm a contemporary feel.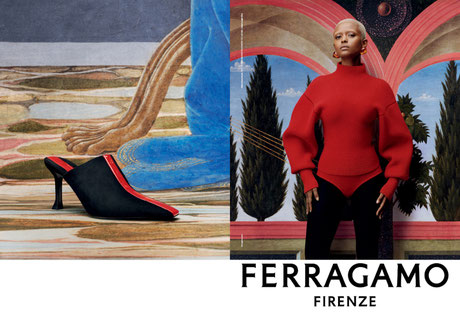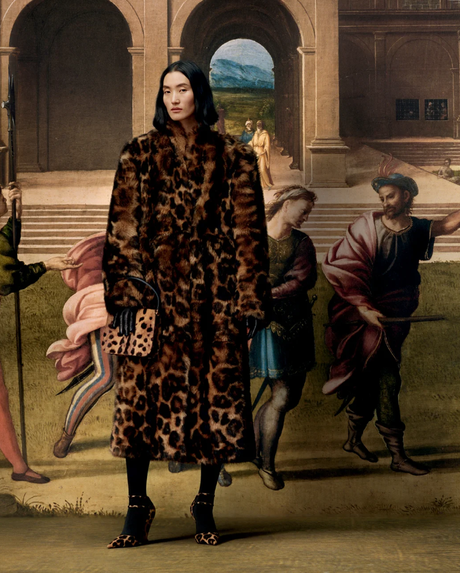 With their pointed toe and double ankle strap, these Vidya sandals are the new fashion statement of the season. This animal-print pony hair version exudes the glamour of a design defined by geometric lines on the instep and a contoured wedge heel. Iconic, it's already our favorite from the runway looks.