Green Power: croaker, courgette and basil cream, pesto breading by Simone Vesuviano from Trattoria dell'Acciughetta in Genoa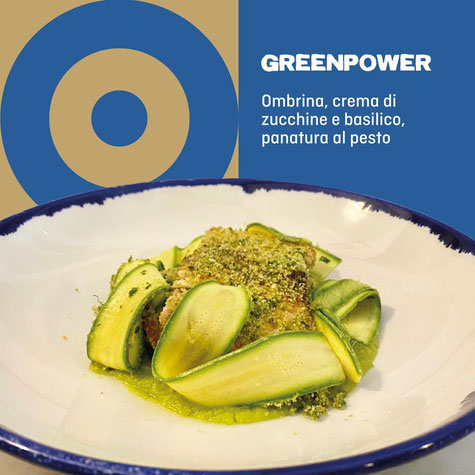 Genoa is a Gourmet city, with some fabulous restaurants offering very creative restaurants. Such as the Trattoria dell' Acciughetta behind Via di Prè, facing the sea with just a few tables and an unique fish menu. Such as Del Verde - Fish of the Day in a Pesto crumb and courgettes basil crème - a simple but delightfully fresh and light dish - the ideal summer dish. Just like having a Liguria of vegetable gardens and the sea on  a plate. Perfect!
Ingredients:
Pesto to taste; 6 zucchini; 2 sea bream fillets; 4 basil leaves; Extra virgin olive oil to taste; Pistachio grain; salt
Preparation:
The first step to prepare our pistachio crusted fillet with basil pesto is breading them. So, let's bread them with chopped pistachios and then cook them with extra virgin olive oil in a pan, start by cooking first on the skin side and then, very delicately, turn the fillets and cook them on the other side. This way we will avoid removing the grain.
In the meantime, let's shave the zucchini to accompany the fish fillet and steam for a minute. That's it, so let's plate it, forming a bed with our basil and pistachio pesto, add the basil leaves and place the fillet on top and finally the zucchini.
Pietro Zito's Summer at Antichi Sapori in Montegrosso di Andria
At the Antichi Sapori in Montegrosso di Andria, the cuisine is based on recipes with a long Puglian tradition - with focus on the rediscovery of wild herbs. Two famous Pasta dishes: La Primavera: mezzamanica of burnt wheat with cream of young peas, crunchy Minervino sausage and slightly acidic ricotta. Or L'Azzardo: semolina fusilli with margherita spring onion and baked tomato, oregano, smoked sausage and primo sale.
Crescenza casoncelli with butter and fresh oregano, salted cherry, cracked pepper and borage flowers by Cesare Battisti of the Ratanà restaurant in Milan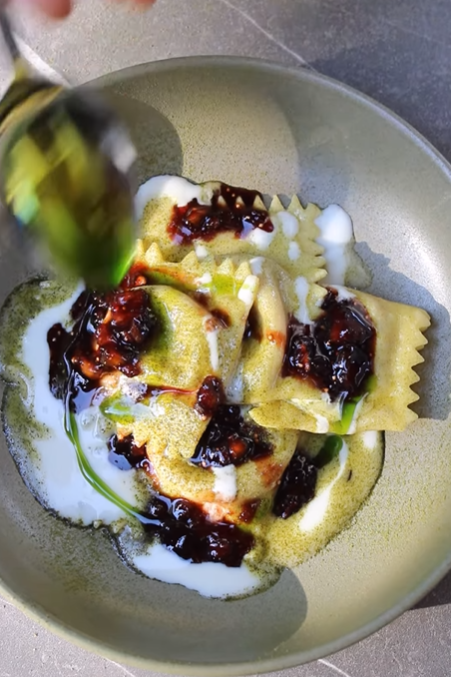 Ratanà is a "Modern Osteria" in Milan; its Chef Cesare Battisti offers a modern interpretation of the traditional Milanese and Lombard cuisine. Chef Cesare Battisti and his staff revisit the culinary traditions of this region with creativity and a contemporary touch. The chef started from ingredients that he usually uses in a classic appetizer re-proposed every year with some innovations. This time, in fact, it was even transformed into a first course in collaboration with the Pastificio Ratanà team. Such as Fig and sheep's curd Ravioli, Lodi fondue, fig leaf oil, bay leaf powder, and dried figs in Barbera wine. A decidedly interesting evolution, where the savory flavor meets some sweet notes and is completed thanks to the freshness given by the borage flowers. Casoncelli are a kind of stuffed pasta, typical of the culinary tradition of Lombardy, in the north-central part of Italy; shaped like a sweet wrapper.