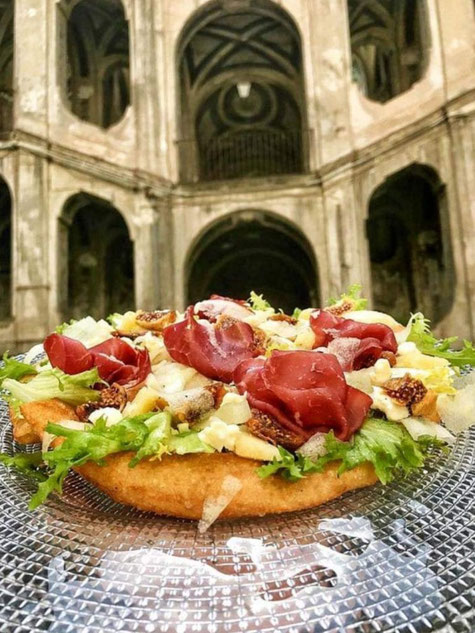 In Rome, a popular snack to eat during summer is white pizza with figs and prosciutto. It the old days, figs were  very affordable and considered the bread of the poor and eaten with focaccia.  Hence, the expression used: "Mica pizza e fichi", it's not pizza and figs!
Today, Roman white pizza is used instead of focaccia and prosciutto is also added. And by now all over Italy there are different versions: pizza with stracchino and figs, pizza with gorgonzola and figs and many others.  A nice plate of prosciutto and figs with that piece of ready-made white pizza  competes against prosciutto and melon as a popular Roman summer dish. The recipe dates back to Ancient Rome, where figs were eaten in combination with bread or unleavened focaccia. The pairings of these two ingredients continues to inspire chefs and pizza makers. Over time, prosciutto arrived to complete the poor recipe: a marriage destined to last forever!
Filled Rice Ball with Figs - Il supplì prosciutto e fichi di Gabriele Bonci
Pizzarium by Gabriele Bonci bakes delicious pizzas and focaccias every day, as well as supplì worthy of their name. The supplì are rich with an extra pinch of Parmesan which gives the finished product a strong and captivating taste. Many variations are on offer: with 'nduja, based on pasta and not rice, with mushrooms, sausage and 4 cheeses, with radicchio and gorgonzola, etc.  There is also a separate bakery Panificio Bonci. Gabriele started to write about food in her blog in 2010. After the opening of Pizzarium and two years before the birth of the Bonci Bakery, in 2010 Gabriele starts writing about food in her blog.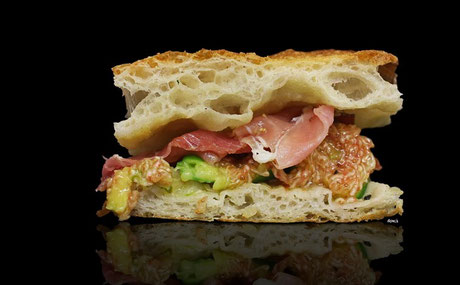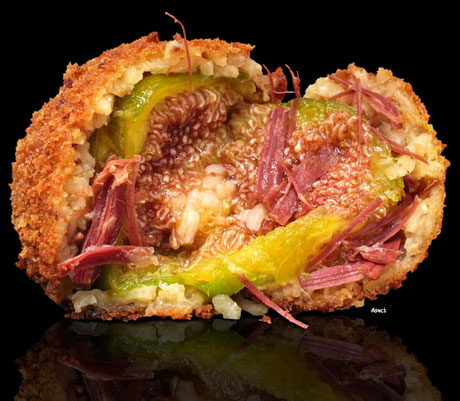 Pizza with Prosciutto and Figs - La pizza prosciutto e fichi di Elettroforno Frontoni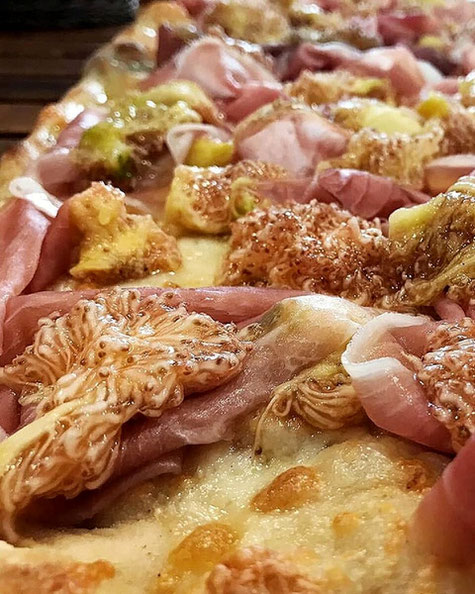 In the original recipe, pizza and figs were obtained simply by combining a piece of bread or focaccia with the figs which were available in abundance on trees during the summer period between July and September. Today this combination is much loved and available across Artisan pizzerias in Rome, such as Elettroforno Frontoni; but it requires the use of white oven-baked pizza – Roman-style – seasoned only with extra virgin olive oil and salt. To create the ultimate delicacy, it is now common to add prosciutto, such as Parma prosciutto, which salty flavor goes very well with the sweetness of the figs - such as the one at Elettroforno Frontoni.
Figs stuffed with cheese and Prosciutto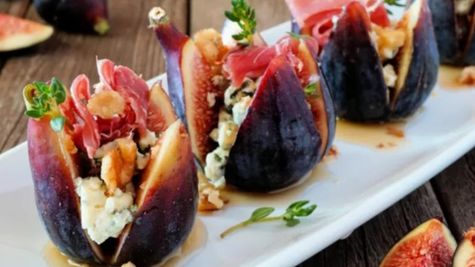 Stuffed figs with Prosciutto and cheese are a tasty and stunningly beautiful appetizer. 
Ingredients: 
8 figs; 200 g Fresh spreadable cheese; 50 g Cottage cheese; 50 ml fresh liquid cream; 200 g Prosciutto
Preparation:
Wash the figs, dry them and make a cross cut in the center dividing them into four parts but without opening them completely, moisten them with honey and bake them at 150 °C for 5 minutes. Cream cheese with rosemary and thyme. Pour the spreadable cheese, ricotta, cream and aromatic herbs into the mixer, add a drizzle of balsamic vinegar and a pinch of salt and pepper, blending until the mixture is soft. Remove the figs from the oven and fill them with the mixture thus obtained, using a pastry bag, completing the filling with chopped walnuts and a slice of raw ham for each fig.