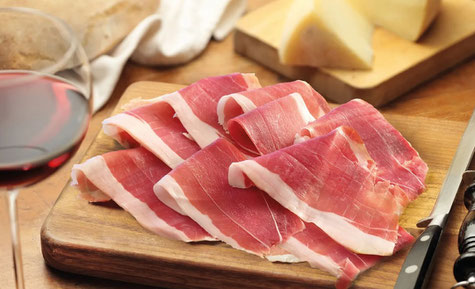 Prosciutto Toscano DOP is excellent not only as an appetizer but also for delicious finger food to combine with Prosecco or  an Aperol Spritz. Prosciutto Toscano earned PDO recognition in 1996, which specified that prosciutto made only in Tuscany according to the production regulations can be called Prosciutto Toscano PDO. The pigs must be born, raised, and slaughtered only in Tuscany and a selection of neighboring regions. The production technique is marked by ancient craftsmanship, a long aging period (minimum 12 months), and aromatic herbs from the Tuscan territory.
Tramezzini with Prosciutto Toscano DOP
Ingredients for 8 portions:
8 slices of panbrioches
2-3 tablespoons of mayonnaise
1 bunch of watercress or rocket
2 nectarine
8 slices of Tuscan DOP ham
Preparation:
Trim the panbrioche slices by removing the crust, cut each slice in two, forming 2 equal rectangles. Toast the panbrioches in a pan on both sides. Arrange the sandwiches with a light layer of mayonnaise, a few leaves of watercress, two thin slices of peach and a slice of Prosciutto Toscano DOP.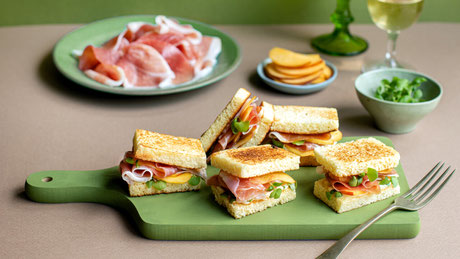 Crostatine salate con Prosciutto Toscano DOP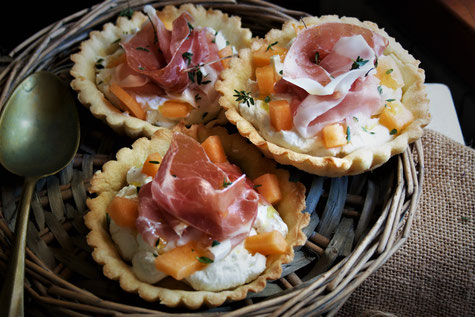 Ingredients for the shortcrust pastry:
Flour 00, 200 g; soft butter, 90 g; egg, 1 whole; water at room temperature, 20 g salt, a pinch (about 5 g)
Preparation: 
You can make the shortbread by hand or even in the mixer. Work the soft butter into small pieces with the flour and salt. Add the egg and water. Work quickly obtaining a homogeneous dough. Wrap the dough obtained in film and leave in the fridge for an hour.
Take the dough back and lay it down with a rolling pin.
Use for pies, quiches or boats to fill. Bake in the oven in buttered and floured pans for about 15 minutes at a temperature of 180°. Leave the pastry to cool and then move on to using it. Parallel, prepare the other ingredients. DOP Tuscan Ham, about 6 slices; robiola or other cream cheese, 1 package; netted melon, 3 slices; chives , thyme to taste; black pepper; extra virgin olive oil
Prepare the tarts according to the basic savory shortcrust pastry recipe. Mix the robiola or other creamy spreadable cheese with chopped black pepper and chives. With a pastry bag, fill each tart with the cheese. Cut the melon into small pieces after having lightly dried them with paper towels and arrange them well on top of the cheese mixture
Place in the fridge and just before serving, arrange two slices of ham and thyme leaves on top of each tart. If you like, add a light drizzle of olive oil over the top.
Torta di Tramezzini al Prosciutto Toscano DOP
As an appetizer, for brunch or as an aperitif, this sandwich cake is really simple and quick to make.
Ingredients:
5 slices of bread for rectangular tramezzini (250 g); 250 g Tuscan DOP Ham; 250 g spreadable fresh cheese; 200 g Russian salad; red cherry tomatoes; pitted black olives
artichokes in rocket oil.
Preparation:
Arrange a first layer of bread for sandwiches and spread with the cheese and place a few thin slices of ham on top. Proceed with another layer of bread covered with Russian salad. Continue with the layers of sandwich bread, spreading the cheese and alternating the ingredients. With the help of a spatula, spread the remaining cream cheese on the sides and on the surface of the sandwich cake.