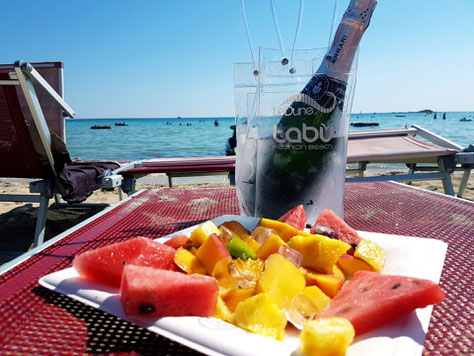 Puglia is one of the most favorite holiday destinations for Italians. And the current temperatures are ideal for long beach days. But what are the perfect foods to beat the heat? Obviously fruit and vegetables are very valid allies in the fight against heat exhaustion. One of Italians favorites legumes are zucchini, which have an enormous source of minerals such as potassium, iron and phosphorus as well as vitamins A and B. Similar is the cucumber, which has as much as 96% water. It is also an excellent detoxifier, a diuretic and of course it is very refreshing. With a cucumber salad you will fill up on vitamin C, mineral salts and amino acids.
As for fruit, the most suitable foods are melon and watermelon. They are both high in water and are also some of the tastiest available in the summer. In terms of proteins, the lightest one should be chosen such as Chicken. This white meat not only contains proteins, but also potassium, phosphorus, selenium, sodium and magnesium, vitamins B1 and B2 and, finally, contains very little fat.
Frisedda is one of the dishes of the Salento tradition: a perfect fresh food in summer;  it keeps for a long time and this made it, in the past a valid alternative to bread.
It is a very hard toasted bread made with wheat or barley flour, cut horizontally halfway through cooking. Then it must be softened in water and seasoned with oil, oregano, salt and tomato. Furthermore, it can be seasoned to your liking with rocket, tuna, capers or even vegetables. Unlike their Calabrian counterparts (called freselle), the Salentines remain firmer and crunchier after immersion in water. In recent years, more and more Italian seaside resorts in the South have successfully served this specialty for the many tourists who flock to the beach.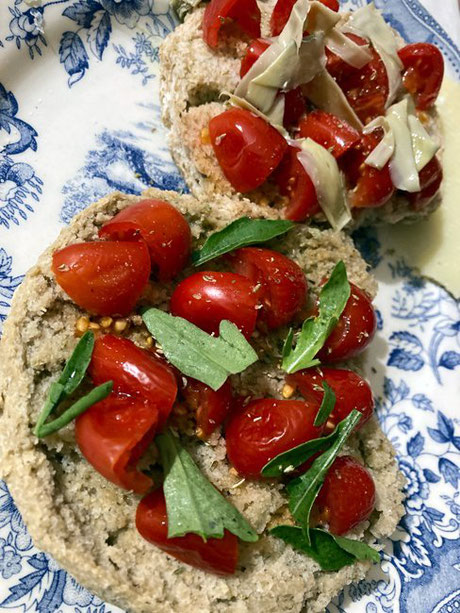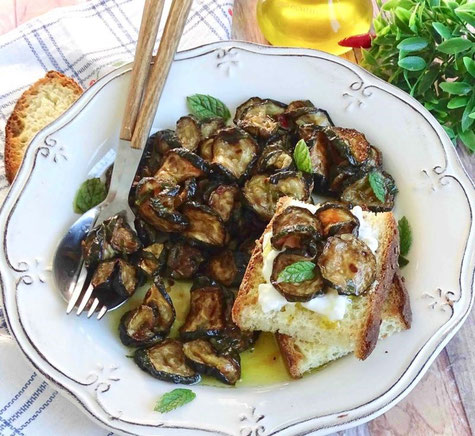 Zucchini alla poverella are a typical Apulian side dish, sliced zucchini, fried and seasoned with olive oil, vinegar and fresh mint. A recipe that has its roots in peasant tradition and is still very popular today. In addition to an exquisite side dish, courgettes alla poverella are also a delicious appetizer that is often served together with Stracciatella di burrata and Capocollo di Martina Franca. All accompanied by a fresh glass of Rosato di Negramaro. You cannot say that you have been to Puglia if you have not enjoyed at least one lunch in such a way!
Tiella Barese - this rice, potatoes and mussels dish is classic to Puglia. Per the name, its a specialty of Bari, the capital of Puglia. Layers of onions, potatoes, rice, cheese and mussels simmer away to comfort food perfection in the oven. A specialty prepared throughout Puglia; made in a pan or "la Tiella" where strictly everything raw is added in layers: rice, mussels in half shells, thinly sliced potatoes, sliced tomatoes, onion rings, chopped fresh parsley; to complete, a generous sprinkling of pecorino! Finally, it is cooked in the oven slowly, where all the ingredients are mixed together, giving life to a tasty and fragrant pan wrapped in a crispy and gratin crust!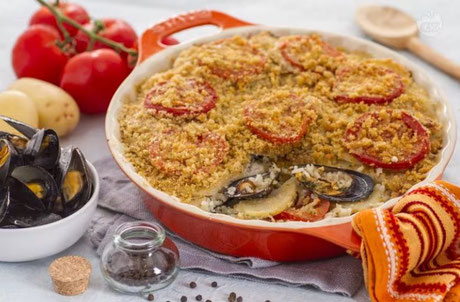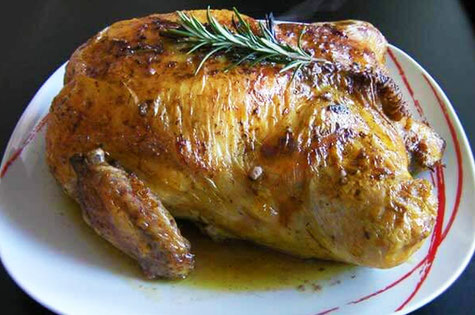 Today we will tell you about a truly traditional recipe, much loved in Puglia and in particular in Salento especially during the holidays - Pollo Cusuto-n-culo. Wash the chicken without dividing it, even inside. Separately, prepare a finely chopped bacon, chillies, garlic, onion and put it in a bowl with  the chopped innards and mix everything with oil, salt and pepper. Cut the legs off the chicken and bring the thighs closer to the body by tying them. Introducing the stuffing into the chicken, after the operation, take the kitchen twine and sew the area where you inserted the stuffing to prevent it from coming out. Arrange your stuffed chicken in a baking dish, sprinkling the skin with salt, pepper and oil. Place your pan in an oven preheated to 200°, cooking for an hour and from time to time sprinkle the whole with the cooking sauce and turn the chicken to cook it evenly. Serve it on the table with some baked potatoes and your traditional Salento dish will be ready.