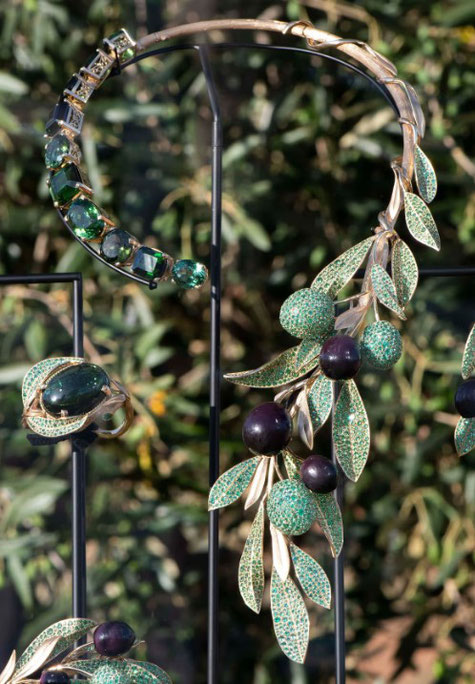 Puglia inspired this year's Dolce & Gabbana's Alta Gioielleria (High Jewellery ) collection which was presented among olive groves in Alberobello, a Unesco World Heritage site, with many VIPs and Stars in attendance, such as Dame Helen Mirren, Diana Ross and Erling Haaland, as well as Kim Kardashian.
The splendid Jewellery creations meticulously handcrafted by skilled artisans stand as symbols and testaments of the authentic Puglia territory.  There are masterpieces such as the combination of  matching necklace, earrings, brooch and bracelet  inspired by olive trees . The stunning pieces created by the house's artisans with twisted gold vines emerald-encrusted leaves and hand-enamelled gold fruits in one precious's question mark necklace, or with a gleaming green tourmaline cabochon representing a lusciously plump olive, set amongst emerald leaves for a cocktail ring.Puglia is worldwide renown for its ancient olive trees, dating back to 1000 BC; and they are as is the Olive Oil an economic and cultural relics of antiquity and modernity alike. Yet many of its precious olive groves have been devastated by a bacterial infestation in the last decade, resulting in the loss of millions of trees; which Dame Helen Mirren has launched "Save the Olives" appeal. 
As part of the new Dolce&Gabbana High Jewellery Collection, Puglia's bright bougainvillea blossoms have been lovingly recreated as a cascade of pink enamel and hand-blown glass blooms in one elaborate bib necklace and brooches -  hand crafted from gold, glass, enamel and white diamonds. When you compare what nature has created in terms of the olive branch or the bougainvillea flowers; you are speechless to the Italian Artisan craftsmanship demonstrated in the creation of these jewellery items.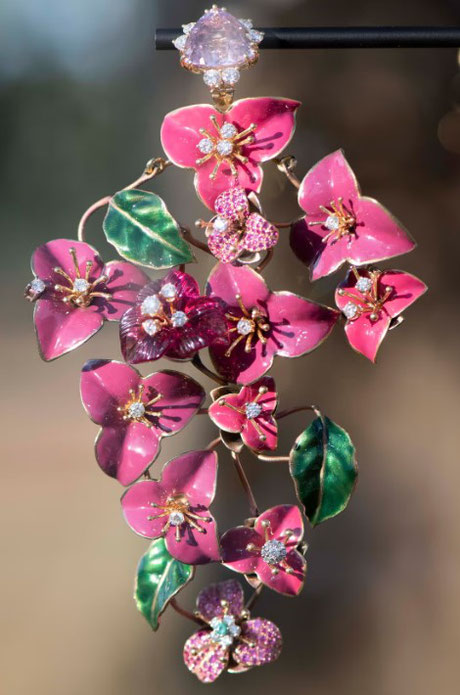 This collection is so remarkable that a special Dolce&Gabbana Alta Gioielleria book has been created to celebrate the Italian creativity and craftsmanship, curated by Carol Woolton, unveils the splendour and artistry behind Dolce & Gabbana's distinctive signature creations. A genuine treasure for Alta Gioielleria enthusiasts.