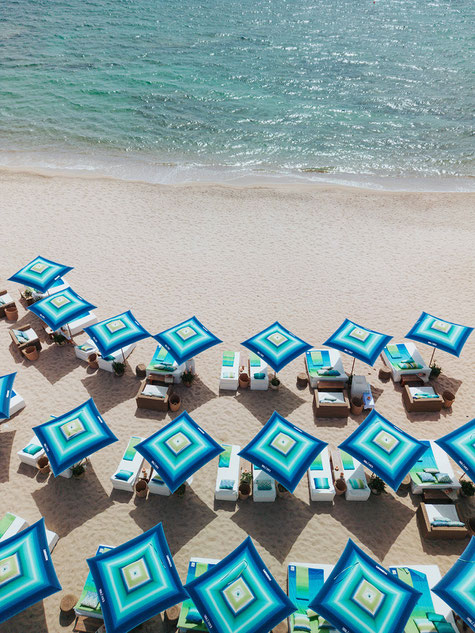 The creative signature of Missoni celebrates once again the exclusive union between luxury and nature. A new destination for a holiday dedicated to the Missoni lifestyle surrounded by a suggestive landscape. The Missoni Resort Club customizes the Nikki Beach Costa Smeralda of Cala Petra Ruja in Porto Cervo. A prestigious location immersed in the marvelous colors of Sardinia that now welcomes the captivating imagination and the peculiar design that characterize the brand. A synergy between aesthetics and joie de vivre, designed to immerse yourself in an atmosphere of comfort and sophistication. Marine palettes and vibrant motifs on furnishings and fabrics. The Missoni essence in total customization of the beach club.
This new project confirms Missoni's desire to combine its unmistakable and eclectic style with exclusive locations and fascinating landscapes, through unprecedented aesthetic transformations and always in harmony with the surrounding nature. Welcome to the Missoni Resort Club of Nikki Beach Costa Smeralda.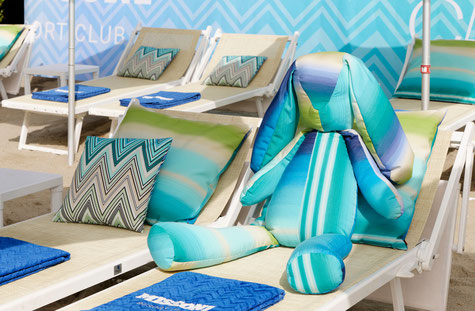 In addition to the Costa Smeralda, you can also opt for Portofino. The Missoni Resort Club Portofino is born from the collaboration with the exclusive beach resort Le Carillon of Paraggi. The historic location overlooks the bay located in the coasts of the Portofino promontory, surrounded by green maritime pines and bathed by the emerald sea. The colors of the surrounding landscape are now blending with the nuances designed by Missoni and its iconic patterns, in a combination of flair and nature that celebrates the Dolce Vita. Le Carillon is one of the most renowned beach resorts in Italy.   Located in Paraggi Bay and with iconic Portofino right behind the corner, our venue can also boast a waterfront restaurant and a disco club. For more than eighty years, with high-end gastronomy and an unrepeatable atmosphere, Le Carillon has been an unrivaled location for those looking for classy entertainment.
Vivacity and wellness recall the unmistakable codes of the Missoni style. The cushions and beach umbrellas are dressed in the different tones of the sea and the sky, accompanied by soft towels adorned with the famous zigzag motif and the Missoni Resort Club embroidery. Between history and Bon Vivre, on the veranda of Le Carillon you can breathe an atmosphere that smells of Dolce Vita, emphasized by the specially made furnishings. From the beach, to the pier, to the veranda and the pop up store. An exclusive all-embracing experience of the Missoni spirit which finds full expression in the exceptional location of Le Carillon in Paraggi. Our waterfront restaurant is open every day for lunch and dinner and is the perfect place for a business lunch, a romantic dinner, or a family celebration. As the world's first Missoni Resort Club, various furnishing items, tapestries, and fabrics are used to personalize the interior of the veranda facing Paraggi Bay. Fresh ingredients arrive in our kitchen every day to serve only the highest quality to your table and are what make our signature dishes unique and sophisticated.