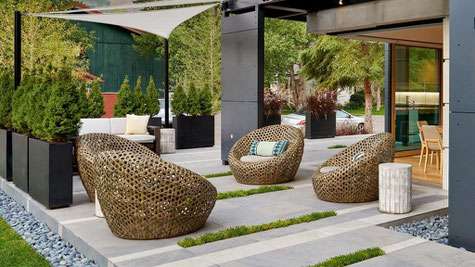 A beautiful sunny terrace can be a pleasant environment in summer that enhances your wellbeing at home, and also expands your living space beyond the walls of your home. However, with the arrival of the warm season and the summer heat, a problem arises: how to best shade the terrace? How to create some shade to allow you to better enjoy the outdoor space and at the same time protect the walls of the house from too much sun?
Here, some ideas for shading your terrace or balcony. 
Deck Sails
An awning is perhaps the best solution for shading your terrace. Practical, economical, versatile, easy to install, it requires little maintenance. The sails are of sturdy, strong canvas, usually triangular or sometimes rectangular /square in shape. They are fixed to the wall or with support poles, based on the shape of the terrace. They hook and unhook easily, with carabiners. Italian brands such as Tendopoli or Maanta are great options.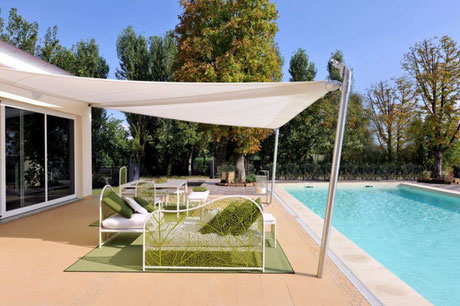 Sun Umbrellas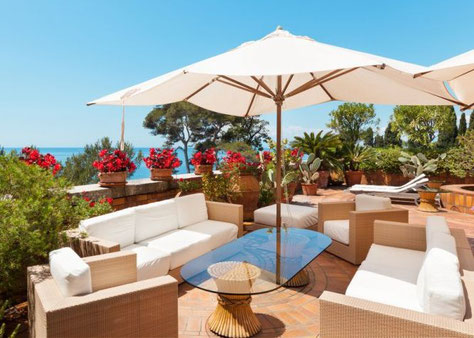 Certainly one of the preferred solutions for shading the terrace are sun umbrellas.  There are many models, of various sizes and colors. They protect from the sun, the wind and light rain and furnish with taste. They do not require installation works, such as awnings for example, so they cost less and can be moved easily. There are many Italian manufacturers such as L'ombrellificio Danieli or Green Line srl.
Natural Sun Shades
For a Mediterranean and natural look, flat panels out of natural materials such as bamboo may be the right choice! Natural Bamboo Cane panel balcony covers can be unrolled on the railing to shade the balcony, or used vertically or to cover pergolas. They are light and cast shade, without obstructing the passage of air. If you wish, you can combine them with each other, putting them double or combined with light fabrics for the most exposed areas. They can be bought at DIY stores or online, such as at Palucart.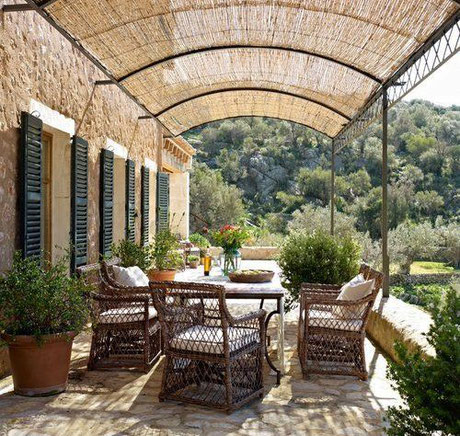 Plants to create Shade
Plants are an excellent idea for shading a terrace or balcony. In general, climbing plants are used, to be grown on special structures such as trellises and pergolas. The plants give shade with their foliage, naturally cool the environment and furnish more.
The exposure and conformation of the terrace must be suitable for being shielded in this way.
Pergolas, awnings and gazebos
Permanent structures, such as pergolas and gazebos, are ideal for shading the terrace. They require adequate space, and permits may be required for installation.
So they are not always a possible choice, but certainly an excellent solution for creating a shaded area on the terrace. Especially elegant installations such as from the BT Group from the province of Monza offer some stunning options for permanent pergola installations.