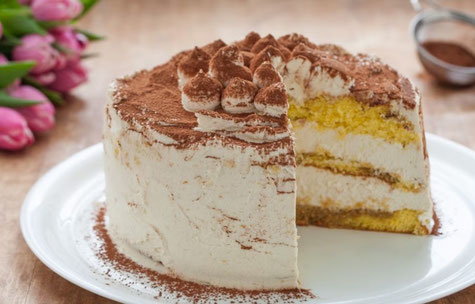 Tiramisù cake is a creamy and delicious layered cake that is made with some of the basic ingredients of the classic tiramisu recipe such as coffee and mascarpone, but without eggs. Its impressive look makes it perfect as a birthday cake; but the Tiramisù cake is also a delicious dessert. Filled and decorated with a soft and fluffy mascarpone cream with cream and coffee, but without eggs and finally dusted with bitter cocoa.
Ingredients:
3 sponge cake discs of 22 cm in diameter; 1 kg of mascarpone; 300 g of icing sugar; 240ml of coffee; 360 ml of fresh cream; bitter cocoa for decoration
Preparation:
Start your Tiramisù cake with the cream that will serve both as a filling and as a decoration of the cake: in a bowl, cream the mascarpone with an electric mixer (or the planetary mixer). Add the sifted icing sugar and whisk for 2-3 minutes until the mixture is swollen and frothy. Add half of the coffee and whip for another 3 minutes. Add the cream and whip for another 3 minutes or until you get a frothy mixture. Arrange the first disc of sponge cake on a plate and brush it with a little of the remaining coffee. Distribute 1/3 of the mascarpone frosting on top and level with a spatula.Continue by alternating another layer of sponge cake brushed with coffee and another third of mascarpone. Lastly arrange the third layer of sponge cake, wet it with a little coffee and cover the top surface and all the edges with the remaining mascarpone, leveling it with a spatula. For the decoration: with the remaining frosting you can form tufts on the top of the cake using a sac à poche with a 15 mm smooth nozzle. Place the Tiramisù cake in the refrigerator for 4 hours before serving. When serving, sprinkle with unsweetened cocoa powder.