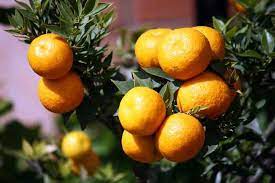 Chinotto is usually referred to an Italian soft drink. But indeed it is actually a fruit, a citrus fruit with a slightly bitter taste. It is believed to have come via China to Liguria; cultivated since the 19th century. It is usually used in Italian pastries as candied fruit or syrup. Also as a bitter and soft drink. The drink was known in antiquity as a dark-hued, bitter-tasting variant of orange juice, and was considered as refreshment. Industrial production of Chinotto soda dates to the 1950s. Since 2004, it has been  protected by the Slow Food Movement.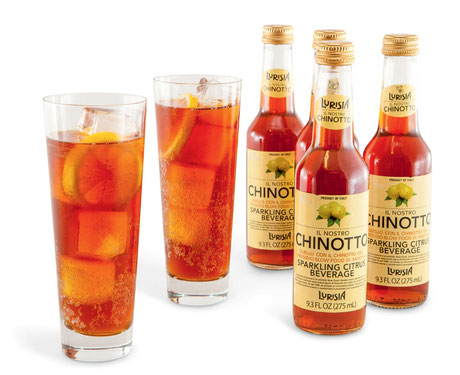 Chinotto from Lurisia is a unique historic digestif from Liguria, a soft drink that was popular in the 1950s. and now it's on the scene again! Made with Chinotto oranges, this refreshing fizzy drink has an exciting bittersweet taste loved by fans for generations. The unmistakable aroma of the Ligurian  chinotto where the plants have been grown since the 1500s. The infusion obtained from this citrus fruit gives the original Chinotto drink a unique taste capable of releasing intense aromas. Endorsed by the Slow Food Presidium of Savona.
A true 'cult drink', Sanpellegrino Chinotto is a beverage with a taste that is entirely its own. Born in the '50s, Chinotto is made from extracts of zesty sun-ripened chinotto oranges that get their distinct flavour from the unique conditions of the Mediterranean land. A deep brown colour with a light carbonation that rolls off the tongue, every sip is a journey to the south of Italy with the iconic Chinotto. It is full of the exquisite aroma from chinotto essential oils that plays joyfully with the scent of orange blossom flowers, whilst its full-bodied taste balances sweet and bitter with smooth hints of cinnamon and rhubarb between the mix of 20 different herbs. A remarkable drink distinguished by its fresh and decisive flavour, try Chinotto with some Italian dishes such as puntarelle with anchovies, or a fish fry, and join the fans all over the world who have loved Chinotto for generations.