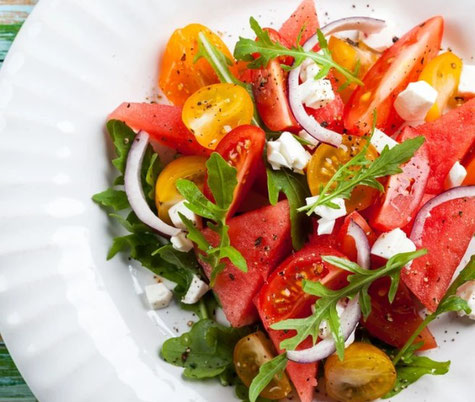 With the arrival of summer and the first heatwave, the search for dishes without cooking, i.e. cold and quick dishes, is seen as a sort of fallback, but can still deliver great flavour and textures. The difference makes the choice of the right ingredients and seasoning. Think of colorful salads such as the Panzanella salad or swordfish tartare or pasta with fresh cold sauces with fresh tomatoes or with Pesto Trapanese.
Tartare di spada con lime, capperi e germogli di senape
Swordfish tartare with lime, capers and mustard sprouts is a perfect fish appetizer.
Ingredients:
Swordfish 500 g; Limes 2; Desalted capers 3 tbsp; Extra virgin olive oil as needed; Mustard (sprouts) to taste; Salad just enough
Preparation:
Cut the swordfish with a knife, beating it lightly with the flat side of the knife. Also chop the capers, leaving some whole for decoration, and add them to the fish.
Squeeze the juice of a lime, also grate the peel and season the swordfish, also adding a little oil. Leave to rest for at least half an hour in the refrigerator. After this time, compose the dish by arranging the swordfish with the help of a pasta cup circle, decorate with the sprouts and a drizzle of extra virgin olive oil and accompany with salad.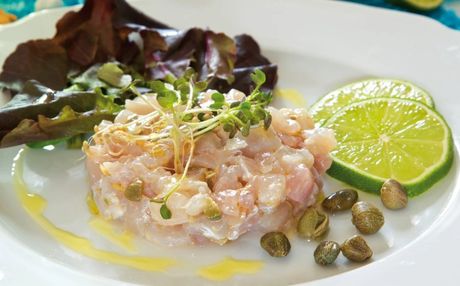 Panzanella con burrata, dalla Toscana alla Puglia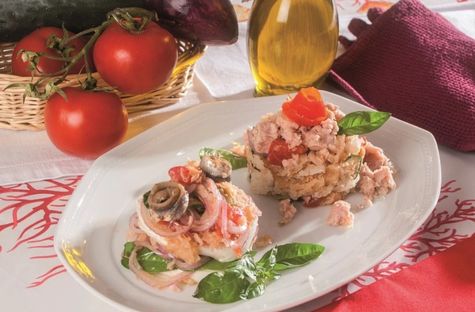 Panzanella with burrata - a decidedly more appetizing version of the usual panzanella to tempt the most tenacious appetites. Proceed by following the steps of the classic recipe, but instead of tuna – or even in addition – put fresh burrata at the base of the dish which you will cover with a generous layer of panzanella, a few basil leaves and a handful of cherry tomatoes. For an extra touch of flavour, don't forget to add some anchovies.
Ingredients:
Stale Tuscan bread 4 slices; White vinegar as needed; Red copper tomatoes 200 g; Fresh red onion 1; Cucumbers 1
Capers 1 tbsp; Celery 2 stalks; Basil as needed; Extra virgin olive oil as needed; Salt just enough; Pepper just enough
Burrata 1; Anchovies 2 fillets; Natural tuna 150 g
Preparation:
Soak the bread in a bowl with water and vinegar for 20 minutes. Then squeeze it, crumble it and transfer it to a bowl.
Add the diced tomatoes and the sliced onion soaked in water and vinegar. Add the chopped celery, the sliced cucumber, the capers and the chopped basil. Salt and pepper and season with plenty of oil. Leave to rest in the fridge for an hour. Then compose the dish with a pastry rings: put the burrata on the base, then the panzanella and repeat with a second layer. Decorate with anchovies, basil and cherry tomatoes.
Insalata caprese: il tricolore in tavola
Caprese salad is a cold appetizer typical of Campania and in particular of the island of Capri. It is a simple salad but its freshness, lightness and flavor have made it such a famous dish that it is commonly called "a caprese" omitting the term salad. The summer recipe par excellence, caprese is served both as an appetizer and as a main course. The ingredients to make it are very few and you need all of excellent quality: strictly buffalo mozzarella, ripe salad tomatoes, extra virgin olive oil and basil. In some variations of the caprese salad, the basil is replaced with oregano and the buffalo mozzarella with fiordilatte (but the result is not comparable).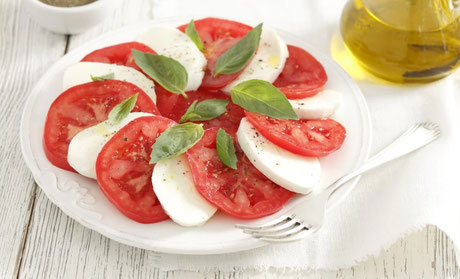 Ingredients:
Buffalo mozzarella 500 g; Round tomatoes 400 g; Basil as needed; Salt just enough; Pepper just enough; Extra virgin olive oil as needed
Preparation:
Wash the tomatoes thoroughly and dry them. Cut them into slices about 1 cm thick. Also slice the mozzarella.
Arrange the slices of mozzarella and tomato on a plate: arrange them in a radial pattern, alternating the tomato with the mozzarella. Salt and pepper and complete with a drizzle of extra virgin olive oil and the chopped basil leaves. 
Spaghetti al Pomodoro Fresco - Senza Cottura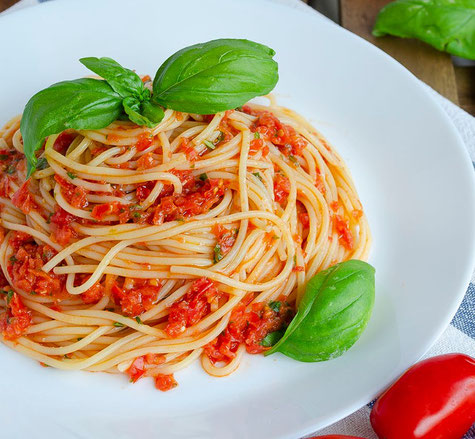 Very easy and fast: no-cook spaghetti with fresh tomato, a perfect first course to make and enjoy in summer, during high temperatures! It is a dish of spaghetti seasoned with fresh tomato sauce that is prepared without cooking: the sauce is a fresh tomato sauce where the cherry tomatoes are blended together with olive oil, basil, parmesan and salt like pesto.
Ingredients:
160 g spaghetti (or other pasta shape); 10 perini tomatoes (or Pachino, Piccadilly); 6 leaves basil
2 tablespoons grated parmesan; olive oil to taste
salt up to taste.
Preparation:
Put the spaghetti to cook in boiling salted water, in the meantime prepare the sauce. The fresh tomato sauce is prepared in minutes. Wash the tomatoes under running water. Cut them in half and put them in the bowl of a blender or in a mixer. Add the Parmesan cheese, fresh washed basil leaves, a little salt and olive oil. Blend intermittently for a few seconds, until the tomatoes are chopped up. The fresh tomato sauce is ready for dressing.
Pesto alla trapanese
A pesto that identifies an entire territory such as the province of Trapani. Good and tasty, it is distinguished by the presence of almonds and tomato. Prepare by blending abundant basil leaves, half a clove of garlic without peel, grated pecorino cheese, almonds and fresh cherry tomatoes. Add oil according to the desired consistency.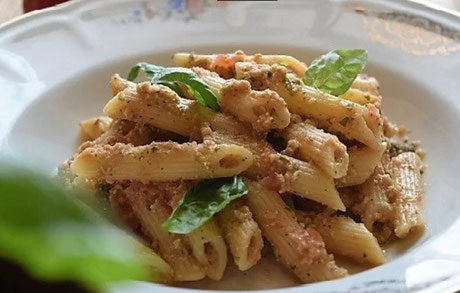 Spaghetti Acciughe uvetta e pinoli
Sauce with breadcrumbs, anchovies, raisins and pine nuts. Soak the raisins in water and add them to the pine nuts (you can toast them in a pan). Add the crumbs of crunchy stale bread, grated not too finely, and the anchovies in oil. Mix and season with salt and pepper.