Anchovies  -small and slender, they are among the bluefish most present in our seas. They are known and appreciated not only for their well-known nutritional properties, but also because they are rich in taste and very versatile in the kitchen. Simple dishes to prepare but with unique and delicious flavours. From the classic green anchovies cooked in stew to the vegetable and anchovy pie; from baked paccheri with mozzarella and anchovies to roasted green olives, pine nuts and anchovies or meatloaf with anchovy sauce!
Tortiera di acciughe - Anchovy Tart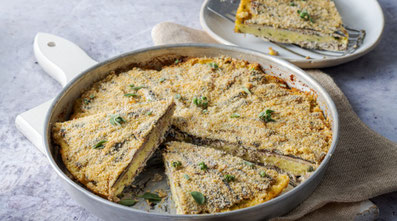 Ingredients:
900 g of anchovies or anchovies; 50 g of grated grana padano dop; milk; breadcrumbs; 1 bun
3 eggs; 1 clove of garlic; 1 sprig of parsley; Oregano; marjoram; extra virgin olive oil; salt
pepper.
Preparation:
Remove the crust from the sandwich and soak the breadcrumbs in a bowl of milk. Clean the anchovies, removing the head, innards and bones, then wash them and pat them dry with kitchen paper; chop two. Peel the garlic and mince it with the parsley leaves. Shell the eggs in a bowl, beat them and add the chopped anchovies, the squeezed breadcrumbs, the parmesan, the prepared aromatic mixture and flavor with a few leaves of marjoram, a pinch of oregano, salt and pepper.Grease a round saucepan with oil and spread half of the anchovies open like a radial pattern. Spread the prepared stuffing on top and cover with the remaining anchovies. Drizzle with a drizzle of oil, sprinkle with the breadcrumbs and cook in the oven at 200° for 15-20 minutes.
Polpettone con salsa di Acciughe - Meatloaf with anchovy sauce
Ingredients:
400 g of minced chicken; 200 g of pork mortadella; 200 g of cottage cheese; 80 g of Parmesan; 150 g of breadcrumbs; 200 g of pitted olives; anchovy sauce; nutmeg; 5 spoons of extra virgin olive oil; salt; white pepper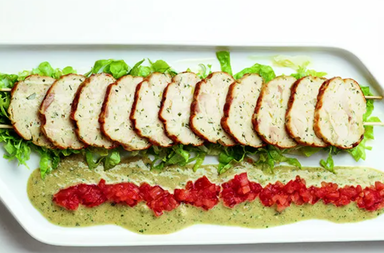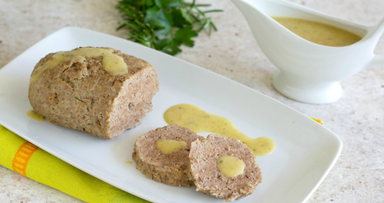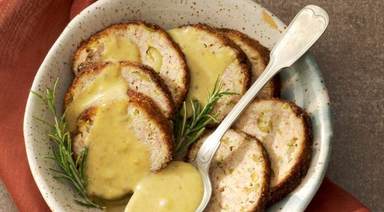 Preparation:
In a bowl, mix 400 g of minced chicken with 200 g of minced mortadella, 200 g of ricotta, 200 g of green olives pitted and cut into slices, 80 g of grated Parmigiano Reggiano Dop, a generous grating of nutmeg, salt and white pepper. Mix all the ingredients well, then with wet hands, shape the meatloaf giving it the shape of a slightly flattened cylinder. Roll the meatloaf in 150 g of breadcrumbs, pressing it with your hands, so that it adheres well to the surface. Heat 5 tablespoons of extra virgin olive oil in a high-sided non-stick pan and brown the meatloaf over high heat on all sides. Lower the heat and continue cooking on a moderate heat for 30-35 minutes, turning it gently often. Serve in slices with the delicate anchovy sauce.
Orecchiette con Cavolfiore con salsa d'acciughe e pangrattato sfritto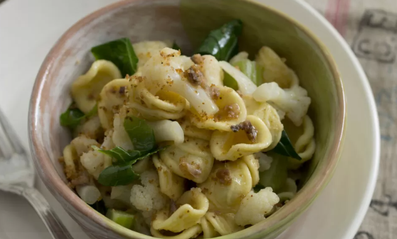 Ingredients:
500 g of fresh orecchiette; 350 g of cauliflower
6 anchovy or anchovy fillets in oil; 4-5 spoon of breadcrumbs;  2 cloves of garlic;  8 tbsp. of extra virgin olive oil; hot chili powder; salt
Preparation:
Remove the core from the cauliflower, cut it into florets, wash them and cook them for about 3-4 minutes in plenty of lightly salted boiling water; then add the orecchiette and cook them. In the meantime, peel the garlic cloves, brown them lightly in a large pan with 4 tablespoons of oil and then remove them; add the chopped anchovy fillets, mix well and turn off the heat. Fry the breadcrumbs in another pan with the remaining oil. Drain the orecchiette and cauliflower al dente, put them in the pan with the anchovy sauce, mix well, add the "fritto" breadcrumbs and a little chilli pepper and sauté everything together for a few seconds. Serve immediately.
Bigoli in Salsa di Acciughe - Bigoli in Anchovy Sauce
Ingredients:
800 grams of semolina pasta (of durum wheat);  80 grams anchovies or anchovies; 1.5 glasses of white wine; 4 bay leaves; 2 onions; to taste pepper; to taste extravirgin olive oil; to taste salt.
Preparation:
To prepare the recipe for bigoli in anchovy sauce, peel the onions and cut them into very thin slices. Transfer them to a pan and brown them over low heat with 1/2 cup of extra virgin olive oil, stirring often with a wooden spoon. Wet the onions with 3 tablespoons of water and cover the pan. Continue cooking until they are completely wilted without letting them brown too much. Desalt the anchovies by washing them under running water, remove the central bone and cut them into small pieces. Add them to the stewed onions, along with the bay leaves. Mix the ingredients and blend with the white wine. Raise the heat to evaporate the alcohol and transfer the anchovy sauce to a large bowl. Add some extra virgin olive oil, mix and keep warm. Bring a pot of salted water to the boil and dip the bigoli into it. Cook them and drain them very well. Pour the pasta into the bowl containing the hot anchovy sauce and mix. Season the bigoli in anchovy sauce with a generous sprinkling of pepper, mix and serve by dividing the dish into individual plates.