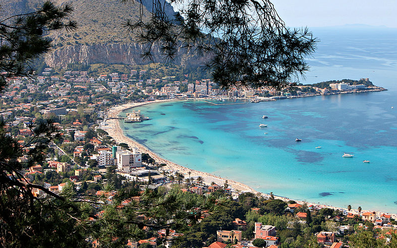 Palermo - a happening location for your July escape. With food festivals happening as well as cinema, art and music events while watching sunset. These are just some features of the first weekend in July in Palermo, to explore the magic of summer. The Nomad Music Fest is staged at the Piccolo Parco Urbano in Bagheria, visits to the roofs of the Church of Sant'Antonio Abate, finishing off with an aperitif to discover the Palermo "manciatara" among the alleys of the city. The Sicilian capital is an ideal place to visit during the summer months, with many outdoor activities on offer and temperatures that are never too hot. From the Teatro di Verdura, with world-renowned artists and concerts, to its amazing beaches and nature excursions, Palermo is an ideal destination for your summer trips. With centuries of history behind it, strolling through the streets of the historic centre, its churches and monuments, will make you fall in love with Palermo. 
A sensory experience for the taste buds for those who want to know and savour Palermo street food without neglecting the artistic heritage. A tour to discover delicious recipes that, from the kitchens of noble palaces, to traditional street food with tasty ingredients.  The "Palermo Manciatara" is an opportunity to learn about the stories of the Abbey nuns who, with their "holy hands", prepared sfincioni and delicious desserts, the origins of the Ca' meusa sandwich and Arancine. And not to forget the divine panelle and cazzilli. 
The trend of outdoor terraces has also arrived in Palermo restaurants. Offering privileged vista points that overlook Palermo, including the sea, mountains and monuments. The ideal place to to have an aperitif or dine out - from rustic agritourism dedicated to traditional cuisine to the Design Hotel with infinity pool, and Michelin Star restaurant with a view onto Etna. Such as Al Fresco Giardino Ristorante or Papillon in Mondello and Hotels such as Al Balhara Resort & Spa or Hotel Bel 3.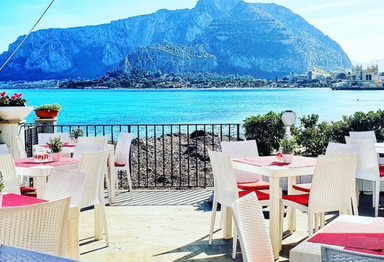 Palermo is a city rich in history and culture, but another of its attractions is its coast with some of the most beautiful beaches in Italy. The warmer months are ideal for a day at the beach, and none beat Mondello beach. It is a paradise of fine white sand and turquoise sea. Located a stone's throw from the center of Palermo, Mondello offers everything you need for a perfect family day out during the Sicilian summer. The beach has sunbeds and umbrellas, beach bars and pedal boats for hire. All along the coast you can stroll along the promenade, where you will find shops and a wide range of restaurants. Ideal for sitting and having a bite to eat while watching the boats and sailboats on the dock.