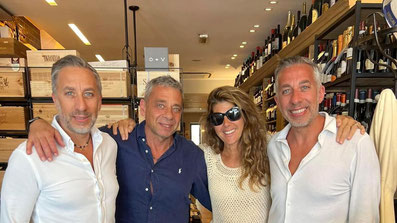 Palermo continue to be a magnet for stars and VIPs. After Mark Ruffalo and Mel Gibson, recently on holiday in the Sicilian capital, these days it was the turn of Marisa Tomei, one of the most popular character actresses in Hollywood, winner of the Academy Award in 1993 for best supporting actress in the film "My cousin Vincent". Fifty-eight years old beautiful Marisa Tomei landed in Sicily late June on a journey in search of her origins. She clearly enjoyed the beauties of the historic City Centre of Palermo and the delicacies of the island's cuisine, with a visit also to "Badalmenti cucina e bottega" in Partanna Mondello.
"She surprised us with her humility and kindness, no VIP aura, she looked like the lady next door "- says Marco Badalamenti, who manages the restaurant with his brothers Luca and Mimmo. She was fascinated by Palermo and that she visited it simply without choosing luxury hotels, but a B&B in the historic centre".
At the table with friends, she enjoyed seafood arancina, scampi, marinated prawns and tuna tartare as an appetizer. Then Anelletti risotto with tuna sauce and aubergine cream and a taste of linguine with lobster. All accompanied by Sicilian bubbles and white wine from Etna.