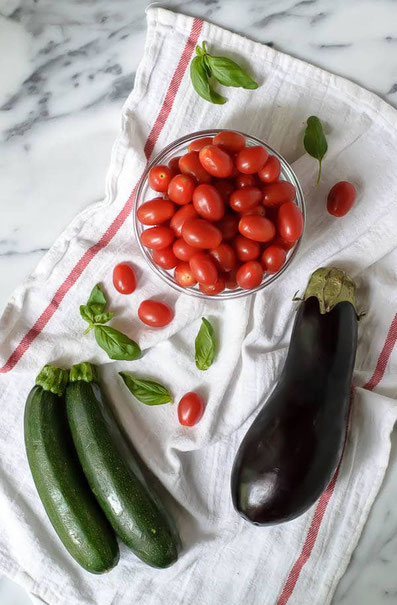 July is the month of some of the most beloved vegetables in Italy: Melanzane, Zucchini and tomatoes. Tomatoes ripen in July, and provide antioxidants par excellence to fight free radicals, responsible for the aging of cells. In this month it is also ideal to eat raw vegetables, freshly picked from the garden, to take advantage of all their nutritional properties and benefits. From Zucchini to tomatoes, passing through melanzane, lettuce, broad beans, radicchio and radishes: you'll be spoiled for choice to fill up on well-being.
Involtini di zucchine
Ingredients:
2 medium zucchini; 350 g of Crescenza or Stracchino Cheese; 3 dried tomatoes; 30 g of chopped pistachios; 30 g of toasted and chopped almonds; a few basil leaves; extra virgin olive oil; salt; pepper
Preparation:
Making these zucchini rolls is quick and easy. Wash the courgettes, peel them and cut them into thin slices, lengthwise, with the help of a mandolin. Sprinkle them with salt and let them rest for half an hour: in this way they will become softer. After this time, eliminate the water that has been created and place them on a pan covered with oven paper lightly greased with oil, sprinkle them with a drizzle of oil and put them in a preheated oven at 180° for 10 minutes. In the meantime, dedicate yourself to the filling: cut the dried tomatoes into small pieces and chop the basil. Mix everything with the crescenza cheese with the pistachios and toasted almonds until you get a cream. Season with salt and add a grind of pepper.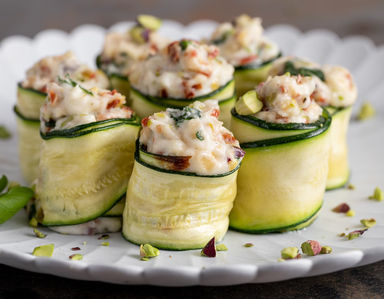 Distribute a spoonful of mixture on each slice of zucchini and roll it up on itself. Arrange the zucchini rolls thus obtained on a serving plate and leave them to rest in the refrigerator until it is time to serve them.
Pasta con le melanzane in bianco - Pasta with aubergines in white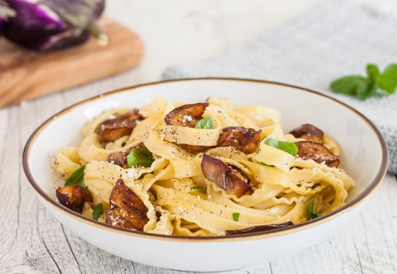 Ingredients:
400 g of Reginette/Malfadine shaped pasta; 2 not too big aubergines; mint; basil; grated Parmesan; cheese; extra virgin olive oil; salt; pepper
Preparation:
To prepare the pasta with aubergines in white wash the aubergines, remove the stalk and cut them into slices about one centimetre in diameter. Place them in layers in a colander and sprinkle with coarse salt. Let them rest at room temperature for about 1 hour so that they lose most of the vegetation water. At the end of this operation, wash them, squeeze them if necessary, pat them dry with kitchen paper and cut each slice into 5 - 6 triangles. Heat about a finger of boiling extra virgin olive oil in a pan and fry the aubergines, in two tranches, until they are golden brown on both sides. Drain them with a slotted spoon and place them to dry on kitchen paper. Transfer them to a plate and season them with very little oil, salt, pepper, mint and chopped basil. Mix and let them infuse while you boil the queens in boiling salted water. Drain the pasta al dente and season it with the prepared aubergines. Add a sprinkling of pepper, grated Parmesan cheese and mix well to mix everything. Divide the pasta with the aubergines in white into the individual plates and serve.
Torta caprese salata
The salty caprese pastry tart is an easy and quirky summer recipe with the classic combination of tomato and mozzarella - but in a slightly different disguise. Perfect for a lunch or with an aperitif before a dinner with friends.
Ingredients:
1 roll of round puff pastry; 300 g of Fior di latte mozzarella; 4 ripe San Marzano tomatoes; olive oil; salt; pepper; fresh basil; dried oregano
1 tablespoon of Genoese pesto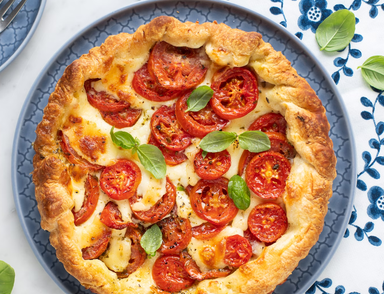 Preparation:
Preparing the salty caprese pastry tart is very simple. First, slice the mozzarella about 4 mm thick and let it drain in a colander so that it loses its water. Also slice the tomatoes, after peeling them, and season them in a bowl with olive oil, salt, pepper and oregano. Mix and let it rest for 15 minutes. Unroll the puff pastry and place it inside a buttered tart mould (also ceramic) with a diameter of 24 cm. Place the pesto on the base and level. Stuff the cake by alternating slices of mozzarella and slices of tomato well drained of their juice. Fold the excess puff pastry inwards to form the edge and add the last slices of filling. Sprinkle with fresh oregano. Bake in a preheated oven at 200° for about 40 minutes or until both the pasta and the mozzarella are browned. Remove from the oven, let it settle for a few minutes and your salted caprese cake is ready to be served.