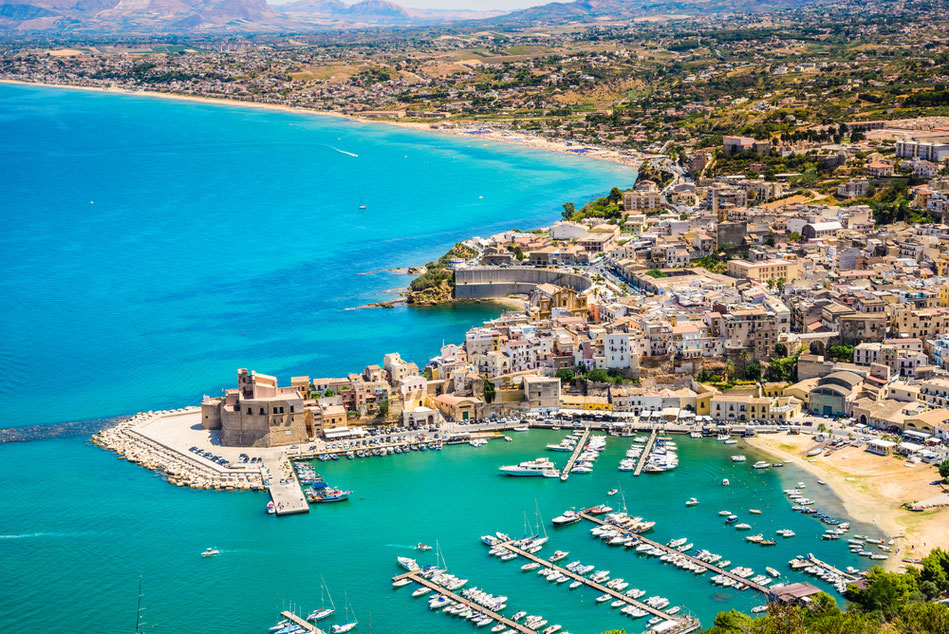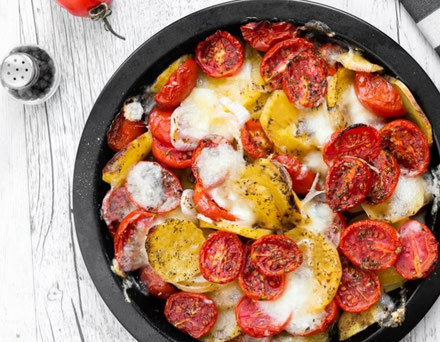 Typical recipes from Trapani in Sicily include Patate "vastase " alla trapanese , Le Busiate al Pesto Trapanese (Trapanese Pasta) and Pasta alla Pantesca; as well as fabulous street food such as Pizza rianata trapanese. 
Vastase Patate - Vastase potatoes are a typical dish of Trapani cuisine. A very simple, delicious and stringy recipe to enjoy a rich dish of baked potatoes. As a side dish or main course they are a must try! Le Busiate alla trapanese (Trapanese pasta) is a delicious first course, typical of Sicilian cuisine, especially from Trapani; made with Busiate, a shape of short spiral pasta that owes its name to the busi, or the irons that are used to twist it. Pasta alla Pantesca is a typical Sicilian dish originating from the island of Pantelleria. A delicious combination of Mediterranean flavors perfect for a summer lunch or dinner.
Patate Vastase
Ingredients:
500 g of potatoes; 1/2 onion; 300 g of cherry tomatoes; 1 fiordilatte mozzarella; Origano;  extra virgin olive oil; salt; pepper
Preparation:
To prepare thevatise potatoes, peel the potatoes, wash them, dry them and cut them into not too thin slices. Collect them in a 22 cm diameter pan greased with olive oil together with the onion cut into slices. Jumbled up. Add the halved cherry tomatoes and season with more oil, salt, pepper and dried oregano. Mix and cook in a preheated oven at 200° for about 25-30 minutes. Add the chopped mozzarella, which has been drained of its whey, and continue cooking for another 10 minutes or in any case until it has completely melted. Take thevativase potatoes out of the oven, let them settle for a few minutes and serve them when they are still hot together with the stringy mozzarella.
Typical desserts and pastries include the Graffe trapanesi con la ricotta which are pastries filled with ricotta cream. Those bite-sized pieces overflowing with ricotta on all sides, soft and inviting, frothy and snow-covered with icing sugar, stand out in plain sight: a typical dessert of the city of Trapani, a real bomb of flavor and calories that has nothing to envy to the more famous cannoli and cassata.
Cuscinetti ericini are beautiful pastries from Erice  - based on the pastry tradition of Trapani. Soft and with an exquisite flavor, they are born thanks to the nuns of the San Carlo Monastery of the Trapani town with the same dough as the desirs -  made from marzipan biscuits filled with citron jam, typical of Erice. Nowadays they are easily found in the pastry shops of Erice (and also in the best pastry shops in Trapani) all year round.