The new Bulgari Mediterranean Collection reflects the multi-faceted cultures Rome and Venice have built bridges across distant and fascinating cultures through the "roads" of the Mediterranean Sea. Flooded by exotic treasures such as precious gems, opulent fabrics and exquisite scents, the two cities sealed an encounter between East and West that has endured over time.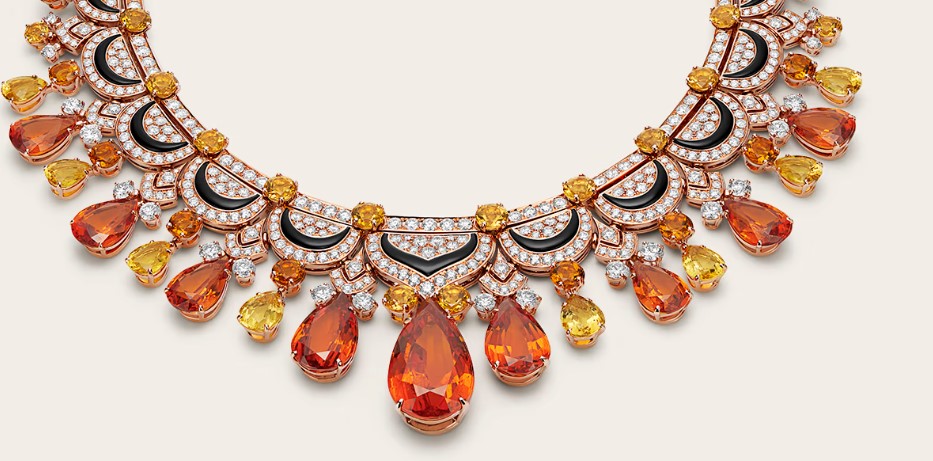 The Mediterranean Muse Necklace
Since Homer's time, the Mediterranean's legendary blues, blazing sun, and gleaming islands have enchanted the human imagination. Its shimmering currents gave rise to the Roman Empire, with the constant movement of people, ideas, and goods along its shores. The Mediterranean Muse necklace honours the spirit of the sea that inspired it.  This mesmerising cushion-cut, royal blue sapphire was found in Burma with a weight of 15.13 carats. Its alluring deep blue hue conjures the mythical water of the Mediterranean, exuding a sense of grandeur, refinement, and magnificence. Nine light blue, pear-cut aquamarines totalling 34.63 carats contrast with the main sapphire, enhanced by nine round sapphire beads of 25.17 carats and square step-cut and pear brilliant-cut diamonds. Buff-top sapphires curl, wave-like, around the platinum neckline inlaid with step-cut, round brilliant-cut, and pavé-set diamonds.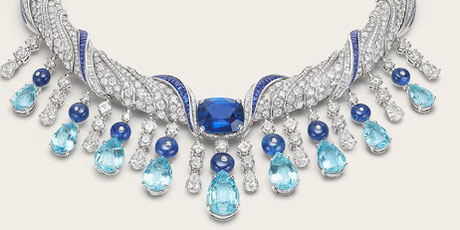 Acanthus Emerald Necklace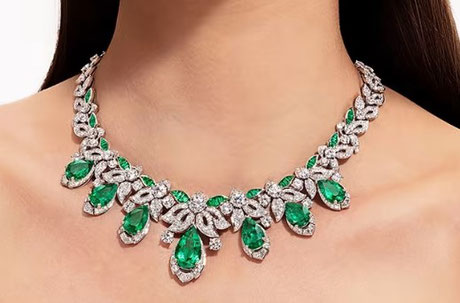 The Ara Pacis, or "Altar of Peace," was built by Rome's first emperor, Augustus, and is decorated with some of antiquity's finest reliefs. Intricately carved Acanthus flower motifs swirl so vividly around the façade that it feels like you can almost pick them off the white marble in real life. The design of the  Acanthus Emerald necklace combines history, timeless craftsmanship, and eternal beauty. Seven protagonist pear emeralds—one for each of Rome's hills—total 33.57 carats and shine with the light of the ages. They are set among 60 buff-top emeralds, masterfully mounted with 68 step-cut and 53 round, brilliant-cut and pavé-set diamonds.
Mediterranean Sapphire Necklace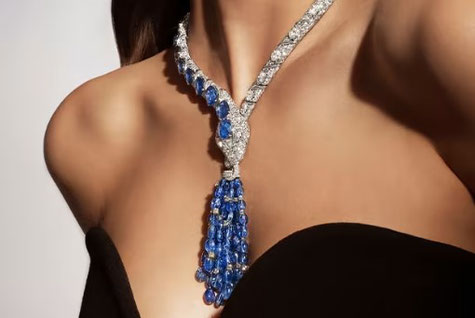 The ancient Mediterranean was comprised of wildly diverse cultures but one powerful symbol transcended their differences and came to be worshipped by them all.  The serpent was revered as a talisman of vitality, wisdom, and protection. In modern times, Bulgari has become the serpent's keeper, resurrecting and transforming it into an emblem of High Jewellery through contemporary designs and colourful combinations of the rarest precious stones.  In the Mediterranean Sapphire Necklace, nine sapphires originating from Zambia, totalling 40.81 carats, shine with the deep blues of their eponymous sea. The intensity of their colours and the setting's ethereal quality perfectly offset the strong base neck structure, conveying a feeling of fluidity.
Roman Splendor - Esedra Necklace
Through its art, philosophy, lifestyle and traditions, Greece has shaped the world as we know it. Rome collected this heritage, enriching the Greek cultural legacy with opulence and majesty. The Esedra Necklace is a legacy sautoir pendant inspired by a symbol of the Eternal City's architectural layering. The long, elegant neckline culminates in the exquisite central emerald, set in an evocative medallion echoing the Roman landscape, a detail easily recognised by Bulgari connoisseurs. Discovered in Colombia with a substantial weight of 68.8 carats, the stone is exceptional due to its bright, vivid colour.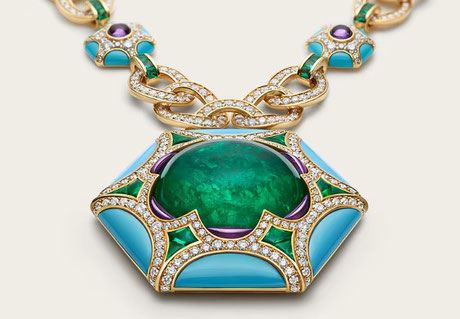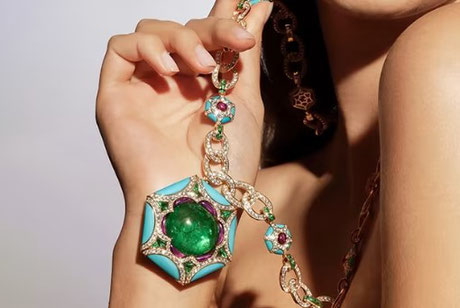 The Muse of Rome Necklace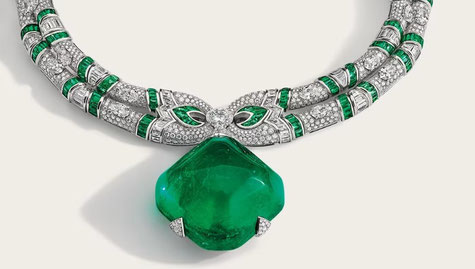 As the saying goes, "Rome wasn't built in a day." Similarly, the evolution of The Muse of Rome Necklace, a High Jewellery piece embodying the city's eternal spirit animated by enduring beauty, was a long quest. Years of creativity, diligence, and devotion, at last, led to one-of-a-kind perfection—realized in a stunning creation worthy of the heart of Rome. To find an emerald as eternal as Rome was a challenge requiring patience and savoir-faire, as well as a willingness to travel. Discovered in Colombia, the stone is exceptional for its mesmerising nuance, depth of colour, and imposing weight of 218.53 carats.
The Oriental Buds Necklace
Since antiquity, Western empires have marvelled at the aesthetics of their Indian and Persian neighbours, in an effort to bridge the gap between distant worlds. Like the seeds scattered over the centuries along the Silk Road, conceptual "flowers" from the East have sprouted in the Mediterranean basin. The Oriental Buds necklace by Bulgari is a stunning High Jewellery piece that interprets this poetic vision into a symbolic garden of cross-Mediterranean inspiration.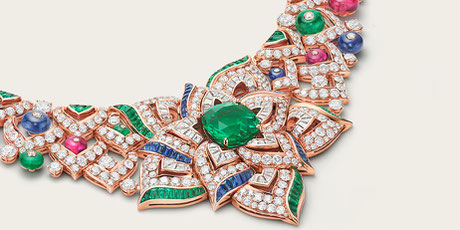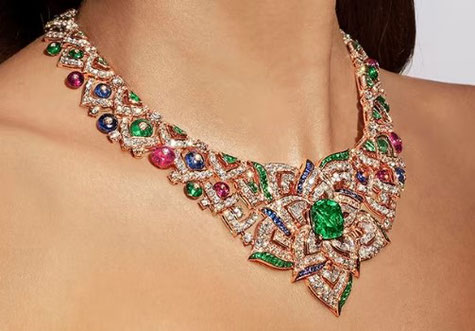 The antique cabochon emerald rises on a layered bed of petals inlaid with round, brilliant-cut and pavé-set diamonds. Originating in Colombia and weighing 13.34 carats, this luminous stone is the spectacular centrepiece amid a kaleidoscope of Indian Mughal-inspired motifs.Through design and inspiration, the Oriental Buds necklace resembles a multicolour garden where serenity and beauty are perpetually in bloom and East and West coexist in harmony. Both charismatic and enigmatic and imbued with Bulgari's signature bold colours, this precious, one-of-a-kind piece contains hints of contemporary elegance and historic charm.