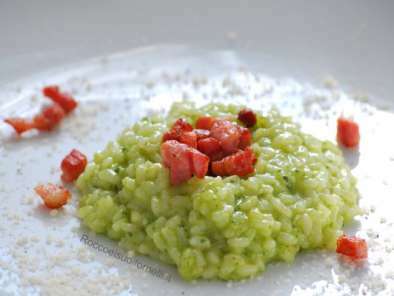 Between May and June the Spring peas are harvested and the harvest period is staggered. The ready pods are those that are still green and well turgid. Tired of always eating Risi e Bisi (typical Venetian dish)? Why not use the opportunity of fresh spring peas to prepare the Risotto con crema di piselli e pancetta - Risotto with bacon and cream of peas! Risotto with peas is undoubtedly a creamy and delicate first course on the palate. Enriching it with bacon, it will become even more tasty and appetizing. 
Risotto con crema di piselli e pancetta - Peas Risotto with Smoked Bacon
Ingredients:
400 g of rice; 1 medium/small onion; Vegetable broth; Butter; Parmesan; 200 g Peas; 80 g of smoked bacon; salt; Pepper
Preparation:
Toast the rice in a saucepan with a drizzle of oil and the whole small onion. As soon as the rice is properly toasted, add the broth and continue to stir, continue cooking. When you are three quarters cooked, remove the onion and add the peas previously cooked with oil, pepper, salt and blended. Bring to cooking, turn off and stir in butter and cheese.
Serve the risotto and add the bacon cubes previously cooked in a pan without adding any fat until they become crispy.