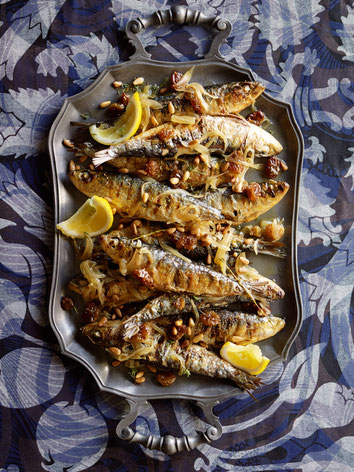 Sardines are a popular dish in Italy - whether fried or baked or marinated. It exists in relevant abundance in the in the Mediterranean Sea; in Italy, sardines are mainly caught in the Adriatic and on the coasts around Sicily.  Sardines are rich in Omega 3 fatty acids and mineral salts such as potassium. Some famous recipes that feature sardines are Pasta con le Sarde: Pasta with sardines alla Palermo, Sarde a beccafico alla Catania, and Sarde in saor alla veneziana, the analogue of sarde in savor from Friuli, i.e. cooked with onions, vinegar and raisins. Here we are featuring though two slightly different but easy to prepare recipes: Sardine alla diavolo (spicy Sardines) and Sardine e patate con crema di porri - Sardines with potatoes and cream of leaks.
Sardine alla diavola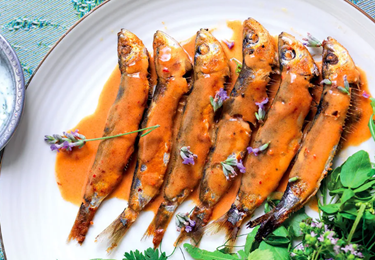 Ingredients:
800 g sardines; 125g natural yoghurt; 100g butter; 100g mixed salad
80g hulled watercress; fresh fennel; ginger powder; chili powder; sweet paprika; smoked paprika; mustard; lemon; red wine vinegar; sugar; salt; pepper; extra virgin olive oil
Preparation:
For the recipe for sardines alla diavola, heat the butter in a saucepan with a spoonful of ginger, a spoonful of sweet paprika, half a teaspoon of chilli pepper, a spoonful of smoked paprika, a spoonful of mustard, a spoonful of vinegar, a spoonful of sugar, the juice of half a lemon, a pinch of salt and a grind of pepper. Stir vigorously until the butter has completely melted, resulting in a hot sauce. Mix the yogurt with a large tuft of finely chopped fennel, a pinch of salt and a grind of pepper. For the sardines: clean the sardines, gutting them but leaving them whole, with the head on. Arrange them on a baking tray, sprinkle them with the spicy sauce and cook them in the oven at 220°C using the grill for 6-7 minutes. Serve them with the watercress and mesclun salad, dressed with a drizzle of oil, and with the yoghurt sauce. Grazie a Cucina Italiana!
Sardine e patate con crema di porri
Ingredients for 4 portions
400 g potatoes; 150g clean leek; 16 fresh sardines
Flour; parsley; extra virgin olive oil; salt; pepper
Preparation:
For the recipe of sardines and potatoes with cream of leeks, boil 300 g of potatoes in their skins for about 40 minutes. Cut the leek into slices and wash it. Peel the remaining potato and cut it into cubes. Put the leek and the diced potato in a small saucepan with a thin layer of oil and brown them for 4-5 minutes. Add a glass of water and let them simmer for about 30 minutes.
Turn off and blend, obtaining a cream. Clean the sardines, removing the central bone and opening them like a book; leave the final part of the tail. Flour them and fry them for 30 seconds in a pan with a thin layer of oil. Peel the boiled potatoes, mash them with a fork, season them with oil, salt, pepper and a spoonful of chopped parsley.Grazie a Cucina Italiana!