Dressing for the beach seems simple enough, but for your planned Italian seaside holiday, you better do your research. As Italian Dolce Vita beaches and beach clubs are renown for its style and stylish guests. Hence, we have turned to some of the best known Italian clothing brands such as Luisa Spagnoli, Prada, Dolce & Gabbana and Max Mara for inspiration. Chasing sunsets with an eye to the sea, Luisa Spagnoli women embody a refined attitude and a calm exuberance. Its spring/summer 2023 collection takes us on a journey through the most famous seaside destinations, from Capri to San Tropez to Biarritz and Ipanema. The joy of a summer escape translates into a sparkling color palette of aquamarine, vitamin orange, ruby red and intense green, while the umbrellas that populate the beaches serve as inspiration for the maxi-striped dresses suitable for a cocktail party.
1. Beach Bag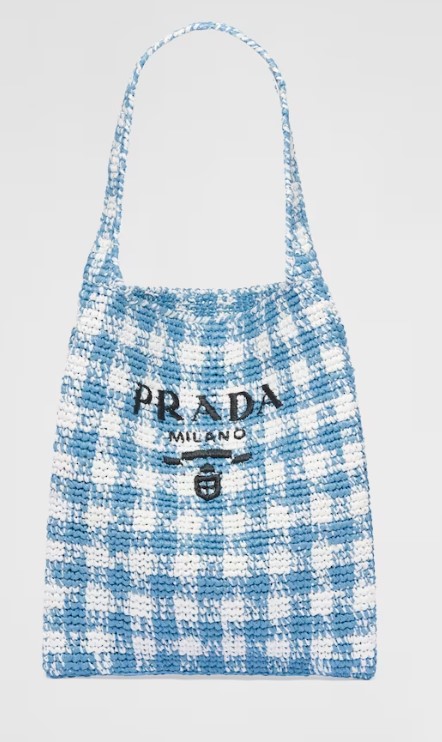 A chic beach bag is always a good idea. This maxi tote bag from Prada with a soft, deconstructed design is made of raffia, a light material of natural origin with a summery mood. The embroidered lettering logo decorates the front, while the emblematic enameled metal triangle logo embellishes the back.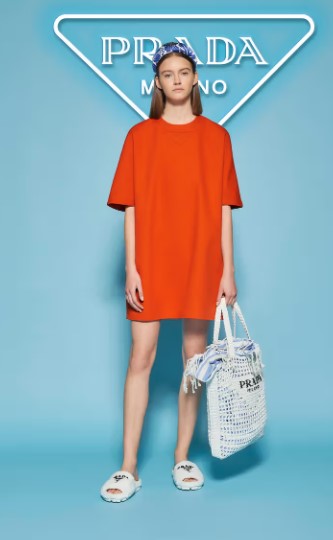 This Beach Bag - Tods tote bag is part of Tod's' SS23 edit, which encapsulates the laid-back feel of summer days. It's crafted from tactile raffia, trimmed with smooth white leather and suspended by braided top handles.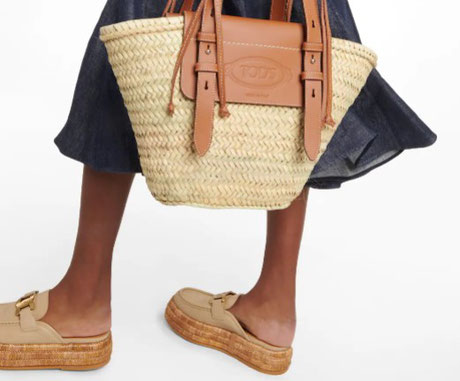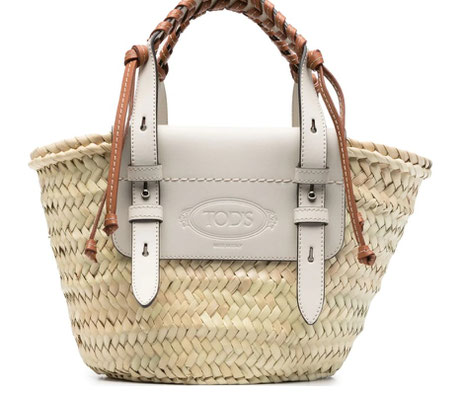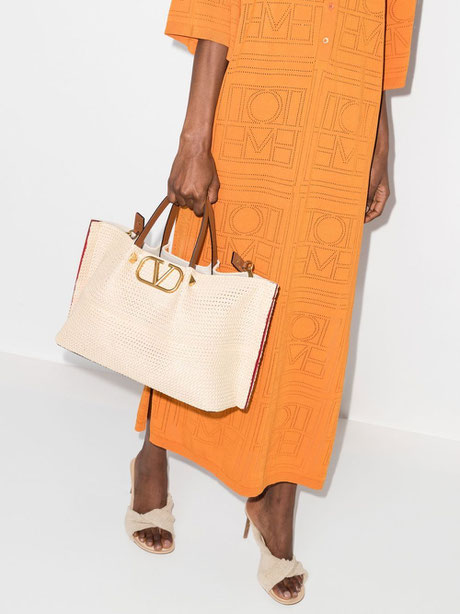 The Summer Woven Tote Bag from Valentino Garavani is defined by its woven raffia design and the gold-toned VLogo plaque, the unmistakable symbol of Valentino Garavani. The detachable shoulder strap is adorned with the iconic Roman Studs, another of the brand's signature details.
2. Beach Kaftan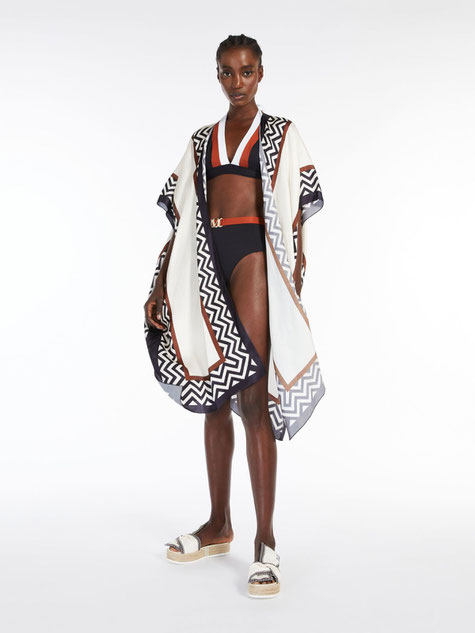 Max Mara Dressing gown with a loose and flowing line made of viscose satin, customised with a placed print inspired by the collection's themes. When worn, it creates soft draping and an asymmetric hem. Closure with matching belt to accentuate the waist. Remaining true to its Italian roots, Dolce & Gabbana adorns the design of the Beach Kaftan with a print of roses that looks as though they've been freshly-plucked from a Tuscan garden . Another Dolce & Gabbana Kaftan in a vibrant silk print decorated with drawings of Sicilian fruit. Stepping away from form-fitting silhouettes, Dolce & Gabbana presents this loose-fitting kaftan-inspired dress. The brightly coloured Valentino Kaftan and beach cover-up should be on your getaway packing list. Part of the Exclusive Escape Capsule, this cotton and silk voile piece coordinates perfectly with the collection's Valentino Waves-printed swimwear and accessories. Round Rain (1966), Valentino Waves multicolor (1970) and Giraffa re-edition (1966) are the pattern protagonists of the Valentino Escape 2022 collection. Relaxed silhouettes are combined with refined Valentino Garavani accessories, for an unforgettable journey.
3. Après-Beach Wear
Luisa Spagnoli's Beach Collection has a large variety of looks. Such as the Luisa Spagnoli's Short viscose dress, plain-knit with a slight stretch, with a boat neck on the front and a deep V-neckline at the back. This garment features a motif of two-tone stripes, with rows of openwork stitching in between them, and a tone-on-tone fringe at the cuffs of the three-quarter-length sleeves and at the hem of the dress. Above-knee length. Glamour 50's Après-Beach Look from Luisa Spagnoli with the plain-knit viscose top with a wide, square neckline and thin shoulder straps, featuring a fringed trim at the bottom, below the bust. The Prada Après-Beach Look  features a combination of crochet clothing pieces and beach bags as part of the Prada Tropico selection features striking contrast of hues, accentuated by lighting effects and use of crochet.
4. Summer Evening Wear
Beach Bar or restaurant outfit. To be able to quickly change into something more dressy - from your bathing suit or bikini combined with some golden sandals; ready to go to the Beach Bar or Lounge Bar to enjoy an early aperitivo.
From Luisa Spagnoli, Zanzibar - long dress in lurex knit in a variety of stitches, creating a pattern of stripes meeting in a V-shape. V-neckline and thin shoulder straps. From Salvatore Ferragamo an asymmetric dress with organza  - the look of a contemporary goddess. Pure viscose satin dress, layered for a sensual feel. The asymmetric cut features a draped layering, gathered at the shoulder with a bangle shaped broach. A panel of organza silk is draped over the top. From MaxMara, long sleeveless dress made of soft crêpe viscose jersey, with a straight, flowing shape that creates a feminine silhouette. A wide halter neck style with triangles knotted behind the neck, flat band under the bust with elasticated insert on the back and vents on the sides.