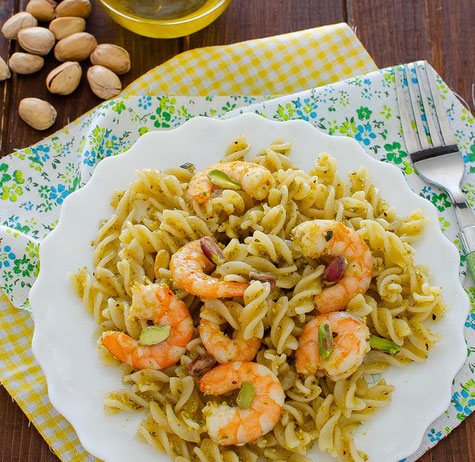 Creamy and Fast: prawn pasta and pistachio pesto, a delicious first course to serve hot or cold. Ideal to serve at a fish-based lunch or dinner, cheap and easy to prepare! Pistachio pesto is a no-cook condiment and is prepared by blending shelled pistachios with olive oil, pecorino, parmesan and basil: all Sicilian especially if you use the famous Bronte pistachio which is excellent! 
Ingredients:
160 g pasta (short or long, wholemeal, gluten-free..); 14 prawns (prawns, fresh or frozen prawns, ); Pistachio pesto (homemade); chopped pistachios (or shelled pistachios); olive oil to taste; salt up to taste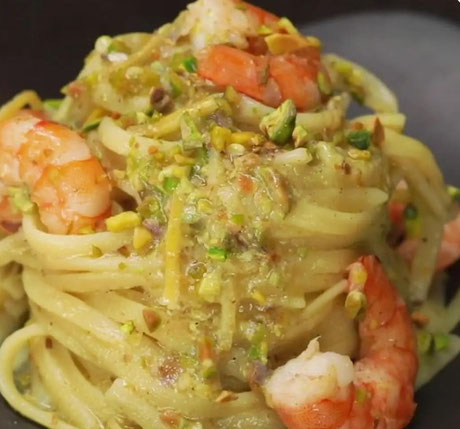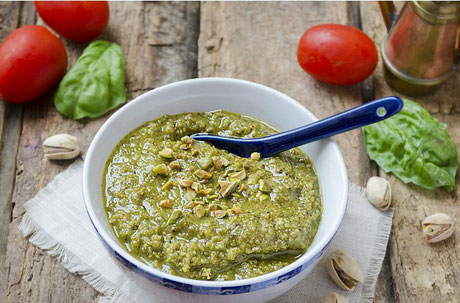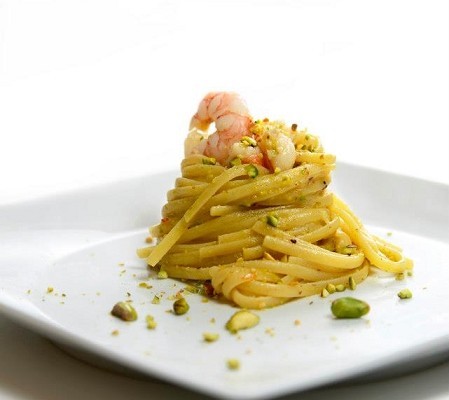 Preparation:
Clean the prawns or shellfish that you have chosen: alternatively you can use prawns or prawns which must be cleaned in the same way. Shrimps are typically found already cleaned in water or need to be defrosted. Remove the head, paws, carapace and then the tail. Finally, remove the intestine by making a small straw on the back and lifting it with a wooden toothpick. Rinse the prawns under running water and put them in a non-stick pan with a little oil. Sear them for a few minutes on both sides. Prepare the pistachio pesto following this recipe but halving the doses. Quick and easy homemade pistachio pesto for lasagna first courses. Cook the pasta in plenty of salted water and drain when al dente. Put it in a bowl or back in the pot and add the pistachio pesto. Add a little olive oil to mix, then the prawns and stir to flavour. You can serve the shrimp and pistachio pasta immediately, hot and lightly seasoned, adding chopped pistachios.