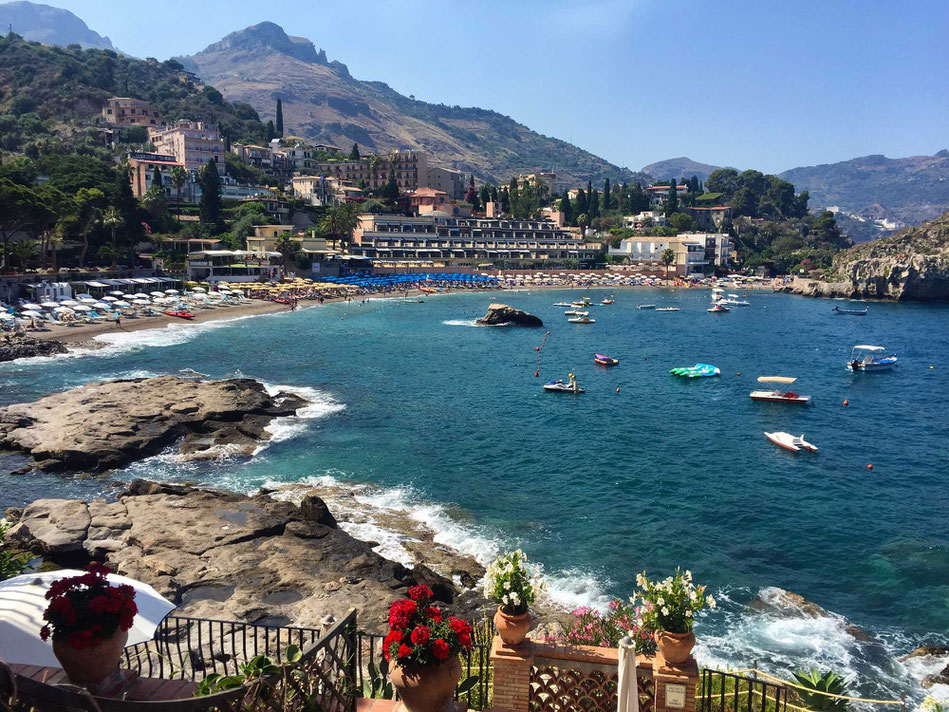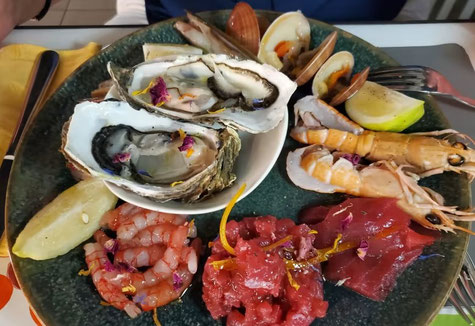 Taormina being part of Sicily, the Sicilian cuisine is one of the best in the world as it leverages the freshest of ingredients from the sea and earth.  A classic dish of the area is involtini di pesce spada – slices of swordfish that are rolled with a breadcrumb filling and baked. Grigliata mista, a mix of grilled seafood, and tuna stew with onions are common as well. For special occasions, triglie (red mullet) and aragosta (Mediterranean lobster) are served.
Cuzzole - Fried Bread
A Sicilian Bread speciality are cuzzole; which are a fried bread dough. It has a long tradition with both sweet and savoury options. A sweet option are sprinkled with sugar.
Ingredients:
Water 250 ml; white flour 430 g; fresh brewer's yeast 10 g; sugar 1 tsp; olive oil 50 ml; Salt to taste; seed oil, to taste to fry. 
Preparation:
Dilute the yeast (10 g) in water (250 ml), let it foam for about ten minutes, then mix with a wooden spoon. Place the flour (430 g) in a fountain inside a large container. Make a hole in the center, and pour in the mixture you just created, the oil (50 ml), the salt (to taste) and sugar (1 teaspoon). Start kneading until you get a smooth and uniform dough. Grease a bowl with a drizzle of oil before inserting the dough inside. Cover it with a clean cloth and place it in a dry place to rise until it doubles in volume. At this point, when the dough is ready, prepare a tall and capacious pan and fill it ¾ full of seed oil. Bring to the point of smoke on the stove over low heat, while waiting, take a nut from the loaf and form a ball with greasy hands. Proceed in this way until all the ingredients are used up, trying to make many spheres that are equal in weight and size. Grazie a Donna.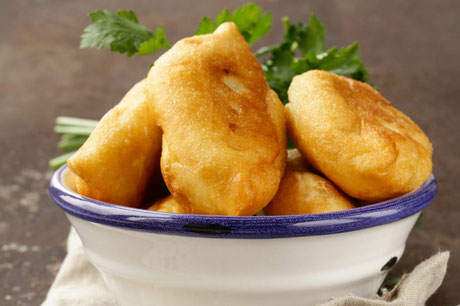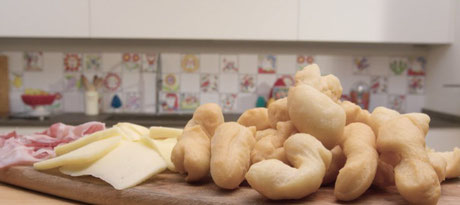 Pasta con le sarde - Pasta with Sardines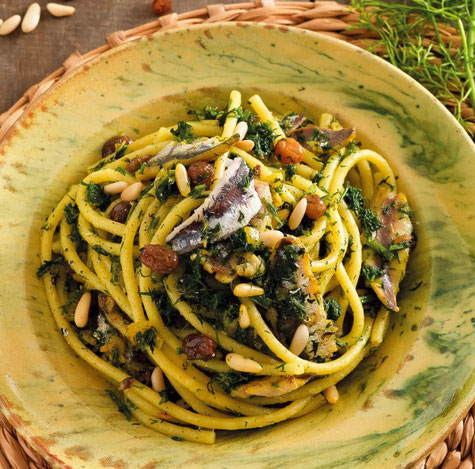 In Sicilian "pasta chi sardi" is a unique delicacy of Sicilian cuisine. This rich pasta dish is recommended to be eaten in the period between March and September, when the freshest sardines are found and the time for wild fennel. 
Tradition has that this dish was invented by a cook of Arab origins in the service of General Eufemio da Messina, having to create a dish with only a few humble ingredients; the cook used namely pine nuts and wild fennel that grows in the fields and fish of the season, being sardines. 
Involtini di pesce spada - Swordfish rolls
Ingredients:
Sliced swordfish; about 600 g bread of stale bread; 100 g
mix of white and black olives; 60 g desalinated capers; 20 g; bread crumbs 20 g; fresh mint to taste; extra virgin olive oil to taste; salt to taste; pepper to taste.
Preparation:
To obtain impeccable rolls, ask your trusted fishmonger to obtain thin slices of swordfish, no more than 1/2 cm thick, then beat them gently with a meat tenderizer being careful not to flake them. Do not cook for more than ten minutes: in this way you will prevent the fish from drying out and at the same time you will obtain an irresistible crust on the surface. Grazie a Cookist!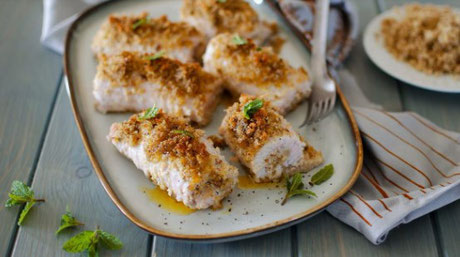 Tonno con cipolle in agrodolce - Tuna with sweet sour onions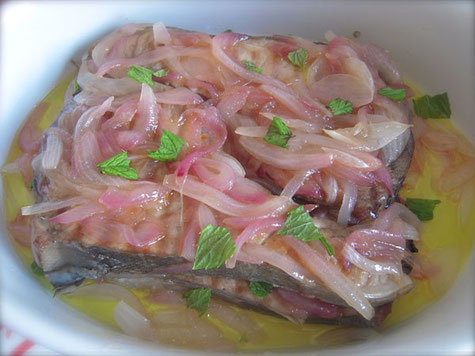 Ingredients:
Bluefin tuna 4 slices; 2 onions (red or white); 6 tablespoons of white vinegar; 3 tablespoons of sugar; 
sale to taste; black pepper; olive oil.
Preparation:
First prepare the sweet and sour onions. Clean the onions and cut them into slices. In a frying pan or saucepan, pour some olive oil, let it heat up and add the onions. Lower the heat and let the onions wither over low heat until they become soft. Salt. As soon as the onions are wilted (about 10-15 minutes), raise the heat and add the white vinegar. Also add the sugar and mix. Remove from the heat and leave to cool. Once you have prepared the sweet and sour onions you can cook the tuna. Use less fatty tuna slices and cook without oil in the lightly greased grill pan. Once the tuna is cooked, arrange the tuna slices in a baking dish and cover with the sweet and sour onions. Add a few mint leaves and black pepper. Leave to cool and place in the fridge covering with plastic wrap. Serve the tuna with cold sweet and sour onions.