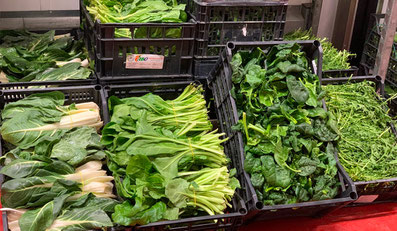 With spring arriving in Italy, numerous fresh vegetables are available such as Asparagus, Artichokes, Peas and new season lettuce and Fava Beans and many more. The market stalls are coloured with all the beautiful seasonal vegetables. Peas, broad beans, artichokes, spinach, asparagus are typical spring vegetables and legumes that lend themselves to many different pasta recipes, all delicious! Fresh pasta (and more) goes perfectly with spring vegetables such as asparagus and artichokes.
Pasta with Asparagus - Pasta agli Asparagi
Pasta with asparagus is a spring first course, with a truly unique and special flavour. An easy, fast and guaranteed success recipe. It is possible to use both wild and cultivated asparagus. Obviously using wild asparagus the flavor will be much more intense and decisive. Asparagus is a vegetable very rich in vitamins and mineral salts, with diuretic, draining and purifying properties and with a very low caloric value, just over 20 kcal per 100 grams.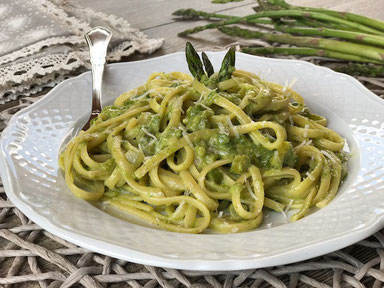 Ingredients:
Asparagus 600 g; Fusilli or spaghetti 320 g; Garlic 2 cloves; Extra virgin olive oil q.s.; Grated Grana Padano DOP 60 g; Salt up to taste; Black pepper to taste.
Preparation:
 To prepare pasta with asparagus, first take the asparagus and shorten the stem. You can break the woody part with your hands or by cutting them with a knife. Peel the stems using a potato peeler. Cut the tips of the asparagus and divide the larger ones in half, lengthwise; then slice the remaining green part into very thin rounds. Put a pot full of water, salted to taste, on the heat, which will be used to cook the pasta. In a large pan, pour the oil and garlic. Leave it to flavour over medium heat, then add the asparagus slices and salt. Cover with a lid and cook for about ten minutes. As soon as the water has boiled, cook the fusilli too and wet the asparagus with the cooking water from the pasta if necessary. After 10 minutes of cooking, the asparagus will be soft, add the tips too. Cover with a lid and cook for another 2-3 minutes, don't worry if the rounds fall apart slightly, they will serve to give a creamy touch to the pasta. Now remove the garlic cloves. Drain the fusilli al dente and transfer them directly to the pan. Adjust with the cooking water and toss the pasta well. Turn off the heat and add the cheese. Pour a generous drizzle of oil and mix well to emulsify and thicken the sauce. Serve, completing with a last drizzle of oil and a grind of pepper. Your pasta with asparagus is ready to serve. Grazie a Giallo Zafferano!
Pasta with Artichokes - Pasta con Carciofi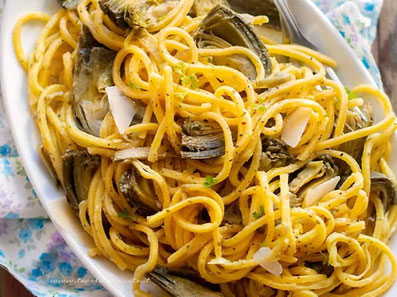 Pasta with artichokes is a tasty and light first course typical of Roman cuisine. Early Spring time, artichokes are available cheaper and bigger across local markets. A very simple recipe to cook the artichokes first and then sauté them in a pan where they will form a tasty and juicy sauce with the Parmesan, pecorino and mint - coating the pasta! The result is mouth-watering: a creamy and tasty pasta with artichokes, ready in 30 minutes!
An alternative version with Pancetta and thyme.
Ingredients:
320 g of farfalle pasta; 4 artichokes; 1 red onion; 150 g of smoked bacon in two or three slices; White wine; 1 packet of saffron; 3 sprigs of thyme; 50 g of aged pecorino cheese to be cut into flakes; 2 tablespoons of extra virgin olive oil; 1 lemon; salt; black pepper
Preparation:
To make the pasta with artichokes and pancetta, start by cleaning the artichokes. Remove the thicker outer leaves until you get to the tender ones, then, with a knife, cut off the tougher tops and cut the stems, trimming the base of the flowers. Place the flower and stems in a bowl filled with water and lemon to prevent them from blackening. Now peel the stems by removing the stringy outer part and chop them, then cut the artichoke hearts in half, remove the internal beard and cut them into slices. Slice the red onion, cut the bacon into cubes and brown everything in a pan with the oil. When the onion is well dried, add the carefully drained artichokes, pour in the white wine and cook the artichokes for 10 minutes over high heat, adding salt and pepper at the end. In the meantime, boil the pasta in abundant salted water and dilute the saffron in a small bowl with a little hot water. Drain the farfalle with a slotted spoon and transfer them directly to the pan with the sauce. Add the diluted saffron, and carefully mix the ingredients over high heat so as to distribute the flavours well. Finish with a sprinkling of fresh thyme then divide the pasta with artichokes and pancetta into individual plates, complete with flakes of seasoned pecorino cheese and serve. Grazie a Il Cucchiaio d'Argento!
Pasta with fresh Fava Beans - Pasta con le fave
With the first beans of the season we couldn't resist the temptation to prepare a pasta that enhances all the scents and colors of spring!Pasta with broad beans is an ancient preparation, which uses a legume, broad beans, typical of early spring, which has a very sweet taste and a soft consistency: they can also be eaten raw, when they are very fresh, famous is the combination of Roman cuisine of fresh broad beans and pecorino cheese, which is also the typical meal of the Easter Monday trip out of town.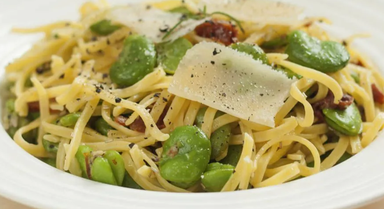 Ingredients:
400 g of linguine or other long or short pasta; 300 g of cleaned and shelled broad beans; 8 well-drained dried tomatoes in oil; 2 cloves of garlic; shaved grana padano to taste; olive oil to taste
Salt to taste. Pepper as needed.
Preparation:
To prepare the pasta with broad beans, put 2 crushed garlic cloves in a pan set over low heat, together with a drizzle of oil. While they are gently browning, roughly chop 8 well-drained sun-dried tomatoes in oil with a knife, then put them in the pan and brown them together with the garlic for a minute. Now also add 300 g of shelled broad beans and mix well to make them flavour. Season with salt and pepper, add a drop of water and simmer for 10 minutes. In the meantime, bring a pot of abundant salted water to the boil and as soon as it starts to boil, cook 400 g of linguine for the time indicated on the package. When the linguine is cooked, drain it and put it in the pan, sauté it for 1 minute so that it takes on the flavours and serve, garnishing your pasta with broad beans, flaked Grana Padano cheese and a generous grind of pepper. Grazie a Piccole Ricette!
Pasta and Peas - Pasta e Piselli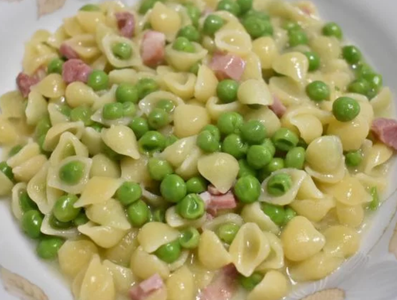 Pasta with peas - Pasta e Piselli  is a quick and easy recipe, especially as with the Spring start; fresh peas are available across most markets in Italy now. The Neapolitan version of pasta and peas is a tasty and savoury first course: -with the addition of ham or bacon.  Easy to prepare and super delicious !
Ingredients:
800 g of fresh peas (to be shelled) or 300 g of frozen peas (I prefer spring peas); 170 g of short pasta such as tubes, mixed pasta; 1 small white onion; extra virgin olive oil; mint; 50 g of smoked bacon or cooked ham (optional); salt; pepper; pecorino or parmesan to complete (optional)
Preparation:
First shell the peas if you have chosen the fresh ones, otherwise skip this step. Chop the onion very finely, place it in a large saucepan together with 3 generous tablespoons of extra virgin olive oil. Let it fry for a few seconds, add the bacon, if you like, let it fry for about 1 minute. Add the peas, a few mint leaves, turn, cook over medium heat for 2 minutes. At this point add about 3 cups of hot water, the water must completely cover the peas. Only then add the tubes or the chosen pasta. Turn and leave uncovered on moderate heat for about 7 minutes. The trick to keep the peas from breaking is not to stir very hard but to mix with the wooden handle, stirring occasionally. The pasta must absorb all the liquid. If it dries out, add 1-2 tablespoons of boiling water! Add 1 drizzle of oil towards the end of cooking, salt, pepper. The pasta and peas must be creamy and not watery! enveloping and perfectly al dente. At this point to make it even more creamy and if you like it, you can add 2 tablespoons of pecorino or parmesan, stir over the heat, in any case it will be delicious even without cheese! Serve the pasta and peas hot, sprinkle with pepper, a little more mint and if you want parmesan or pecorino. Grazie a Tavolartegusto!