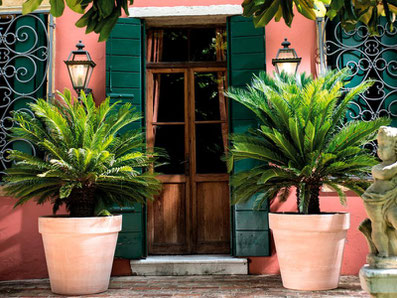 When we analyse the main interior design trends for 2023, the keywords are nature, relaxation and mix & match. Influx of colour with natural looking colours such as terracotta or green. Create a personal touch with eclectic furniture pieces - whether modern or with a 70s touch. Combine antique with modern to create a symbiosis of ancient cultures with modern style. Go beyond décor, and consider doors and fittings to create a different look.
Lots of greenery and motifs inspired by nature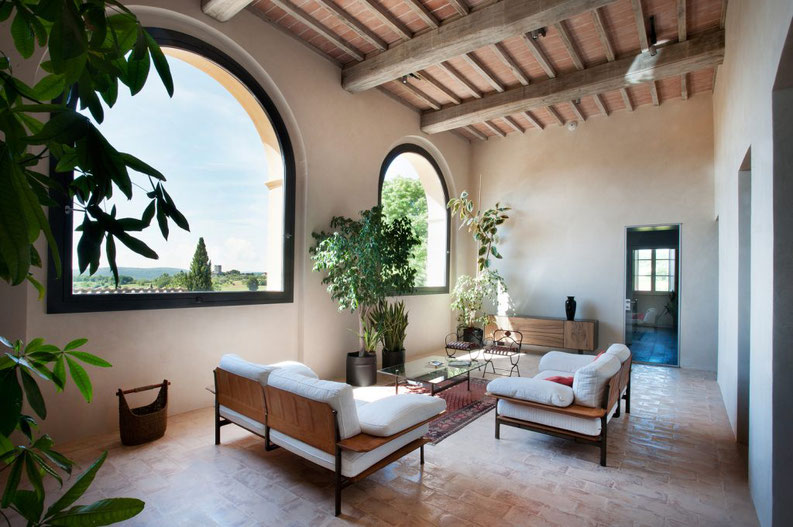 Emphasize your outdoor greenery with bringing plants into your interior spaces. Thereby expanding the feel of being outside. In this example a room in a 15th century Tuscan villa; although you don't need to live in Tuscany to create this ambient. Use of specific furniture items, terracotta flooring and plenty of plants. Depending on your location, reach out to your local interior design consultant who specializes on residential home interior design, such as in Maria Giulia Sala in Florence or in Naples MEKA Arredamenti. Tips also in plenty of books such as Home Jungle by Sonia Lucano.
Terracotta or Clay colour to create warmth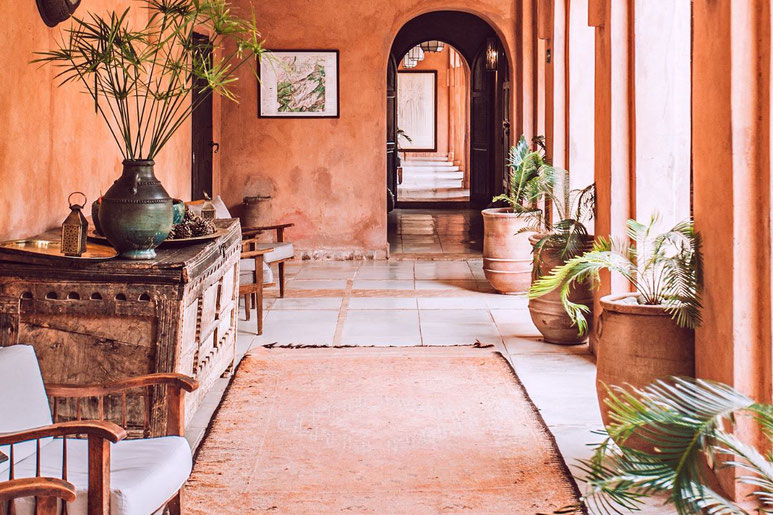 The terracotta colour is a great interior colour, in particular for both in the sleeping area and in more convivial and lived-in environments such as the kitchen. The terracotta colour trend took its first steps starting from works of art, from handicraft pieces, from clay tiles that are increasingly appreciated in home décor. The colours of the earth, the intense shades of brown and the terracotta colour, are present in domestic environments in combination with greys and dark oak wood furnishings. The "heated" terracotta and clay-coloured rooms help create welcoming and pleasant atmospheres to live in. Get inspired by Architectural Terra Cotta - Design Concepts, Techniques and Applications by John Rowell and Donald B. Corner  or The New Mediterranean: Homes & Interiors Under the Southern Sun. 
Ancient and modern go well together
The main reason that antique goes well with modern is that most contemporary furniture draws inspiration from classic-antique style elements. The key thing is not to overdo it and combine the new accessories based on the shapes, colours and materials that predominate in the room. A mirror with a baroque frame will certainly make a good impression if combined with a modern console table at the spacious entrance of a house. Add a touch of Roman antiquity with the addition of marble; which became popular during the reign of Augustus. The emperor famously declared that he "found Rome a city of brick and left it a city of marble." Marble has many potential applications in home décor, whether as a flooring material, backsplash option, or countertop. Italian Marble from Carrara is world famous, and producers such as Marmi di Carrara, Antolini Luigi,  Giorgi Marmi in Carrara and many more.
Eclectic Furniture items
Whether design from the seventies or the Memphis Design, an eclectic design furniture item adds that individuality to a room.
The seventies aesthetic, characterized by colour contrasts and pop patterns. Colours like ochre yellow, orange, brown and scorched earth. You can find even original Italian Designer items from the 70s on Artemest.
Also the Memphis style is making a comeback. A group of influential Designers under the leadership of Ettore Sottsass including Aldo Cibic, Matteo Thun, Marco Zanini, Martine Bedin, Michele De Lucchi, Nathalie Du Pasquier, and George Sowden started a revolutionary way of influencing the 1980s interior design trends and is just now making a comeback.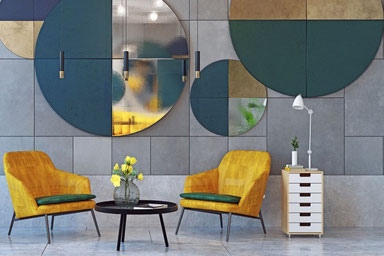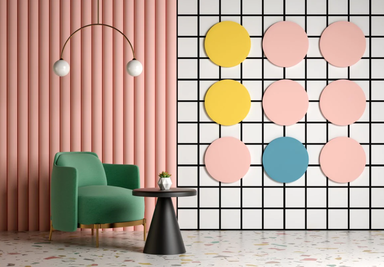 Unique Internal Doors
The internal doors of the house naturally have a purely functional role but over time they have taken on an increasingly important decorative value. Interior doors can be essential in defining the style of the home. They can be invisible, to divide environments only when needed or blend in, until they disappear. Or scenic, and become the focus point of the room they they are inserted in. However, it is better to choose a common thread of style and colour, to avoid inharmonious contrasts in the house. For a vintage effect, on the other hand, you can think of replacing the door separating two rooms with an arch inspired by the 60s style. Great tips from various Italian sites on door selection. Porteitaliane;  lereoymerlin.it; or door2000.