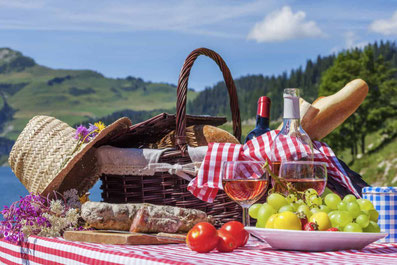 More than four out of ten Italians (43%) chose Easter Monday - La Pasquetta to have a picnic or a trip out of town to the sea, in the mountains, in the countryside or in any case in the greenery, inside and outside the cities. From the north to the south of Italy, Easter Monday is a day in which most of the working activities are closed, except of course the essential services and some restaurateurs with their cooks and waiters. For once, the streets of the Italian metropolises are largely silent and life itself seems to have gone on vacation. "It's really a chance to be with friends, since for Italians, Easter is for family, but Easter Monday is for friends.",  a typical saying in Italy. And nothing is as typical of Easter Monday as the Italian scampagnata, that is, a picnic outdoors somewhere. Very often, the food for the outing is left over from Easter, including the traditional portions of lamb.

Tradition has it that the first fruits/vegetables of the season are used for the Easter Monday picnic: asparagus, artichokes and many eggs, as an Easter symbol. So obviously the typical Vegetable pie with artichoke hearts or Asparagus, cannot be missing! A salad with salami and eggs -even quail-eggs, and pan brioche with sage, to go with the various cured meats from various regions, such as Tuscan finocchiona and Calabrian pressed cheese, or the famous Toma Cheese from the Piedmont with fig compote or a delicate cooked ham mousse in jelly.
La Frittata is a must for the Easter picnic. Whether a Frittata with potatoes or the onion omelette from Calabria called Nchiambara. 
The savory pies is another classic picnic food for the La Pasquetta. Whether leftovers of the famous Torta Pasqualina or Savoury pie of leeks, cabbage and bacon in a rice crust. An amazing alternative to the usual savoury pies. I slightly modified the recipe of the talented Assunta of "La Cuoca Dentro". 
Even if you do not go for a Picnic, instead visit one of the cities on Easter Monday, you probably enjoyed the first sign of spring and went for a walk. Or took the opportunity to visit museum which are open and free to visit in some of the major cities.  Like these tourists in Rome did this Easter Monday.