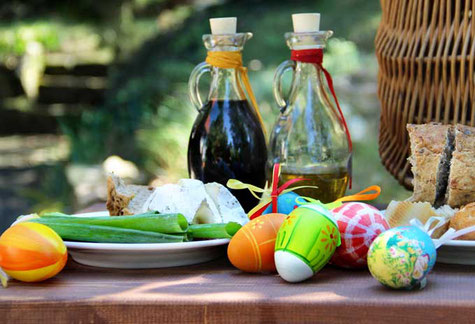 Easter in Italy is a feast ! From the North to the South, there is no shortage of typical Easter dishes and, from year to year, from generation to generation, they are handed down and re-proposed, often with some variations. In this article we have selected 5 typical dishes of the Easter period to tell you about the tradition and bring the genuineness of Italian cuisine to your table.
The Casatiello from Campania
To find out the recipe for Casatiello we have to go to Campania, the region where it was born and has become an institution, especially in Naples. The classic Casatiello with eggs, yeast-based, cannot be missing from the Easter Sunday and Easter Monday menus. The preparation is fairly simple.  All you need to do is mix 500g of flour, a cube of yeast, 150 g of suet/beef fat and 10 g of salt and let it rise for two hours. In the meantime, you can select the various cured meats, you want to serve with the Casatiello. Once the dough has risen and flattened,  pepper and Parmesan is added to the dough. At this point the dough is rolled up and placed in a mold and it is given another two hours to rise. Then put into the oven at 180 degrees and baked for about 60-75 minutes.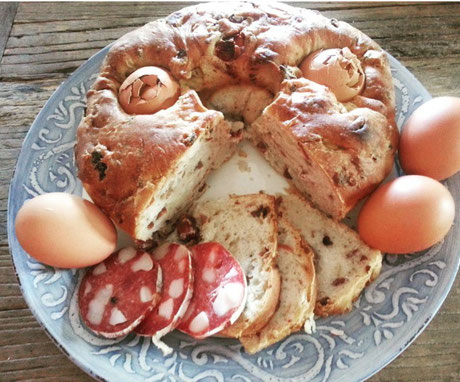 Spaghetti alla Chiantigiana from Tuscany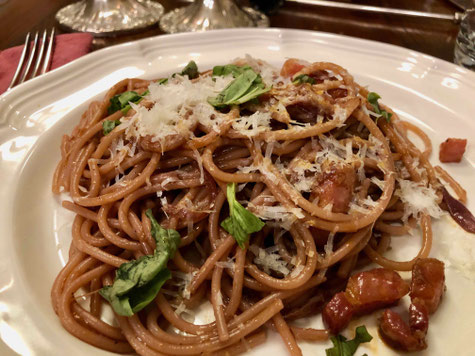 If lasagna and cannelloni are a national Easter dish, they are also part of the Tuscan Easter tradition, but in the Chianti region, Spaghetti alla Chiantigiana, is the foremost Easter First course with the main ingredients are spaghetti and Chianti wine. To cook them you will need two shallots minced and browned in a pan together with bacon, salt and pepper. At this point, the spaghetti should be thrown into boiling water together with a glass of Chianti, cooked and finally stirred a little raw in the pan. And given the pasta the lovely red shine.
Lamb in Cheese Eggs sauce - Agnello Cacio e Ovo from the Abruzzo
Lamb is another of the best-known Easter dishes in Italy.  However, each region has its own special way of cooking it such as, for example, Abruzzo, where the ingredients also include cheese and eggs, which are used to prepare the sauce which goes with the lamb. Called Agnello Cacio e Ovo; it is a dish where the lamb pieces are floured and fried in oil,  with garlic, onion and rosemary. Once cooked, the meat is sprinkled with the previously prepared egg and cheese sauce, continuing to cook for a few more minutes.
Easter Crescia Bread from the Marche region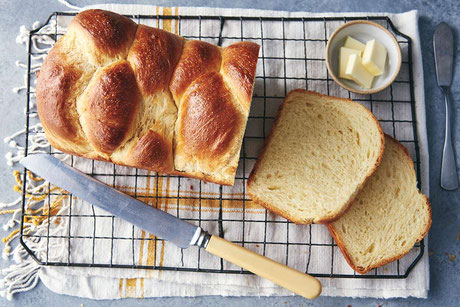 Cheese Crescia is a typical recipe of the Marches but is also frequently prepared in Umbria and other areas of central Italy during the Easter period, a sort of savory panettone rich in cheeses and cured meats, often used as an alternative to bread. The preparation is simple but long because the dough has to rise for a long time. You start by dissolving 25 grams of brewer's yeast in warm milk and making a dough with the flour in which you also add the eggs and oil, grated cheese, salt and pepper. At this point you have to let it rise for two and a half hours, then take it back, knead it again and let it rise again and then bake in a hot oven at 150 degrees for 30 minutes first and then at 180 for 20 minutes.
Easter Cake - Torta Pasqualina from Liguria
The Easter Cake - Torta Pasqualina is a typical recipe of the Ligurian culinary tradition, in particular of the Genoa area, ideal for an Easter Monday outing/picnic. Preparing it, is very simple because it can be prepared in advance as it can also be eaten cold. The main ingredient is chard which can be replaced with spinach or radicchio, speck and goat ricotta. After having cooked the chard, it mixes well with the ricotta, with 1 egg, the Parmesan and the pecorino to create a good filling. At this point, line a mold with puff pastry and pour the filling and then bake at 200 degrees for about 50 minutes.