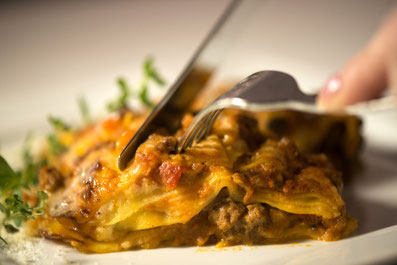 There is no doubt, that there are plenty of favourites for the Easter Sunday Pasta Dishes. But this recipe for the Vincisgrassi is among all, a favourite in Marches region of Italy.  A close relative of the lasagna but with peculiarities that make it unique and different; such as sheet of hand-rolled egg pasta, arranged in a pan and filled with ragù and béchamel between one layer and another. 
The origin of this specialty of the Marche tradition is not clear. Either it said to be an ancient Macerata recipe by Antonio Nebbia, author of the book "The Macerata cook". He was the Cook at the court of nobles of Macerata. The other version sees this dish having been influence by an Austrian General called Windisch Graetz, who was passing through the region, and the lasagna having been prepared for him.  And so it was called vincisgrassi in his honour, Italianising the surname of the Austrian general. Regardless, both versions recall noble origins for this delicious pasta dish! Apparently, another big fan of this Marche dish was Orson Welles, a guest of the Ai tropici restaurant in Ancona in the 1950s.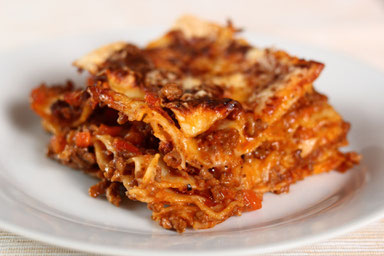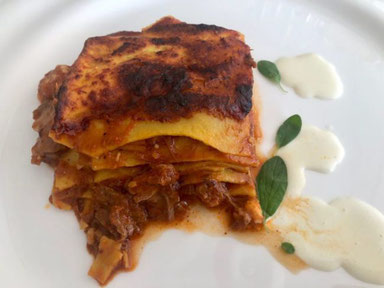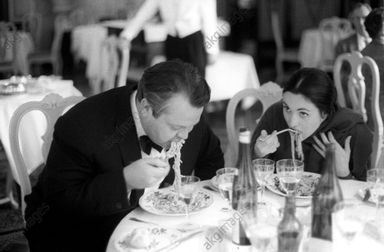 Ingredients:
Egg lasagna 500 g; Chicken offal 350 g (heart, gizzard, liver); Onions 1; Carrots 1; Celery 1 rib; Tomato puree 300 g; Parmigiano Reggiano DOP to grate 100 g; Salt up to taste; Black pepper to taste; Extra virgin olive oil q.s.;  Pork meat 200 g; Beef meat 200 g; Bacon 100 g; Meat broth 200 ml
Preparation:
To prepare the vincisgrassi, start by cutting the bacon into strips and the various cuts of meat into small pieces: the pork, the beef and finally the chicken giblets. Finely chop the celery, carrot and onion and put them in a saucepan to brown for 5 minutes with extra virgin olive oil together with the bacon. Let everything flavour for a few minutes then add the beef and pork and let it cook for about ten minutes, until the meat reaches a brown colour. Add the tomato puree and season with salt and pepper. Add the chicken giblets to the sauce and mix with a wooden spoon; cover with a lid and cook for about an hour and a half, turning from time to time and adding broth if the ragù gets dry. The ragù must be well cooked and thickened. Once the ragù is ready, you can assemble the Vincisgrassi in a baking dish with high sides: put a few spoonful of sauce on the bottom then line the pan with a first layer of lasagna (you can use the ready-made one or make it by hand by looking at the recipe here), cover with a generous spoonful of meat sauce and a spoonful of grated Parmesan cheese. Continue like this until at least ten layers are formed (this is a characteristic of vincisgrassi) and finish with a layer of meat sauce and a generous handful of Parmesan cheese. Bake in a hot oven at 180° for 30 minutes and take them out as soon as a nice golden crust has been created on the surface. Serve your vincisgrassi immediately! Grazie a  Giallo Zafferono!