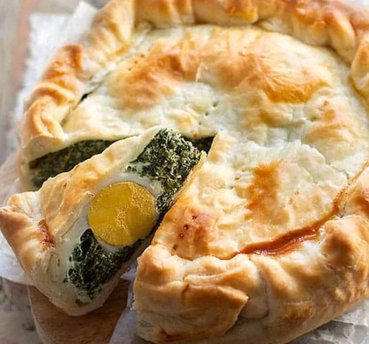 To celebrate Easter Italian way, one of the key dishes to prepare for Easter is the savoury pie. One of the most famous pies is the Torta Pasqualina; a delicious crispy pastry filled with moist spinach ricotta filling and with the special Easter touch - of having a hard-boiled egg embedded. The egg is an auspicious symbol of rebirth, which is why it is often present in savoury Easter cakes both as a lovely decoration and as a delicious surprise, well hidden in the filling of the cakes. It also looks stunning! They are usually eaten during Easter breakfast but are also often included in the Easter lunch menu as appetizers. There are many regional Easter recipes that include different bases: from bread dough or puff pastry pizza, from shortcrust pastry to durum wheat semolina doughs; and a mouth-watering filling of spring vegetables, cured meats and cheeses and the ever-present hard-boiled eggs!
Torta Pasqualina
Ingredients:
The typical Easter cake of the city of Genoa is prepared with a special puff pastry filled with herbs or spinach, eggs, nutmeg or fresh marjoram and other ingredients.
 2 puff pastry (rolls); 500 g herbs; 100 g ricotta; 6 quail eggs; 3 eggs; 1 yolk; 3 tablespoons parmesan; to taste extra virgin olive oil; to taste nutmeg; to taste salt.
 Preparation:
Wash the herbs well and boil them with only the water adhering to them from washing, salting them lightly and stirring constantly so that they do not stick to the bottom of the saucepan. After about 10 minutes of cooking, pour the herbs into a colander, let them cool down, squeeze them very well and chop them roughly with a mezzaluna knife. In a large bowl, beat 3 chicken eggs and then add the chopped herbs. Mix well and add the Parmesan, ricotta and a pinch of nutmeg. Give it a final stir with the help of a wooden spoon and add salt, if necessary. Line a buttered cake pan with a removable ring, with a diameter of 26-28 cm, with 1 roll of puff pastry that you will have first rolled out with a rolling pin in order to obtain an even thinner pastry. Pour in the egg and herb mixture, distribute it evenly, make 6 dimples, evenly spaced, into which you will crack 6 quail eggs. Salt lightly and drizzle with extra virgin olive oil. Cover everything with the second disc of puff pastry, always made very thin. Press the two edges of dough well on the edges so that they are well sealed and brush the surface with 1 egg yolk beaten with a pinch of salt. Bake at 200° C for about 25 minutes. Serve the Easter cake warm or cold.
U Ruccl Focaccia - Gravina di Puglia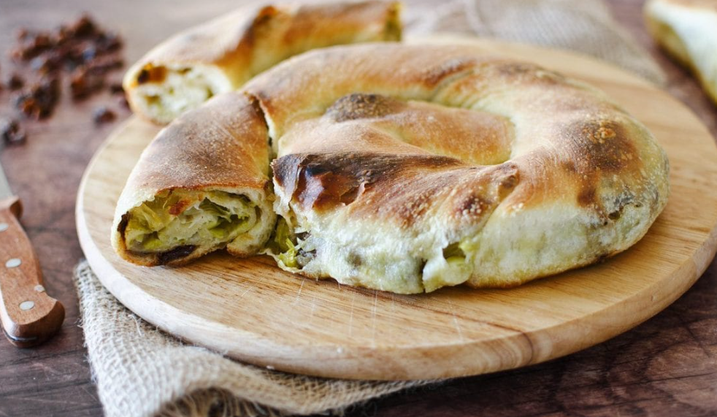 U ruccl is a rolled durum wheat focaccia, typical of the Apulian tradition and in particular of the city of Gravina. Prepared for the feast of St. Joseph, this spiral-shaped stuffed calzone, called u ruccl in the Gravinese dialect, is stuffed with stewed onions, anchovies and raisins. An original and tasty filling, with a delicate and surprising taste, which will amaze even the most demanding palates.
Ingredients:
For the dough: durum wheat re-milled semolina flour 250 g;  warm water approx. 150ml; 8gr 
fresh brewer's yeast; salt 6 gr; 1 tablespoon extra virgin olive oil.
 For the stuffing:  Sponsali onions (or spring onions or leeks)) 1 kg; raisins 150 g; anchovies in oil 100 g; extra virgin olive oil to taste; salt to taste.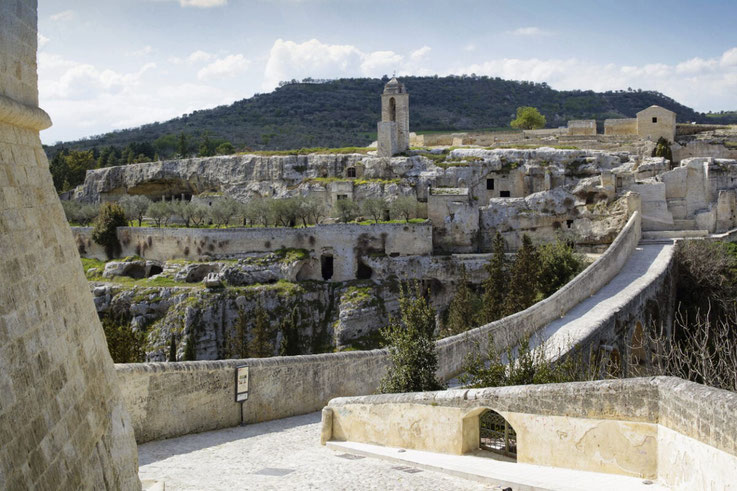 Preparation:
Mix the flour with the warm water in which you have dissolved the yeast. Add the oil and salt, then knead the dough for a few minutes until you get a smooth, homogeneous and elastic consistency. Form a ball and let rise covered until doubled in volume (about 2 hours). In the meantime, peel the onions and leeks by removing the earthy end and the greener, tougher part of the stem. Cut the onions lengthwise and the leeks into slices a few mm thick. Pour a drizzle of oil into a pan and add the onions, a pinch of salt and a pinch of sugar. Simmer over low heat with a lid on for 15-20 minutes, adding 1-2 tablespoons of water during cooking. Keep aside the onions that will have to cool down, then take the leavened dough and roll it out gently on the floured work surface. Leave to rest for 10 minutes, then continue to roll out using the rolling pin and obtain a thin sheet of about half a cm. Grease it with a little oil and distribute the stewed onions over the entire surface. Also add raisins. Complete with chopped anchovies in oil. Roll up tightly starting from the long side, to form a sausage. Wrap the sausage around itself to form a spiral, place it in the oiled pan and gently press the dough to fill the whole pan. Let it rise again until doubled in volume, then grease the surface with more oil and bake at room temperature maximum for 15-20 minutes.  Take the focaccia out of the oven, let it cool and serve in slices.