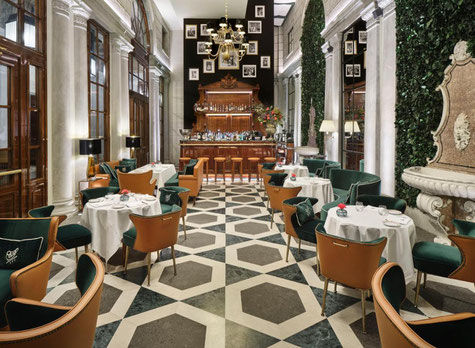 With such a glamorous history, the Casa Cipriani recently opened in the previous Palazzo Bernasconi, facing one of the oldest parks in Milan, the Indro Montanelli gardens. The building features 15 Rooms and Suites by Fiorentine Architect Michele Bonan, known for his attention to details and his tailoring skills. It offers its noble guests a very private and discreet lodging in the middle of Milan. With a membership fee of $4000, it provides members and its guests access to its 1000sm Spa and restaurant, lounge and club room. 
Its rooms are all decantly decorated and furnished with velvet , leather and a range of star photographs. Room service is of the finest quality and discretion.  Daily Breakfast includes fresh breads, homemade pastries, Cipriani jams, rigorously fresh squeezed juices, eggs any style, Lavazza espresso, or coffee the American way, or tea like the English like it.  
 Its 2 restaurants offer an exclusive menu featuring famous Cipriani dishes such as Carpaccio. Upon arrival, the original Bellini welcomes you. The famous cocktail was invented in Venice in 1948 by Giuseppe Cipriani, inspired by the fifteenth century Venetian painter Giovanni Bellini. Peaches were in abundance throughout Italy from June through September, and he had a predilection for the white ones. So much so, in fact, that he kept wondering whether there was a way to transform this magic fragrance into a drink he could offer at Harry's Bar.