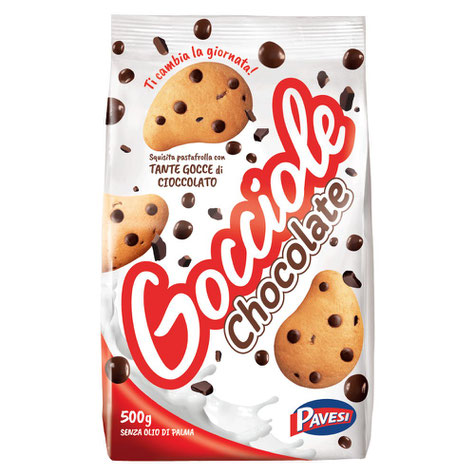 Love, the  Gocciole!  Italy's most loved breakfast biscuit celebrates its 25th anniversary! Everyone, even those who don't eat biscuits (someone will exist in this world), remember this and many other advertisements linked to Italy's most loved biscuits: gocciole.  A quarter of a century in which the name of the product has become a brand itself, surpassing that of the manufacturer and creating an endless array of imitations. They are the most loved in Italy; just just by its sales: 8 million Italian families choose them, so much so that over 48 million packs were sold in 2022 alone. Impressive numbers which, combined with the special birthday, the company has decided to celebrate with a new communication campaign, the #SvoltaconGocciole: a special edition pack with totally upside-down graphics to tell that the unexpected and daily businesses, in the "jungle" of life , can suddenly turn positive.
The famous Gocciole Biscuit was born in 1987, when Pavesi "Amici del Mattino" line of shortbread biscuits appeared in  a new drop shape.te. An indulgent biscuit that immediately gives consumers the right sprint to face the day with joy and good humour. But only it became only in 1998 a brand in its own right, following the enormous success achieved in the Italian market. The success continued and in fact only one year was enough for the Gocciole al Cappuccino and those with Gianduia to arrive on the market.  In 2000 the jungle theme was launched as part of its marketing campaign. In addition to the ice cream-biscuit launched in  the summer of 2022. 
Famous Gocciole Recipe - Chocolate Chip Biscuits - here the secret recipe!
Ingredients:
1 1/2 cups purpose flour (1 or 2 tablespoons extra if needed) (195 grams); 2 tablespoons cornstarch;  1/2 teaspoon baking soda; 1 pinch salt; 1 tablespoon cocoa; 1/2 cup butter (salted / softened) (105 grams); 1/4 cup 2 tablespoons granulated sugar (75 grams); 2 tablespoons brown sugar (packed); 1 large egg; 1/2 teaspoon vanilla
1/2 cup + 2 tablespoons mini chocolate chips (divided).
Preparation:
In a medium bowl sift together the flour, cornstarch, baking soda, salt and cocoa. On medium speed beat the butter and sugars until creamy. Then add the egg and vanilla and combine. Add the sifted dry ingredients and start to combine, when almost combined add the chocolate chips. Mix to combine into a soft dough. Wrap the dough in plastic wrap and refrigerate for one hour. Roll the dough out with a small round cookie cutter and then form into a drop shape, top each cookie with extra chocolate chips. place on parchment paper lined cookie sheets. Refrigerate while oven is pre-heating at least 15 minutes then bake for about 15 minutes. Let cool on wire racks. Grazie a Italianinmykitchen.com
Gocciole Famous Advertising
Le Gocciole officially landed on TV in 1998 with a commercial that reads "Gocciole Pavesi, live with more gusto!": a mother, seeing her family sleepy around the table set for breakfast, asked a friend for advice introduces this biscuit "full of energy". Since then the relationship between the biscuit and television has been unique and decidedly passionate: there will be no new release or product that will not be matched by a reference commercial. The Tarzan advertising is now a pop figure - especially from 2022 when - in a more modern and "accessorized" jungle - the new Tarzan and Jane appear on the screen, played by the actors Lillo and Chiara Francini. There are products that more than others we associate with a specific music, jingle or song - certainly with the Gocciole Pavesi biscuits. Over the years there have been many more or less successful sketches, but almost all accompanied by the same soundtrack, the song Tequila by the American rock band The Champs, a song with a Latin flavor to the rhythm of mambo beat. Gocciole Wild launch campaign with a new episode of the jungle saga. The personality of the new product, right from the first bite, reveals its "wild" soul. This is why creativity appeals to the notes of the famous "No sono una signora" by Loredana Bertè.
The ice-cream version! Gocciole Gelato Biscotto!
New edition - Gocciole Finger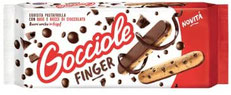 Gocciole Finger: Exquisite shortcrust pastry with lots of chocolate drops, a delicious chocolate base and a whole new shape: Gocciole Finger, the snack that turns your day from so to so to great !