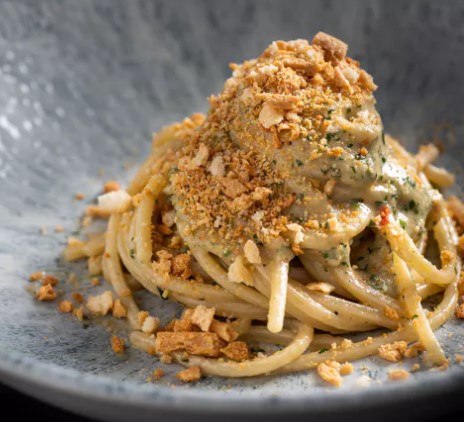 In the picturesque Dolcedo, in the province of Imperia, inside an early 20th century mill with press and millstone, Ristorante Casa della Rocca features elegant Ligurian cuisine with ingredients from the land and the sea. A few creative touches, some Piedmontese references, in short, an excellent reason for a trip to the hinterland of Imperia! A fabulous first course includes the "Dal 2018 ad oggi": spaghetto monograno Felicetti, crema di acciughe, polpa di limone e crumble di grissini - Monograin spaghettoni (slightly thicker than Spaghetti) with anchovy cream, lemon pulp and grissini crumble.
If you cannot wait to travel to Dolcedo to try this dish, have a go at home: the Crema di acciughe - Anchovy cream can be prepared as follows. In a pan, brown the garlic clove with a spoonful of extra virgin olive oil. Add the washed and quartered cherry tomatoes, season with salt and cook for five minutes, stirring occasionally with a spoon. In the meantime, put the drained anchovies, capers, lemon juice, a spoonful of extra virgin olive oil and a pinch of pepper in the mixer; blend everything until you get a cream and put it in the pan with the cherry tomatoes.
Special Antipasti include the following options:  "Ü Preve": cabbage stuffed with potatoes, whipped tomato, smoked milk reduction and parsley chlorophyll;  Roasted rock octopus and Cicerale chickpeas in different consistencies.  The range of Primi Piatti consist of Carnaroli risotto with salted cooked beets, Blu from the Arroscia Valley, raspberry vinegar and somac ; or Felicetti monograin spaghetti, anchovy cream, lemon pulp and breadsticks crumble. Delicious options for the Main: Ligurian tripe; Local dormouse in zimino, Conio beans, fresh spinach and spiny artichoke; or their or a Meat options: Charcoal-cooked guinea fowl breast from the Moncucco farmhouse, Jerusalem artichoke, barbequed artichoke and green curry.