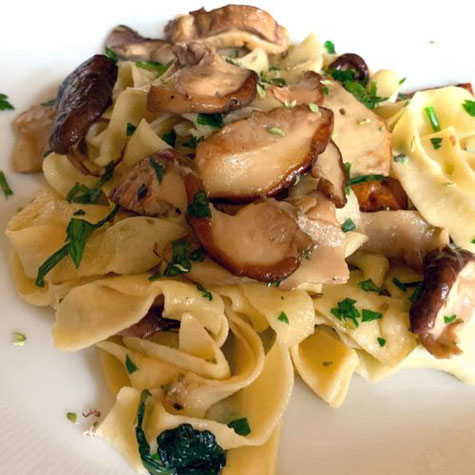 Tagliatelle with Porcini mushrooms are a simple and very tasty recipe. Here's the secret to making them creamy without using cream. A stable recipe in the Italian cuisine. Aroma and flavor for a first course that has many admirers, but which is often "mistreated" by the adding cream to mask the incapacity of the chef on duty or perhaps the imperfect quality of the mushrooms. The mushrooms to be used with the tagliatelle are porcini mushrooms, fresh if possible, alternatively frozen. The dry ones, on the other hand, do not lend themselves to the preparation of this recipe.
Ingredients:
300 grams of tagliatelle; 300 grams of porcini mushrooms; chopped parsley; half a clove of garlic; evo oil 50 ml; a chilli
Preparation:
Clean the mushrooms, if they are fresh, and cut them into slices using a potato peeler. Fry the oil in a pan with half a clove of garlic and the chilli without breaking it. After 3 minutes, remove the garlic and add the mushrooms. Fry for 5 minutes over high heat, skipping them frequently.
Remove two tablespoons of mushrooms from the pan, and with a mezzaluna on a chopping board, chop them almost to create a coarse cream to keep aside. In a saucepan, cook the tagliatelle in plenty of water and raise them halfway through cooking. The cooking of the pasta should therefore be completed in a pan, adding, if necessary, a little cooking water. Thanks to the starch of the pasta cooking water and the mushroom cream, we will obtain a creamy tagliatelle without having to resort to cream, which would end up covering the fresh but decisive taste of the porcini mushroom. A big No No.
The pasta to be used for the tagliatelle with mushrooms must absolutely not be egg-based. Pappardella could also be an alternative. If you are lucky and live in the woods, in addition to porcini mushrooms you may have a truffle available, which represents an ideal complement to embellish this already delicious recipe.