Geometric black and white wallpaper combined with blue velvet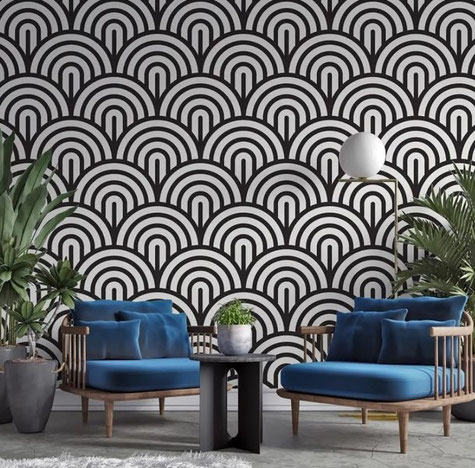 For some years now, the fascination for the eclectic 70s has been slowly making itself felt again, more or less incorporated into various decor trends. Whether through abstract wallpaper options or the trend towards velvet furniture in bright colors. The leitmotif of this 2023 furnishing trend is clearly colour, combined with chrome or elegant wood details. Combined with optical and abstract prints hanging on the walls. No particular colors;  but blues, green and orange and brown feature a lot. The must-have details for this style are the bouclé or velvet fabrics, to be used freely for sofas, armchairs, cushions and poufs. The famous 70s were not only a decade of freedom and but also creativity. Those were the years in which the foundations for the economic conquests of the 1980s were firmly laid. Many of the design objects created in the 1970s are still produced and widely sold today.
Wallpaper is one way of transforming a room. The collection of wallpaper from Carta da Parati Artistica offers special 70s style patterns. Wallpaper of the time with geometries and strong colors that make us relive the poetry, the color, the myths of the 70s and they adapt to any room in your home, making it unique and original. Black and white geometric patterned wallpaper combined with elegant blue velvet furniture items; a class 70s Look but also very stylish! Fendi Casa offers a number of lounge chair styles which create that fabulous look. An online Italian shop entirely dedicated to 70s wallpaper 
Shades of Green with crafted wood
Shades of Green with Wood - the 70's look of green upholstery and elegant wood is also reflected in furniture items from  Armani Casa with the Jolie Desk and Chair. Featuring minimal lines; Jolie is a two-drawer desk with wooden structure and leather top. Underneath the worktop two drawers open with the aid of a small leather handle with metal GA logo detail.  MADE IN ITALY. From Gianfranco Ferre Home, the luxurious Nabuk Olive Green Armchair Wall Street with a structure in metal with Black (matt) finish. Or from Minotti - inspiration for the design of the Glover armchair was spawned by the idea of creating an armchair that is as elegant as comfortable. The enveloping seat back and the armrest, emphasized by elegant studs in Pewter-color painted metal come in a choice of  leather or fabric – with flawless stitching.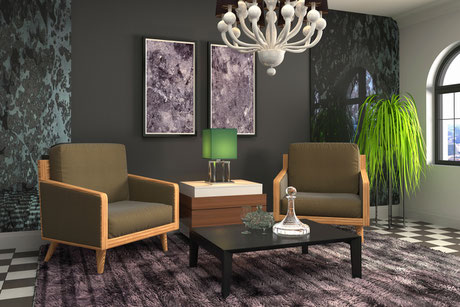 A touch of orange combined with Grey furniture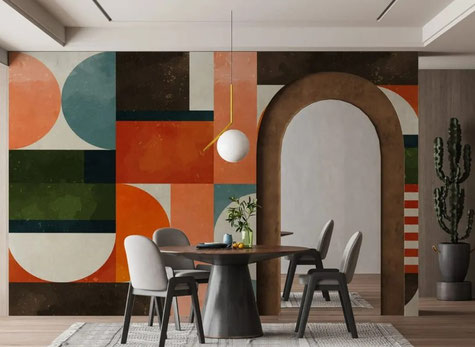 For over 50 years, Zambaiti Parati has been creating high-level wallpaper collections for a clientele attentive to quality and aesthetics. The made in Italy of our products is a guarantee of an inimitable and timeless style. To furnish any environment with personality and class. Combined with elegant grey seating chairs from Molteni&C with clean and delicate lines, Janet is the new project by creative director Vincent Van Duysen which is part of the rich proposal of Molteni&C chairs.