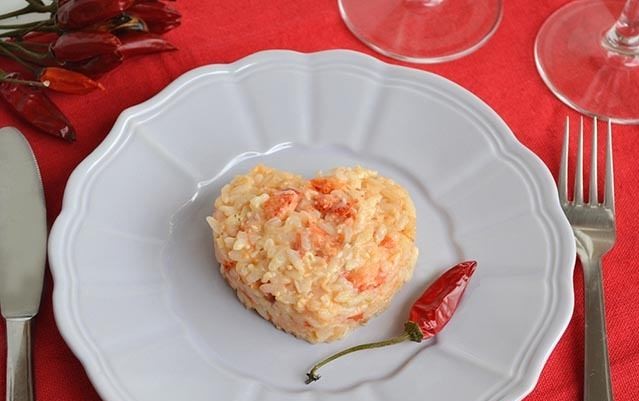 If you are planning to have your Valentine's Day dinner at home, herewith a quick and easy to prepare menu with enticing recipes for a truly romantic Valentine's dinner. A quick antipasti with Caviar canapés - Tartine al caviale; followed by a first course of Lovers Risotto - Risotto degli innamorati. Followed by a second course of Pistachio Crusted Baked Salmon -  Salmone in crosta di pistacchi and for dessert a delicious Chocolate Yoghurt Cake - Torta al cacao e yogurt. Buon San Valentino!
Antipasti: Caviar canapés - Tartine al caviale
Ingredients:
Round puff pastry 1 roll; black caviar 100 g; butter 50 g; lemon 1; chives to taste
Preparation:
Roll out the roll of puff pastry and place it on a baking sheet lined with parchment paper; then, with the help of a pastry cutter of about 5 cm in diameter, cut many disks. Remove excess sheet clippings. Prick the disks with the prongs of a fork; and bake at 180 °C for about 15 minutes. Once the cooking time has elapsed, take out the puff pastry buttons; and let them cool.In a small bowl, work the butter with a splash of lemon juice, until you get a creamy mixture. Arrange the puff pastry discs on a serving plate; fill them with buttercream. Place a teaspoon of caviar on each tartlet;  complete with a few stalks of chopped chives and grated lemon zest. Bring the 10 caviar canapés to the table and serve.
Primi Piatti: Lovers Risotto - Risotto degli innamorati
Ingredients:
120 g of crabmeat; 100 g of cherry tomatoes; 1 clove of garlic; olive oil; 160 g of rice; 1/2 leek; 1 knob of butter; 1/2 glass of sparkling wine; 250 ml of vegetable broth; 1 tablespoon of mascarpone; sweet paprika; salt
Preparation:
Clean the leek, slice it thinly and let it dry in a saucepan with a knob of butter. Wash and cut the cherry tomatoes and prepare the crabmeat. Lightly fry the garlic with a drizzle of oil, then add the crab and cherry tomatoes, salt and cook for about ten minutes. Add the rice to the saucepan with the leek and toast it for a few minutes, then blend with the sparkling wine. Then cover with the hot broth, add salt and cook (it will take about 15 minutes). Towards the end of cooking, add the crabmeat to the risotto. Add mascarpone and paprika to taste and season with salt. Serve using a heart-shaped cookie cutter. Decorate with a whole chilli pepper and serve your lovers' risotto immediately.
Secondo Piatti: Pistachio crusted salmon - Salmone in crosta di pistacchi
Ingredients:
2 salmon fillets (150 g each); soy sauce (for marinating); sesame oil (or olive oil); 40 g chopped sweet pistachios
Preparation:
Rinse the salmon fillets and dry them with a paper towel. Pour a little soy sauce into a plate and place the fillets on it (skin side up). Leave to marinate for about 30 minutes. After 30 min, brush the salmon (on both sides) with sesame oil (or olive oil). Coarsely chop the pistachios with a knife.  Place the fillet on the pistachios and press lightly. Place the salmon fillets on a baking tray (the skin in contact with the baking tray) and cook in a static oven at 200° (medium shelf) for about 7-8 minutes. Cooking times may vary depending on the oven or the size of the fillets. To check doneness, open one of the fillets at the thickest part. Remember, salmon doesn't have to be raw but it doesn't have to be dry either! Remove from the oven and serve your Pistachio crusted salmon fillets with lemon and a fresh salad.
Dolci: Cocoa and yogurt cake -Torta al cacao e yogurt
Ingredients:
230 g of 00 flour; 30 g of bitter cocoa; 160 g of sugar; 30 ml of sunflower seed oil +1 tsp; 125ml of water; 140 g of low-fat yogurt; 1 sachet of baking powder.
Preparation:
Turn on the oven at 180°. Mix the yogurt with the oil and sugar in a large bowl. Add the sifted flour, water, baking powder and cocoa. Mix with a whisk until you get a smooth and creamy mixture. Grease a baking tray with a teaspoon of oil and sprinkle it with very little flour. Pour the mixture and level the surface with a spoon. Bake in the preheated oven for about 35-40 minutes and before removing the cake, do the "toothpick test": if it comes out clean, it means that the cake is ready, otherwise let it cook a little longer. Let the cake cool before taking it out of the cake mold. Serve with yoghurt or some whipped cream!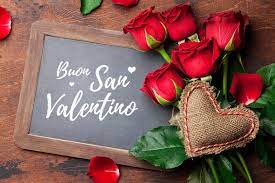 C'è un'unica felicità nella vita: amare ed essere amati (George Sand) - There is only one happiness in life: to love and be loved.