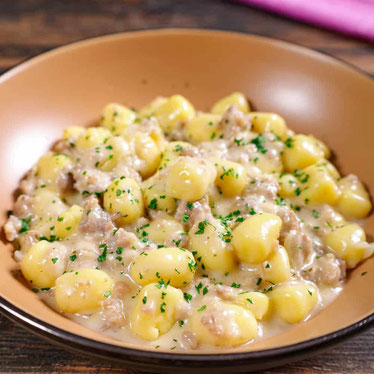 The sausage and stracchino gnocchi:  Gnocchi salsiccia e stracchino is a creamy and tasty first course that we can prepare at home in just 15 minutes. Simple and quick but also delicious and eclectic combination.
The recipe is simple as few ingredients and the advantage that both the shelled sausage and the potato gnocchi have very fast cooking times. To begin, in a large pan, fry the chopped onion in a sauce of olive oil. Add the chopped sausage and brown it and blend with the white wine. At that point, add the soft cheese and mix to obtain a homogeneous cream. Cook the gnocchi in boiling water, drain them and then we just have to put them back in the pan with the sauce. The gnocchi in bianco with sausage are ready to be served. Buon Appetito!
Italian sausages are world renown and available nearly everywhere. Stracchino cheese, also known as crescenza, is a type of Italian cow's-milk cheese, typical of Lombardy, Piedmont, Veneto, and Liguria regions. It is eaten very young, has no rind and a very soft, creamy texture and normally a mild and delicate flavour. As a special touch, you can serve the Gnocchi dish with chopped walnuts or parsley.