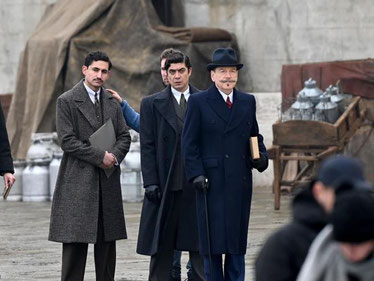 After the great success of the films Murder on the Orient Express and Murder on the Nile, Kenneth Branagh returns to take on the role of Hercule Poirot, the famous Belgian detective born from the pen of Agatha Christie. The real star of the new feature film will be Venice which is hosting the production of A Haunting In Venice, the new shocking supernatural thriller inspired by the novel Ordeal by Innocence. The well-known private detective roams the streets and fields of the lagoon city, accompanied by a stellar cast that includes Riccardo Scamarcio, Jamie Dornan and Tina Fey.
The Film which will hit US theaters in 2023, is set in the post-World War II capital of Veneto, on the eve of All Saints' Day. Now retired, Poirot reluctantly attends a séance in a decaying and ghostly palace. When one of the guests is murdered, the detective finds himself in a sinister world of shadows and secrets.
«Set in such a visually enchanting city, this Film represents an extraordinary opportunity for us filmmakers – previously stated Kenneth Branagh -. We're relishing the chance to deliver something truly spine-tingling to our loyal cinematic audience." Filming, followed by the Mestiere Cinema production company, is taking place in Piazza San Marco and until January 13, will touch different parts of the city such as the Scala del Bovolo and Palazzo Malipiero.