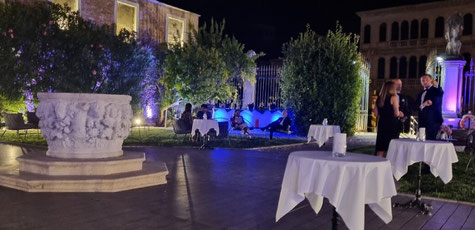 Alessandro Borghese and his brigade kicked off with a stylish event in Venice for the opening of his restaurant "il lusso della semplicità" which was a huge success with VIP guests and friends of the chef; including his mother; the actress Barbara Bouchet. The well-known Chef Alessandro Borghese opened "AB- The luxury of simplicity", in the historic 16th-century Palazzo Vendramin Calergi ; also the location of the Casino of Venice. A unique and evocative space to be enjoyed from morning to night, with a garden on the Grand Canal and entrance from the Lagoon.
From an architectural and decor point of view, great prominence has been given to the typical elements of the Venetian tradition for the restaurant's interior, while the design of the rooms maintains a "fil rouge" with the chef's restaurant in Milan in the CityLife area. The bistro area, on the other hand, is characterized by the presence of the pastry counter, covered with bottle-green glazed lava stone slabs. As with the Milanese restaurant, the interior spaces are used as a temporary art gallery, where young artists can exhibit their works and guests are surrounded by beauty from morning to late night.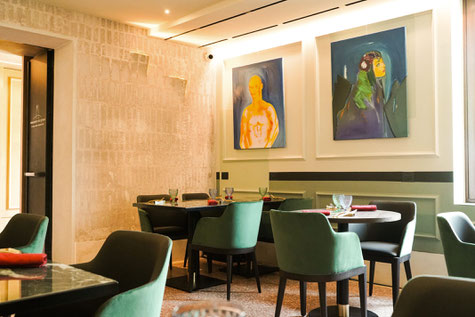 The food and wine proposal combines the great classics of chef Alessandro Borghese, such as the iconic " La mia Cacio&Pepe con Spaghettone Pasta Armando"  and Peat Duck: " Anatra alla torba, lattuga romana alla piastra, ketchup di carota, caramello salato all'arancia" with additional new dishes that pay homage to the territory such as Gallina in saor with dates and polenta chips and Venetian Picanha with smoked celeriac. Do not miss the oysters and raw fish and the traditional Venetian cicchetti, playfully revisited by the chef. In the 5 rooms designed to offer guests different taste experiences, there is space for the gourmet restaurant, the bistro with pastry counter, the bar and the wine cellar, which has over 300 labels.
Try Antipasti such as fresh oysters and shellfish or a fresh reinterpretation of creamed cod with sweet and sour onion mousse: Diplomatica di Baccalà mantecato, spuma di cipolle all'agrodolce, finanziere al nero, verdure acidulate, gelato tzatziki.  Followed by the excellent, Cacio&pepe and a Risotto alle "bevarasse" with confit datterino tomatoes, basil and well-made dried lime. The Mains include peat duck, fennel salad with seaweed and salted caramel and a slice of croaker with acidulated celeriac cream and grilled peach, or the Glazed Grilled Octopus: Polpo alla brace glassato, broccolo fiolaro, sarda afumicata, 'nduja, crumble di taralli. And as dessert of course Tiramisu.