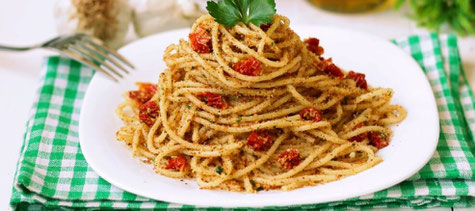 Spaghetti alla Siciliana is a typical Sicilian recipe that is easy to make and tasty, a perfect first course to serve on your tables to guests or family for lunch or dinner! It is a first course prepared with very simple ingredients, such as dried tomatoes, parsley and breadcrumbs. The combination of flavors and the choice of quality products will give the dish a rich and characteristic flavour.
Ingredients:
Salt to taste. 350g. of spaghetti; fresh parsley to taste; 50g. of breadcrumbs; 1 clove of garlic; 8 dried or pickled tomatoes; extra virgin olive oil q.s.; 1 sprig of fresh chopped parsley; grated Parmesan cheese to taste
Preparation:
Pour a little extra virgin olive oil into a large and capacious non-stick pan, add a clove of garlic, brown it then remove it, add the breadcrumbs and chopped fresh parsley, toast it and brown the surface, turning it well and often with a wooden spoon and being very careful not to let it burn, then add the dried tomatoes in oil cut into small pieces and sauté them for 2 minutes in the pan to let the breadcrumbs flavor (I recommend using a low flame for this step).
Now boil a pot with abundant salted water, pour the spaghetti and cook according to the minutes indicated on your package, once cooked, drain them leaving a little cooking water, put them in the pan with the oil, breadcrumbs and tomatoes dried then sauté them for a few minutes in the pan with the sauce, finally distribute a little fresh parsley, add more extra virgin olive oil if they are too dry, mix everything very well, sprinkle with plenty of Parmesan or Parmesan grated and bon appetit to you!