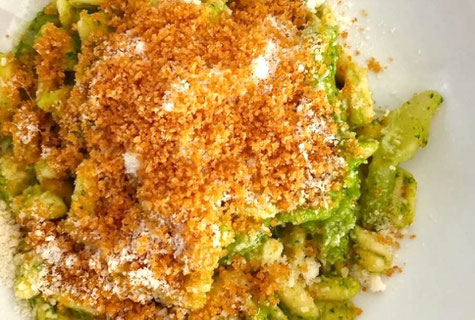 Cavatelli are a pasta of the Molise tradition but which subsequently found fame and glory also in Puglia and Abruzzo. It is a very versatile fresh pasta, which lends itself very well to preparations with meat sauce; but also with vegetables. This recipe of Cavatelli with broccoli and breadcrumbs is a good alternative to a meat-based pasta dish and a perfect way to get children to eat this very healthy vegetable. You can also use other pasta types such as spaghetti or paccheri.
Ingredients:
500 g Fresh cavatelli; 500 g of broccoli; 4 tablespoons of breadcrumbs; Extra virgin olive oil; 2 anchovies; 1 onion; parmesan to taste; Chili pepper to taste
Preparation:
Boil the broccoli in plenty of salted water for 10 minutes. Before straining them, taste them and if they are still hard, leave them for a few more minutes. However, they must still be al dente. Do not throw away the cooking water from the broccoli because the cavatelli will be cooked in there.