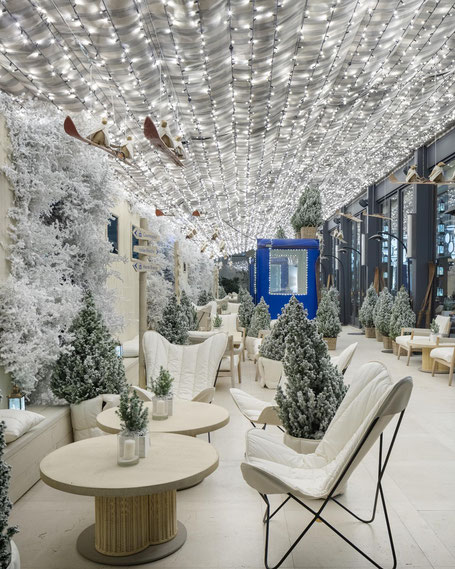 Four Seasons Hotel Milano brings après-ski to the city by partnering with Courmayeur Mont Blanc, a favourite Alpine ski resort of the Milanese. Until 20 January, the the five-star hotel Four Seasons in Milan offers having the opportunity of an aperitif in the magical winter atmosphere of the Aosta Valley resort. On the menu themed cocktails and appetizers made with typical products. Milano-Courmayeur:  Call it, if you like, après-le travail. Or après-le shopping. But everything – from the layout to the climate, from the patrons to the prices – recalls the après-ski of the local patisseries in via Roma in Courmayeur. Instead of Mont Blanc, looking up you can see the Madunina: all set up in the garden of the Four Seasons Hotel as  a full-blown après-ski setting just like a real chic chalet on the slopes of Checrouit: vintage skis, snow-covered pines, plaids on the armchairs, a sky of lights and even an authentic 1947 cable car brought to Milan directly from Courmayeur. 
You can choose to stay in the garden or even inside, in the Fireplace room, also set up on a theme, with sofas, design whitewashed fir trees and a deejay station. To bring the concept to Milan, Executive Chef Fabrizio Borraccino and Bar Manager Luca Angeli have created an après-ski-themed menu, featuring cocktails and dishes that evoke flavours and ingredients typical of Italy's Valle d'Aosta. Such as the Skyway Martini, the excellent Negroni Aretù revisited with ginger beer and hibiscus syrup or the Courmayeur Spritz with signature bitters. As an accompaniment to the drinks you can enjoy various mountain finger food samples including mocetta and fried polenta, focaccia with raw ham in Genepy, fontina DOP and chicory. 
You can obviously also stay with your loved ones and celebrate the Christmas holidays at the Four Seasons Hotel in Milan. They offer special festive packages; while you indulge in a unique Christmas shopping experience right at your doorstep in Milan's most chique shopping district. Or buy presents at the Fours Seasons: the special panettone made by the in-house Pastry Chef Daniele Bonzi or an open value voucher to enjoy in the Zelo and Stilla Bar. On offer also special Christmas menus. Such as for Christmas Eve Dinner:  creamed cod and piquillos; crunchy egg chicory, potato foam and pregiato black truffle; plin ravioli with high mountain ricotta and artichokes; amberjack, semolina rice with razor clams, mussels, taggiasca olives and parsley; chocolate mousse, mascarpone, raising syrup and walnuts; traditional panettone with warm zabaione finished off with coffee and petit fours. 
Or for Christmas Day Lunch: quiche with gorgonzola and walnuts; smoked salmon blinis; cannolo with guinea fowl ragout; tuna tartare bruschetta with tomato; seared scampi, bean soup, kale and bottarga bread croutons; classic tortellini with broth and thistles; tagliolini with pregiato black truffle; veal cheek with jerusalem artichoke and mustard spinach; speculoos biscuit, dulce de leche, citrus cream and almond; traditional panettone with warm zabaione and finished off with coffee and petit fours.