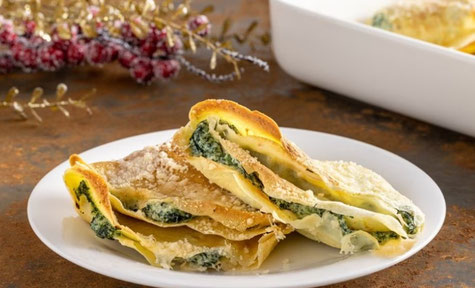 These holidays are often synonymous with lavish lunches and dinners, but we know that you don't necessarily have to spend a lot to eat well and tastefully at Christmas! Here a selection of ideas for first and second courses such as the ricotta and spinach crepes and the Linguine con crema di broccoli e mandorle tostate. There are also second courses of meat such as roast turkey breast or pork loin with apples, simple but appealing side dishes such as flaky potatoes - patate sfogliate.
Crepes ricotta e spinaci - Ricotta and spinach crepes are a really tasty single dish, ideal for a Sunday lunch with the family or a dinner with friends. The recipe is simple and quick to make and the result is guaranteed. 
Linguine con crema di broccoli e mandorle tostate - Broccoli, almonds and pecorino are the three ingredients of this tasty and melting pasta dish. An easy, healthy and cheap recipe also suitable for a day of celebration. Patate Sfogliate - potatoes can be cooked in many innovative and affordable ways. Patate Sfogliate fall into this category: an easy, tasty and very appealing recipe that will make you look great with your dinner guests, which can be served as a side dish. To be prepared for an appetizer or as a first course, Crepe roses (Rose di crepes) are an easy recipe and at the same time a nice way to present the crepes au gratin. With a simple and delicious filling of ham and crescenza.
Directly from the Romagna tradition, the recipe for Passatelli in brodo - passatelli in broth offers an easy and very tasty first course, a fresh pasta prepared with breadcrumbs and eggs. A recipe suitable for a tasty and special first course. Another option for a first course are the Tagliatelle paglia e fieno - the straw and hay tagliatelle in this version with cream and speck are a tasty, easy and quick first course, which offers a nice play of colors thanks to the color contrast between the green and white tagliatelle.
The Arista alle mele - is a delicious second course, a succulent and soft cut of roasted pork, easy to prepare but impressive to look at and very tasty. Either as a perfect Sunday lunch or dinner with friends but also for the table of the most important occasions over Christmas - in particular with the delicious cooked apple chutney combination. The Tarte Tatin alle cipolle -  onion tarte tatin is an upside-down savory pie, made with a base of shortcrust pastry and a delicate filling of slightly caramelized onions. Easy to prepare and beautiful to look at - hence ideal for a special occasion. The Rotolo di patate con speck -  potato roll with speck and smoked scamorza cheese is a rich and tasty dish that reveals an irresistible stringy heart. Quick and easy to make, it is perfect as a second course or as a rustic appetizer. 
The recipe for Conchiglioni ripieni al forno - stuffed pasta shells in the oven is easy, delicious and as a first course rich and warming with the filling of a good meat sauce, mozzarella and Parmesan. A lighter version are the Cannelloni with ricotta and spinach  which is one of the traditional recipes of Italian cuisine to be served on special occasions. Grazie a il Cucchiaio d'argento!