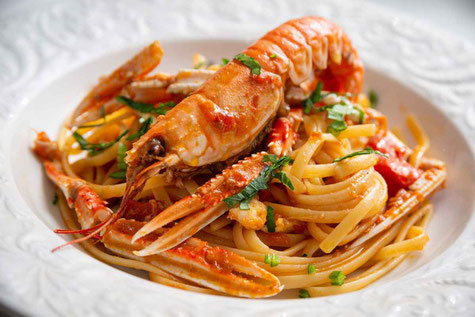 This delicious, easy but elegant pasta dish with Scampi will make a great impression on your guests, and is really quick dish to prepare. This refined first course is not just ideal for Sunday lunch but also for the festive season, especially if combined with a glass of elegant Vermentino.
Ingredients:
400 gr of linguini; 400 gr of scampi; 1 lemon; 1 clove of garlic; 1 tuft of parsley; chili pepper q.b. extra virgin olive oil q.b.
salt to taste.
Preparation:
Put the water to boil and add the linguine. In the meantime, clean and wash the scampi, let them dry and cut them in half lengthwise.Take a large saucepan closed with a lid and let the garlic flavor with a lot of oil in the microwave at 650 Watts and remove it when the garlic is colored (about 1 minute and a half). Now put the scampi, salt, add pepper to your taste and cook for about 4 minutes at 500 Watts, turning them once halfway through cooking. Drain the pasta al dente and transfer it to the pan with the scampi, then season it with the lemon juice, the yellow zest cut into thin filaments and a handful of washed and chopped fresh parsley. Mix well and serve immediately.
The best wine to pair with scampi is definitely a delicate and light white. The so fine and characteristic flavor of the shellfish meat goes perfectly with deep and structured wines, which know how to harmonize with the taste of raw scampi or cooked scampi. Perfect pairings are Vermentino di Sardegna, white Elba, Gavi, but also white Salice Salentino or Greco di Tufo.