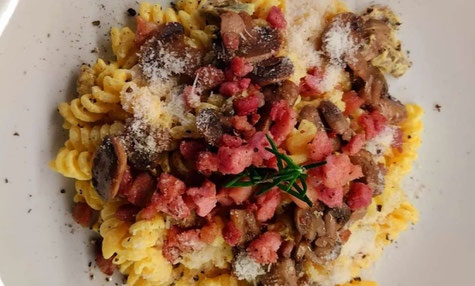 Calling a carbonara a pasta that is not carbonara for many will be a heresy, but for people who are intolerant to eggs, these 2 recipes are options for a great first course. Also called Finta Carbonara. One recipe from Mery Catania and another from Giallo Zafferano. Grazie!
Ingredients:
300 g champignon mushrooms; 150 g diced smoked bacon; 80 g Parmesan cheese; Sage to taste; rosemary to taste; Salt to taste; black pepper; 150 g cooking cream; 1 packet of saffron; 400g Fusilli
Preparation:
Cut the mushrooms into slices if they aren't already and brown them in a pan in oil, adding the herbs, sage, rosemary and black pepper. Add salt while cooking and stir occasionally. In another pan, brown the bacon. If it is very fat you can also avoid adding oil.
Cook the fusilli in plenty of salted water and drain when cooked as desired. Then add the cream, saffron and parmesan with the heat off. Blow up to form a nice creamy sauce. At this point you can also add the freshly browned champignon mushrooms to the fusilli. Serve and finally add, on top of the fusilli, a few mushrooms kept aside and the browned bacon, finishing with another good sprinkling of Parmesan and a grind of black pepper.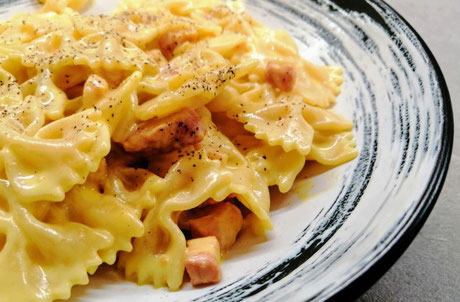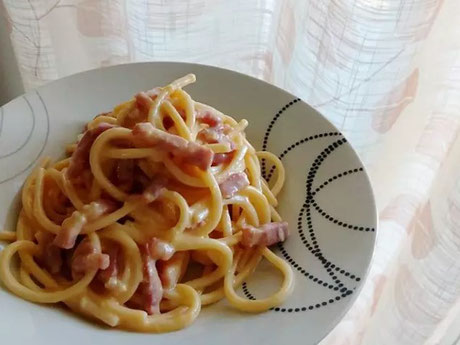 Ingredients: 
200 g of pasta; 80 g Philadelphia; 80 g of smoked bacon
1/2 glass of white wine; 1 packet of saffron; oil to taste
pepper as needed; Salt to taste
Preparation:
Take a pan and cook the bacon with a drizzle of oil and a little chilli pepper, brown it well, if you are pregnant cook the meat well. Pour the white wine and let it evaporate, add the Philadelphia and once it has become creamy it's time for the saffron which will give the dish its yellow colour, turn off the heat. Cook the pasta in plenty of salted water, drain it al dente and season it with the sauce from the fake carbonara, add a little pepper if you like! Buon Appetito.