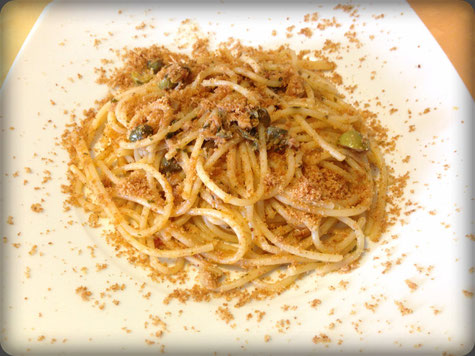 These spaghetti are the perfect dish for those who have little time available, but want to eat something delicious without having to resort to take-away food or various sausages. Ready in minutes, they are a real treat!
We certainly didn't invent the recipe, as it is part of the classics of Italian cuisine: spaghetti alla puttanesca. But this is a version with a special additional ingredient that that makes it different from other versions you would have previously eaten - toasted bread crumbs. Delicious combination!
Ingredients:
Spaghetti; peeled tomatoes; black olives; capers; garlic; extra virgin olive oil; salt; secret ingredient: breadcrumbs
Preparation:
Take a pan and add plenty of oil. After a few seconds, add a piece of whole garlic and let it brown for a few minutes.
Now it's the turn of the peeled tomatoes. Pour them into the pan and mash them well. Also add the olives and capers (after washing them carefully and removing all the external salt) and salt. While it's cooking, boil the water. Salt it and pour the spaghetti inside. A few minutes before cooking, pour them into the sauce and finish cooking there to make them even tastier. Now it's up to the secret ingredient. Take a pan and toast some breadcrumbs and set it aside. When the spaghetti is ready and you've served it up, add a sprinkling of toasted bread and you'll taste how good it is!