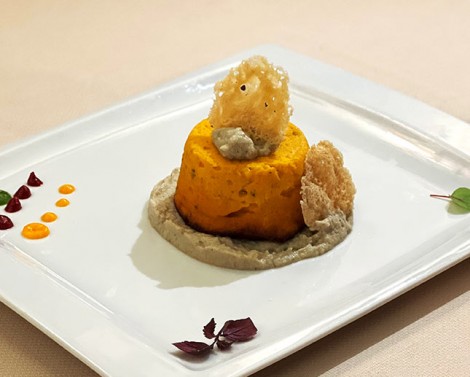 Here comes autumn:  the Pumpkin flan with porcini mushroom reduction and crunchy Parmigiano Reggiano wafer is a great appetizer or a delicious side dish. The recipe, quite easy to prepare, is ideal for Sunday lunch or a dinner with friends. Remarkably, there are now more pumpkins grown in Italy than in America; astonishing given that even mid-19th century it was not much eaten across Europe. From all Italian regions, it is most loved in the Veneto region.  Called there Marina di Chioggia, also known as sea pumpkin, after its native town in the lagoon, is the most popular. The pumpkin's bland and compact flesh make them an ideal for savory and sweet creations of Italians cooking, such as pumpkin risotto, pumpkin tortelli, cappelletti and gnocchi, or as this recipe the Pumpkin flan.
Ingredients:
Mantua pumpkin 500 gr;  extra virgin olive oil  2 tbsp; Parmigiano Reggiano 100 gr; 2 whole eggs ; fresh cream tbsp; salt ; nutmeg; pepper; marjoram;  thyme ; rosemary ; porcini mushrooms;  100 gr; water  20 cc; extra virgin olive oil (for the reduction of porcini mushrooms) 1 tbsp; Grated Parmigiano Reggiano (for the Parmigiano Reggiano wafer) 2 teaspoons.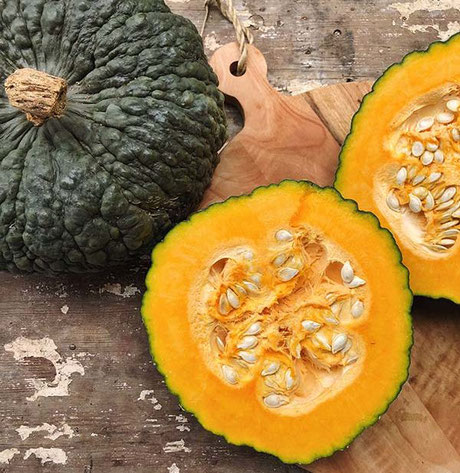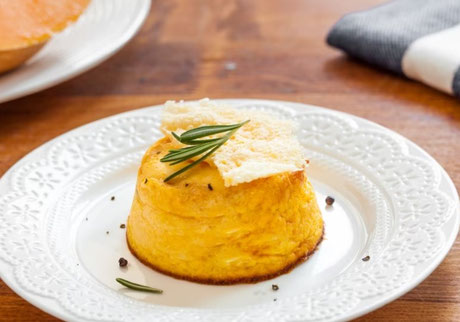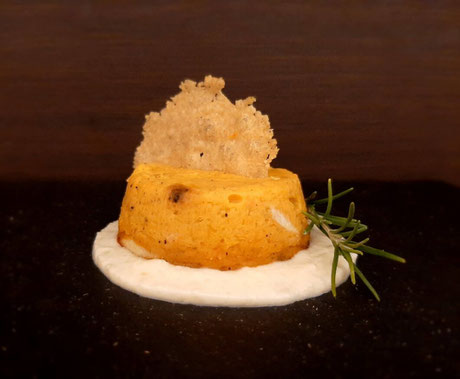 Preparation:
Cut the pumpkin, clean it and put it in a static oven with extra virgin olive oil, marjoram, thyme and rosemary for 30 minutes at 180°. Once cooked, let it cool.
Meanwhile, mix the eggs, Parmesan and cream in a bowl and add salt, pepper and nutmeg to taste. When the pumpkin has cooled, use the vegetable strainer to avoid leaving large pieces, then add it to the egg, Parmesan and cream mixture.
Then pour the mixture into the mold and bake at 170° for 30 minutes. Preparation for the porcini mushroom reduction:
Put the three ingredients in a saucepan and bring to a boil. When cooked, use the hand blender to create a cream. Preparation for the Parmigiano Reggiano wafer: Using the back of a teaspoon, spread the Parmesan into a small mold lined with parchment paper. Bake until it becomes slightly brown. Quantity of ingredients for four flans.