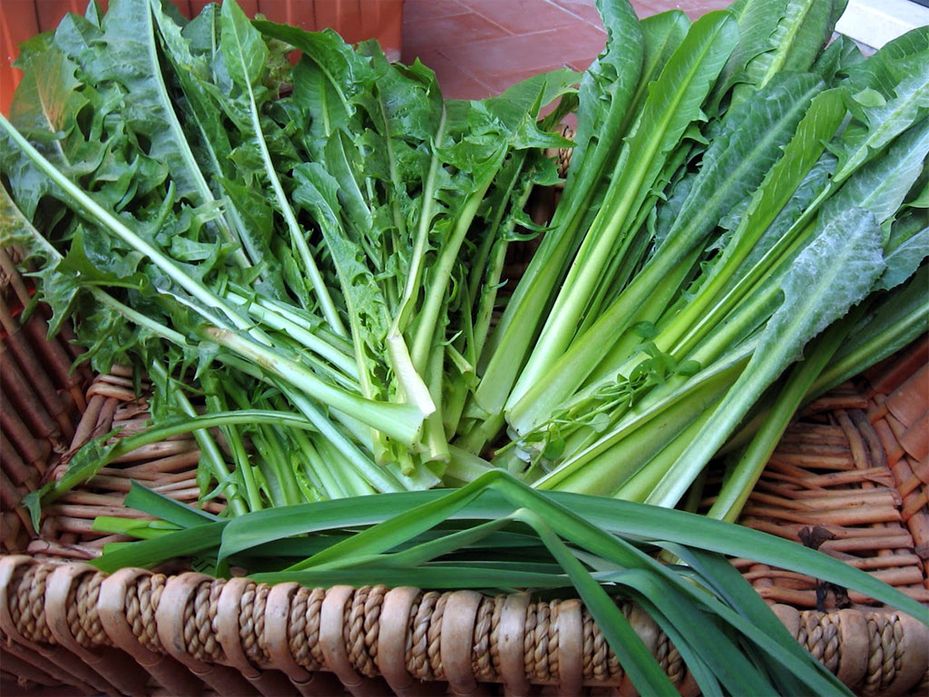 With November we officially enter the middle of autumn, the temperatures become increasingly cooler, so fruit and vegetables which are in season now are able to provide us with lots of vitamins. These include vegetables such as Catalonia, which is a variety of chicory, with long, narrow leaves and an intense green colour. Other top vegetables at this time in Italy are all cabbage types, such as cauliflower;  brussels sprouts; romanesco broccoli;  white or red cabbage and of course Cavolo Nero - Tuscan black cabbage. These vegetables not only taste fabulous in its various preparations but are also extremely healthy, including keeping blood sugar and cholesterol levels under control. Whether Catalonia with anchovy or Sardegna Fregola with Romanesco cabbage or the famous Tuscan dish - Ribollita  are a must to try!
Catalonia with anchovy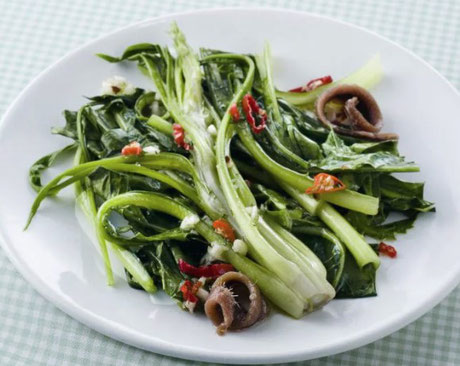 Ingredients:
Catalonia 1 kg;  3 Salted anchovies;  Extra virgin olive oil 3 tablespoons; 1 clove of Garlic;  Salt and Pepper as needed.
Preparation:
Clean the catalonia by removing the lower part of the head and wash the leaves in plenty of cold water. Drain them well, chop them coarsely and blanch them in a saucepan with plenty of boiling salted water. Desalt the anchovies by washing them under running water, dry them and cut them into small pieces. Lightly crush the garlic without removing the peel and let it dry in a pan with the oil. Add the chopped anchovies and brown them over a moderate heat, stirring frequently, until they have almost melted. Add the catalonia to the sautéed vegetables, season with salt and pepper and continue cooking for about 8 minutes, stirring occasionally. Serve the catalonia hot or warm.
Cavolo - Cabbage
The cabbage family is very large, of these winter vegetables there are different shapes and colors such as  White cauliflower;  Purple cauliflower; Green Kale; Cavoletti di Bruxelles - Brussels Sprouts; Romanesco broccoli;  Cavolo Cappuccio - White cabbage; Red cabbage; Cavolo Verza - Savoy cabbage; Tuscan black cabbage; Chinese cabbage. They all excel for their wide variety of recipes and their nutritional properties. Many famous cabbage recipes in the Italian cuisine such as Tuscan Ribollita but also as an extra touch to all courses. Cabbage can be boiled, steamed.  baked, fried or turn them into soups or use them as ingredients for sauces or raw in salads or used in the preparation of rustic cakes.
Insalata tirolese di cavolo e speck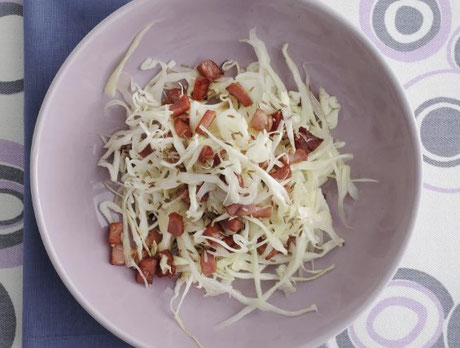 Ingredients
1 teaspoon cumin seeds; to taste salt; 2 tablespoons apple cider vinegar; to taste White pepper; 3 tablespoons extra virgin olive oil; 100 g speck; 1.4 cabbage
Preparation:
Slice 1/4 of cabbage very thin (the ideal would be to use a mandoline). Reduce 100 g of diced speck into 1 cm thick slices. Heat a small pan and quickly toast a teaspoon of cumin seeds to intensify the aroma. Set them aside, pour a spoonful of oil into the same container and brown the speck. Mix the cabbage with the speck and the cumin and dress with a vinaigrette obtained by emulsifying 2 tablespoons of apple cider vinegar, 3 tablespoons of extra virgin olive oil, salt and white pepper.
Fregola con broccolo romanesco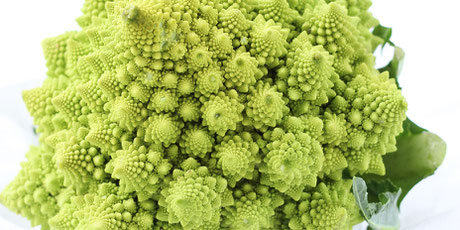 Ingredients:
Fregola 320 g; Romanesco broccoli 760 g; Shallot 35 g; Vegetable broth 750 g; Thyme 1 sprig; Extra virgin olive oil 30 g; Salt up to taste; Black pepper to taste; Grated Parmigiano Reggiano DOP 50 g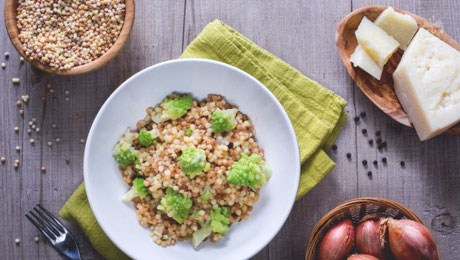 Preparation:
To prepare the fregola with Romanesco broccoli, first of all start making the vegetable broth, when it is ready keep it warm and take care of cleaning the broccoli. First remove the outer leaves and then using a knife separate the florets, cutting the larger ones in half; you should get about 320 gr. At this point finely chop the shallot and transfer it to a pan where you have already slightly heated the oil . Let it dry for about 5 minutes and in the meantime separate the thyme leaves and chop them finely. Add the broccoli to the pan, add the chopped thyme.and mix everything. Wait about 2 minutes and pour in the fregola, then mix and add a little hot broth. Continue to cook the fregola for 25-30 minutes (following the times indicated on the package), stirring often and adding more hot broth only when needed. Once cooked, turn off the heat and add the Parmesan, mix again and serve your fregola with Romanesco broccoli still hot.
Cavolo Nero - Ribollita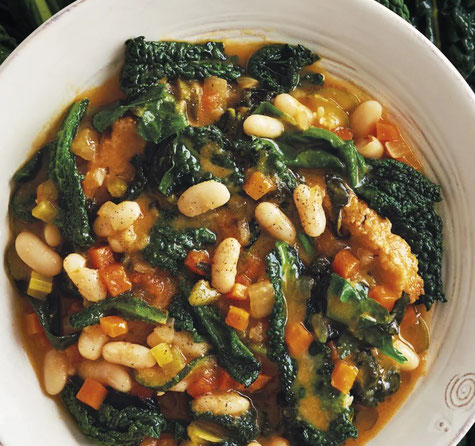 You say Cavolo Nero or black cabbage, and automatically the response comes with Ribollita, no questions asked. Brassica oleracea var. acephala is a typical fodder plant that has adapted particularly well in Tuscany, hence it's leveraged in soups but but also on toasted bread (without salt, of course), omelettes and porridge. Its fleshy and dark green leaves with a blistered surface have anti-inflammatory properties and are rich in vitamins and mineral salts. After removing the stem and washing them, they can be prepared in any way: in salads, stewed, boiled or fried, for a tasty and healthy snack.
Ingredients:
400 g black cabbage; 300 g dried cannellini beans; 200 g biete; 2 stalks celery; 2 small carrots; 2 medium zucchini; 2
garlic cloves; 1 onion; tomato concentrate; stale Tuscan bread; laurel; rosemary; extra virgin olive oil; salt; black pepper
Preparation:
Soak the cannellini beans the day before preparing the recipe, then boil them in abundant salted boiling water with 1 bay leaf and 1 clove of garlic, until they are cooked al dente. Blend half of it with 1 ladle of cooking water and keep the rest of the water aside. Clean the black cabbage, eliminating the fibrous central part; peel the other vegetables and cut them into pieces. Fry the carrots, celery, onion and courgettes with 3 tablespoons of oil for 10 minutes. Add 2 tablespoons of tomato concentrate, dissolved in 1 and ½ glass of warm water, and the black cabbage; season with salt and pepper and cook for 30 minutes in a covered saucepan over low heat. Add the beans, both whole and pureed, and the cleaned and chopped chard and cook for another 25 minutes, always in a covered pot, adding a few ladles of the cooking water from the beans, if necessary. Break up 3 slices of bread, add them to the soup and cook for another 5 minutes. Prepare a flavored oil, heating 6 tablespoons in a saucepan, with 2 sprigs of rosemary and 1 clove of peeled and crushed garlic, until it starts to brown. Turn off, leave to infuse for 10 minutes, then filter. Distribute the soup on plates, with half a slice of bread for each; complete with a drizzle of flavored oil, a grind of pepper and serve. Grazie a La Cucina Italiana!