Tastings are events that allow us to savor the food and wine of the area, not simply through aperitifs or dinners, but real opportunities to learn more about local products, and even meet the local suppliers. Guided tours of vineyards and cellars, lunches, brunches, dinners and aperitifs: all in the name of sensory and cultural discovery of the food and wines of Italy. Here 3 different options: Byblos Hotel Villa Amistà - Verona;  the New Kitchen Friuli Venezia Giulia Via dei Sapori and the Excellence Food Innovation Exhibition- Rome.
Dinner Menu Byblos Hotel Villa Amistà - Verona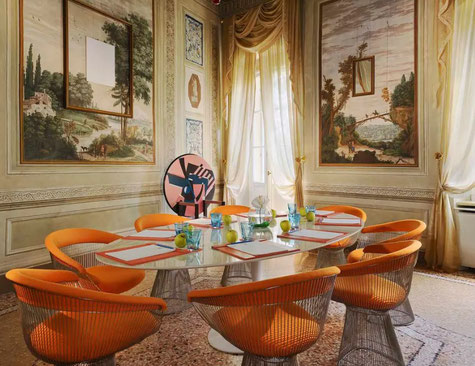 Valpolicella & Friends - the cuisine of Mattia Bianchi, chef of the starred Ristorante Amistà (inside the Byblos Art Hotel Villa Amistà) who has dedicated "Valpolicella & Friends" to his homeland, a special menu created precisely to enhance this territory of excellence through its protagonists. "We wanted to dedicate a cycle of evenings to this chosen territory that hosts us - explains Mattia Bianchi - for some time we have been working with excellent local producers to make known and preserve the ingredients and special raw materials that are born in this area".  Menu includes: Capriolo in rosso; Tortelli di corte Veronese; Anatra alla royal e pesche di Verona and as dessert Cioccolato pois. Tuesday 8 November - Amistà meets Farina and Wednesday 23 November - Amistà meets Masi. Cost of dinner € 160 (per person).
The New Kitchen Friuli Venezia Giulia Via dei Sapori
Final step for the research and experimentation work of Friuli Venezia Giulia Via dei Sapori Consortium of 21 top restaurants and  47 partners including winemakers, distillers and artisans of taste.  winemakers, distillers and artisans of taste, which in 2020  launched the La Nuova Cucina project, involving emerging restaurants in the region.  The project is in its third and final phase, which will culminate in 8 dinners scheduled in November and December.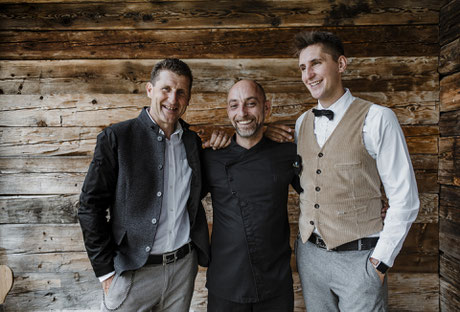 The protagonists will be 3 chefs (two from the Consortium and one from a friend restaurant), who, by comparing and working together, will offer the participants an absolutely new culinary experience, with recipes designed specifically for the occasion. The 5-course menu is important, starting with a special welcome from the kitchen created by six hands, followed by an appetizer, such as Baccalà Spring, Cocco, Zenzero e Foglie di Nasturzio (Spring Cod , Coconut, Ginger and Nasturtium Leaves),  a first course - for example
Risotto cocco, scampi e lime (Risotto with coconut, scampi and lime),  a second course such as 
Frico morbido con la regina di San Daniele (Soft frico with the queen of San Daniele) or Filetto di cervo al pino mugo con pera Williams allo zafferano, anice stellato e composta di mirtilli rossi (Venison fillet with mountain pine with saffron Williams pear, star anise and cranberry compote)  plus a dessert. Recipes at FVG.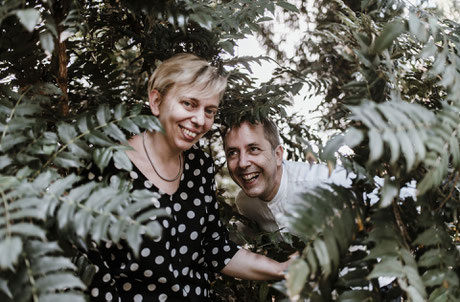 Focus of Chapter 3 is on sustainability; with the chefs proposing recipes that consider the theme of sustainability. There are those who have thought of the minimum environmental impact regarding the energy costs of cooking using appropriate techniques and using preparations at FVG Via dei Sapori La Nuova Cucina such as maceration, fermentation, drying, infusion and marinating. Others have focused on the conscious purchase of raw materials, turning to local supply chains. Still others have focused on the recovery and use of parts or inventories from the processing of various products, thus minimizing food waste.
Excellence Food Innovation - Rome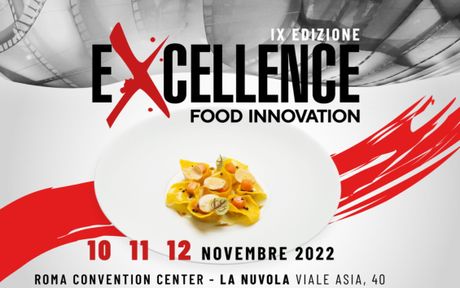 An extraordinary opportunity for meetings and discussions between food professionals, on the topics of innovation, creativity, trust, sustainability and experience. Plus Cooking Shows with great Chefs from Michelin-Star restaurants and Tasting Areas where you can taste the excellence of hundreds of producers.
Talk Shows and Seminars on the main themes of Italian cuisine with important Chefs and the protagonists of the sector. This is the 9th Edition of the Excellence in Food Innovation in Rome from 10th to the 12th November.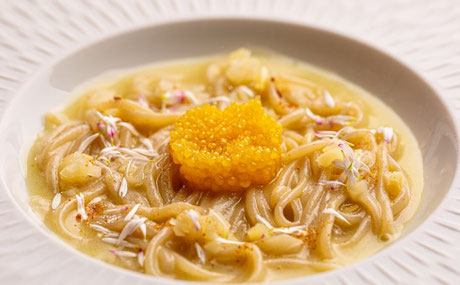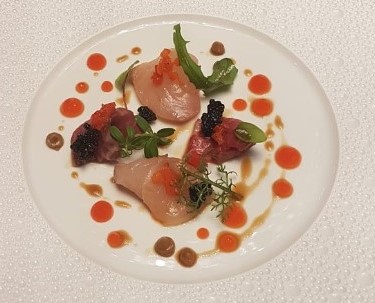 To wet your appetite for this event, have a look at  the sample dinner menu being created by Top Chef  Francesco Apreda:
MENU CENA EXCELLENCE Food Innovation @ Rome
Antipasto : Terra e Iodio Lampuga in Carpaccio, Funghi ed Erba Cedrina (Earth and Iodine Lampuga in Carpaccio, Mushrooms and Lemongrass); Main Dish: Maccheroni Arruscati al Ragù Napoletano Petto di Anatra Speziato e Scampi (Macaroni Arruscati with Neapolitan Ragù Spiced Duck Breast and Scampi); Dessert : Croccante di Mandorle, Caramello e Pepe Nero (Crunchy Almonds, Caramel and Black Pepper). And wine pairing by Cantina Kaltern.
Excellence dinner menu off November 9, 2022 at 8.30 pm at Idylio by Apreda restaurant.