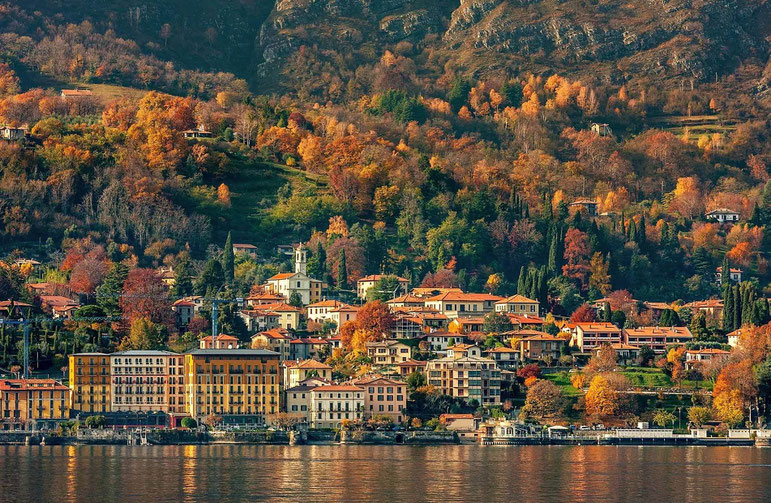 If you live in the Northern Hemisphere, Autumn is now in full swing and hence the dishes you crave become more comforting and turn to typical seasonal items such as mushrooms and pumpkin. The name "autumn" comes from the past participle of the Latin verb augere, which means "to increase", "to enrich". Autumn is in fact the season of abundance: it is in autumn that the great fruit harvests are concentrated. Here the recipes of two very typical Italian regional dishes with mushrooms: Lasagne con ragù bianco di funghi and Risotto ai funghi porcini.
Lasagne con ragù bianco di funghi (Lasagne with Mushrooms)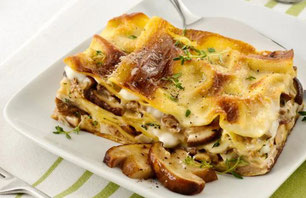 Ingredients
300 grams of champignon mushrooms; 300 grams minced veal; 250 grams lasagna; 200 milliliters cream with mushrooms; 60 grams parmesan; 50 grams of flour
30 grams smoked bacon or bacon; 1 leek; 2 sprigs thyme
2 sprigs of marjoram; 1 glass of marsala wine; 6 dl whole milk; q.s. nutmeg; q.s. extra virgin olive oil; q.s. butter
q.s. salt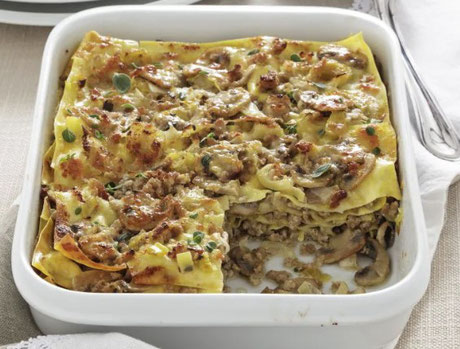 Preparation
1) Prepare the mushrooms. Remove the earthy part of the stems of the mushrooms, then rinse them under running cold water, dry them on kitchen paper and cut them into slices. Remove the green parts of the leek, wash it, cut it into slices and let it dry in a saucepan with 30 grams of butter and 1 tablespoon of oil.
2) Cook the ragù. Brown the ground beef over high heat in a non-stick pan with the chopped smoked bacon, without seasoning. When they are crunchy, transfer them to the casserole with the leek, raise the heat, blend with the Marsala and let it evaporate. Then add the prepared mushrooms, the washed and dried aromatic herbs and the heated porcini mushroom cream and cook over low heat for about 1 hour, gradually adding 1 dl of hot milk. When cooked, add salt and pepper and perfume with nutmeg. Toast the flour in a small saucepan with 50 grams of butter, pour the remaining cold milk, all at once and let it thicken over low heat for 7-8 minutes, stirring. Season with salt and pepper.
3) Make the layers and bake. Butter a rectangular baking dish, cover the bottom with a little ragù and create many layers, alternating pasta, ragù, béchamel and grated Parmesan cheese. Complete with flakes of butter and bake the lasagna at 180 degrees for 20 minutes covered with aluminum foil and for 20 minutes uncovered and serve.
Risotto ai Funghi porcini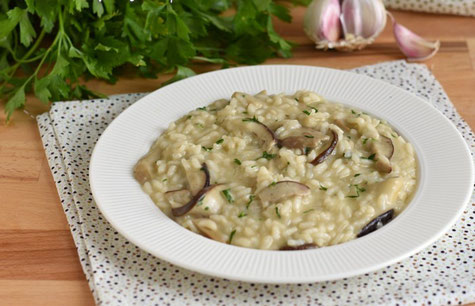 Risotto with porcini mushrooms is a classic first course of Italian cuisine, one of the best recipes you can prepare if you have good fresh porcini. Creamy and with an intense mushroom flavor, risotto with porcini is also ideal to serve for a holiday or a special dinner, as its refined taste lends itself well to celebrating an important occasion, perhaps accompanied by a good bottle of red wine.
Ingredients:
360 griso Arborio; 500 g porcini mushrooms; 1/4 onion; 
1 clove; q.s. vegetable broth; 4 tablespoons extra virgin olive oil; 1 pinch salt; 25 g butter; 1 sprig parsley
Preparation:
Once the mushrooms have been cleaned, slice them into slices that are not too thin. In a pan with high sides - the same one you will use for the risotto with porcini mushrooms - heat 3 tablespoons of oil and lightly brown the garlic clove. Add the mushrooms and sauté them over high heat for 3 or 4 minutes. Add salt at the end of cooking, when they are soft . Remove the garlic, drain with a slotted spoon and set aside. Add another tablespoon of oil to the same sauce, then add the finely chopped onion. Let it dry over low heat for about a minute, then add the rice. Salt it lightly and let it toast for a couple of minutes, stirring often. Then raise the heat and blend it with the hot vegetable broth. Cook the risotto for about ten minutes, stirring it from time to time and adding more hot broth a little at a time when the one previously put has been absorbed. After 10 minutes, add the previously cooked porcini mushrooms. Continue to cook the risotto for about 5 minutes, bringing it to cooking. However, leave it soft enough, adding a little hot broth if you still need it. When the risotto with porcini mushrooms is cooked, taste it and, if needed, add it, proceed with the creaming: turn off the heat and add the butter into small pieces. Mix thoroughly for a minute or two, in order to perfectly mix the butter with the risotto. Complete with a little chopped parsley. Serve the porcini mushroom risotto immediately.